Making pancakes from scratch is easy and if you are looking for a fall pancake recipe you'll love this recipe for pumpkin spice pancakes.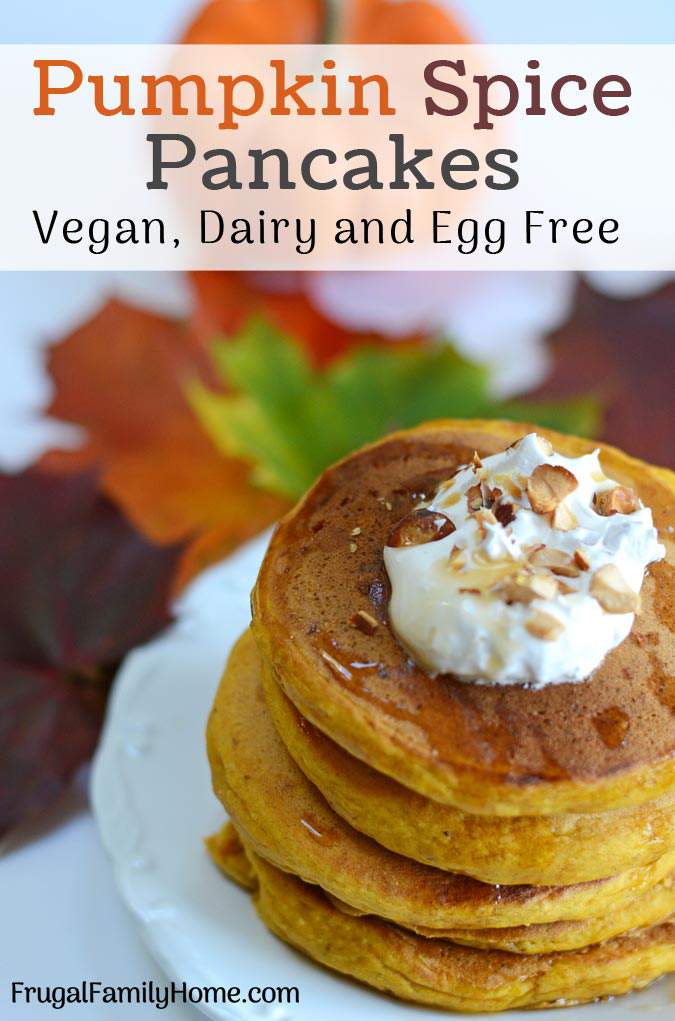 It's nice to make seasonal recipes and this recipe for pumpkin spice pancakes is an easy one you can whip up easily without a pancake mix.
This recipe is also allergy friendly because it doesn't include eggs or dairy. That's right there aren't any eggs in this pumpkin spice pancake recipe.
Plus if you need to eat dairy free you can use dairy-free milk like almond milk, soy milk or coconut milk. If you want to skip the milk altogether you can use apple juice instead.
It's not only allergy friendly but these pancakes are also vegan pumpkin pancakes in case you have a family member who eats vegan.
If you have basic baking ingredients on hand you can make these vegan pumpkin pancakes in no time.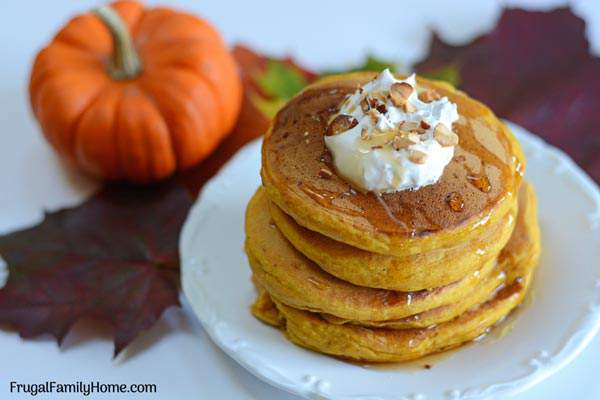 Ingredients Needed for Pumpkin Spice Pancakes
This is a list of the ingredients you'll need to make the pumpkin spice pancakes. Be sure to scroll on down for the recipe video and printable recipe too.
Flour
Sugar
Oil
Baking Powder
Salt
Pumpkin Puree
Milk or Milk Substitute or Apple Juice
Pumpkin Pie Spice
Vanilla
Making pancakes from scratch is pretty simple. Mix the dry ingredients add the wet ingredients and well here's the full recipe video for you. It's a quick video showing the recipe from start to finish.
Keep scrolling for the printable recipe below as well as the cost of this recipe too.
A Few Quick Tips for making these Vegan Pumpkin Pancakes
Mix the dry ingredients with a whisk. Mixing with a whisk helps to ensure you'll have the baking powder and spices distributed well. No one wants to bite into a clump of baking powder.
Mixing the wet ingredients. Be sure to stir the wet ingredients in just until the dry ingredients are moistened. Over mixing will make a tough pancake.
Cook on one side until bubbles form and then flip to cook the other side. If you wait for bubbles to form you'll be sure to get your pancakes cooked through and browned nicely.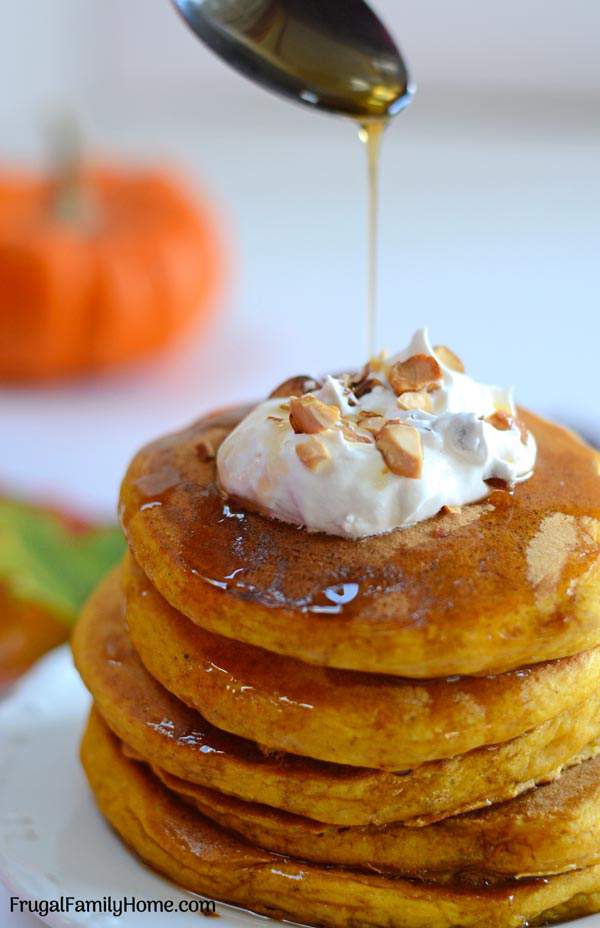 Here's the printable recipe…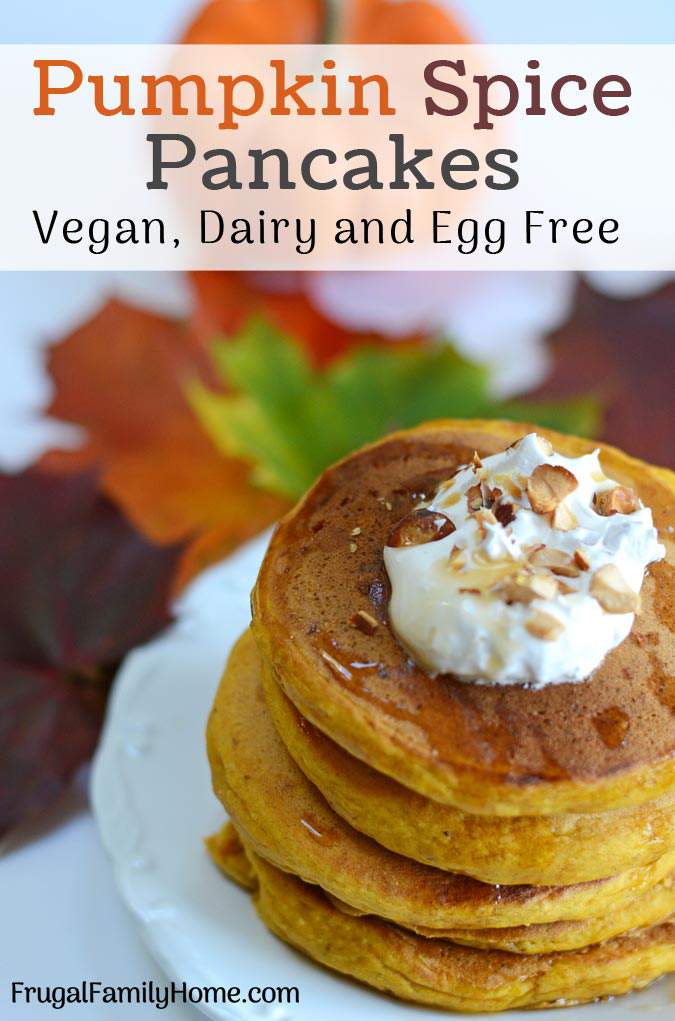 Pumpkin Spice Pancakes
Ingredients
1

cup

Flour

1

tablespoon

Sugar

1

tablespoon

Baking Powder

1

tablespoon

Oil

1/2

teaspoon

Salt

1/2

teaspoon

Pumpkin Pie Spice

1/2

cup

Pumpkin Puree

3/4

cup

Milk

Dairy Free Milk or Apple Juice

1

teaspoon

Vanilla
Instructions
Place the dry ingredients in a bowl and whisk with a whisk to mix well.

Add the wet ingredients and stir until the dry ingredients are just moistened. Be careful not to over mix.

Spoon batter onto a hot griddle or skillet.

Cook on one side until bubbles form then flip over and cook the other side until cooked through and golden brown.

Serve warm with homemade pancake syrup.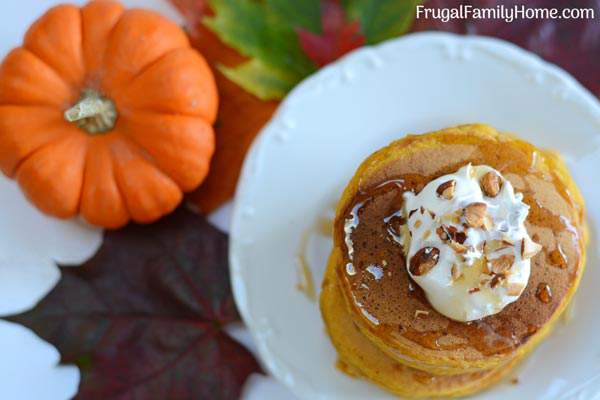 The Cost of a Batch of Pumpkin Spice Pancakes
You can always go out to breakfast and during the fall months, you can find pumpkin pancakes at many restaurants. But making them at home from scratch can be so much less expensive.
Here's the cost breakdown
Flour $.11
Sugar $.02
Baking Powder $.08
Oil $.03
Salt and Spices $.05
Milk or Milk Substitute $.27
Pumpkin Puree $.35
Vanilla $.01
The cost of a full batch of pumpkin spice pancakes is just $.92. Each batch makes 4 serving so the cost for each serving is $.23.
Add an egg, sausage, and homemade syrup for just $.60 for a full meal. Not bad for yummy fall breakfast.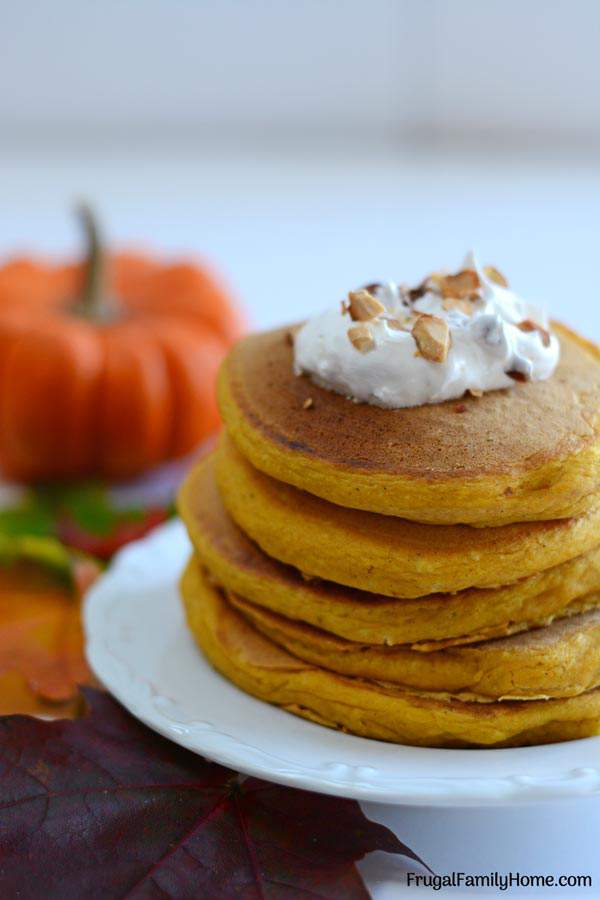 What's your favorite way to enjoy pumpkin this time of year? Would your family enjoy pumpkin pancakes?
More Pumpkin Recipes….
Chocolate Chip Pumpkin Bread
Pumpkin Chocolate Chip Cookies
How to Make Pumpkin Puree
SaveSave
SaveSave
Subscribe and you'll get Recipes
sent right to your inbox!
Click the button below and fill out the form.