Did you know you can make sugar cookies without chilling the dough? These easy to make no chill sugar cookies can save you time because you don't have to chill them before rolling them out.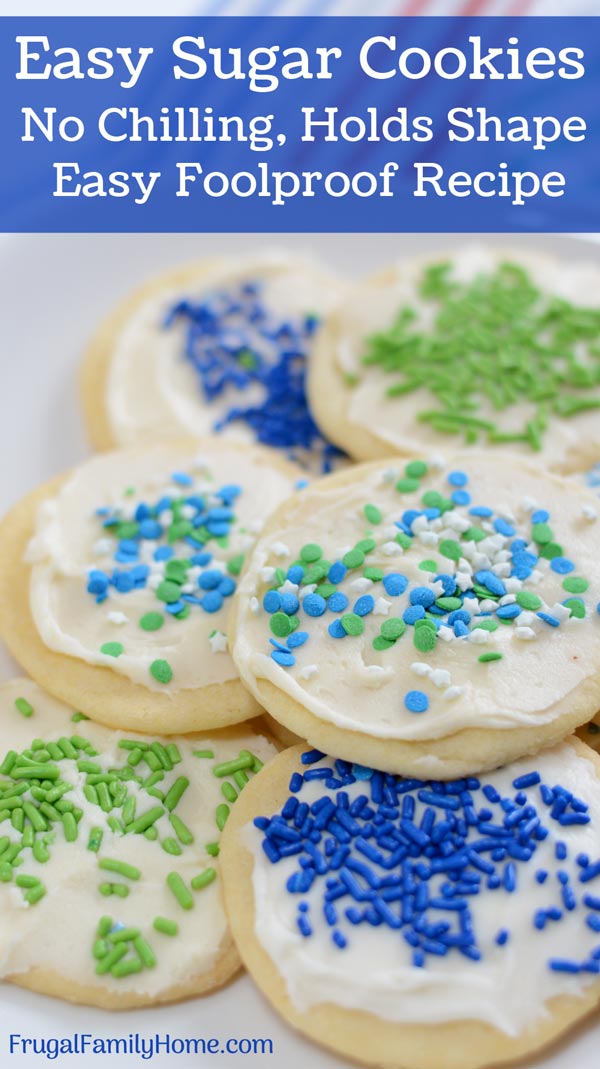 Sugar cookies are so good. They are a little crisp on the edges and tender in the center. And they are the perfect cookie to frost too. You can customize them for any holiday or party you would like.
Or make them into cookie sandwiches or just eat these sugar cookies plain. They are delicious any way you make them.
What's so great about this recipe is you don't have any wait time.
That's right you don't have to chill them for an hour or more before you can roll and bake them. You can mix, roll and bake in no time.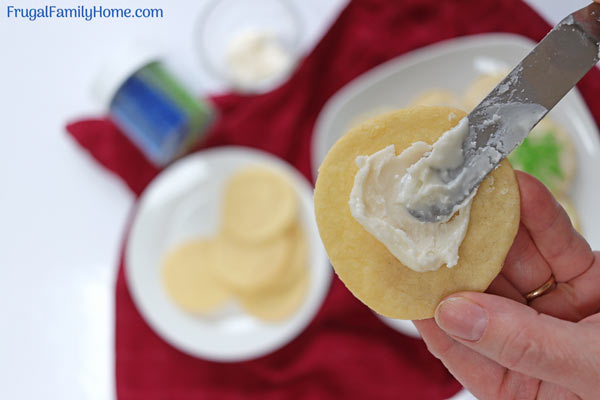 These no chill sugar cookies also hold up so nicely to frosting too.
I don't know about you but some sugar cookies recipes are so fragile. When you try to frost them, they crumble under the pressure.
Which is great if you want to eat them. But if you want them to look nice that doesn't work well.
This recipe makes a nice crisp cookie with a tender center that can hold up to icing.
The prefect combination for a frostable sugar cookie. Firm enough to frost but tender to bite.
How to Make No Chill Sugar Cookies
These no chill sugar cookies mix up really easily. But if you'd like a video tutorial watch this video below. Be sure to scroll down to get cookie making tips and the printable recipe too.
No Chill Sugar Cookie Tips
These tips can help you adjust this sugar cookie recipe to be no butter cookies. You can make them softer or crisper by the thickness you make them. And by how long you bake them. But most of all, make them taste delicious with or without frosting by using two flavorings.
No Butter Cookies..
Can't eat butter like our family? No problem make this sugar cookie recipe without butter. You can use coconut oil, shortening or dairy free margarine like Nucoa.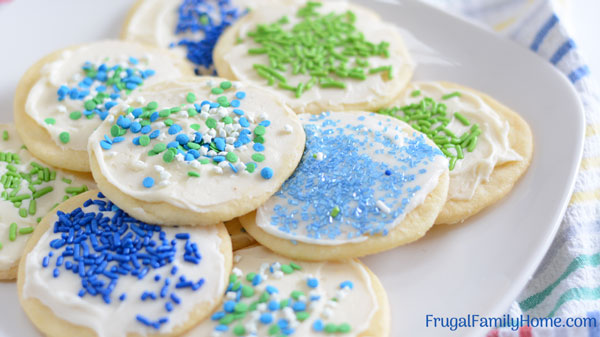 Use Two Flavorings
You could make this sugar cookie recipe with one flavoring but they are so much better with two. Some sugar cookie recipes have little flavor. But not this one with two flavors added they are not flavorless like others.
Add a little almond extract with vanilla for an even better flavor to these cookies.
Don't Over Mix
Once you add the flour, be sure to only mix until the dough comes together. Over mixing can make a tough cookie.
If while you are mixing the dough seems a little dry, try adding a little water or milk.
Baking…
Bake these no chill sugar cookie on a baking sheet lined with parchment paper or a silicone pan liner. Bake only until the edges are set and just browning.
If you over bake them, they will be very crisp, which isn't bad but if you want a softer cookie, be sure to bake until barely brown on the edges.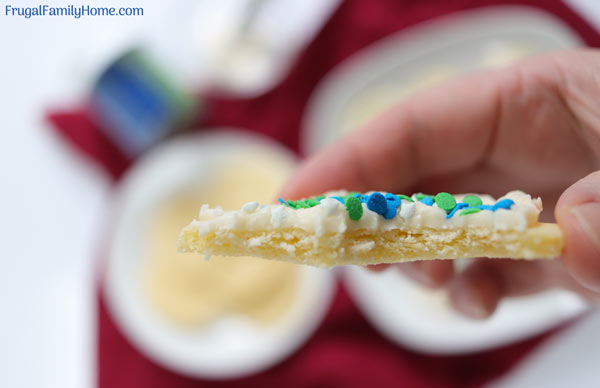 Crisp or Soft…
If you'd like a crisper cookie, roll the dough out thinner. If you'd like a softer cookie, roll the dough out thicker and bake a little longer.
Ready to make these cookies for yourself? Grab the recipe below…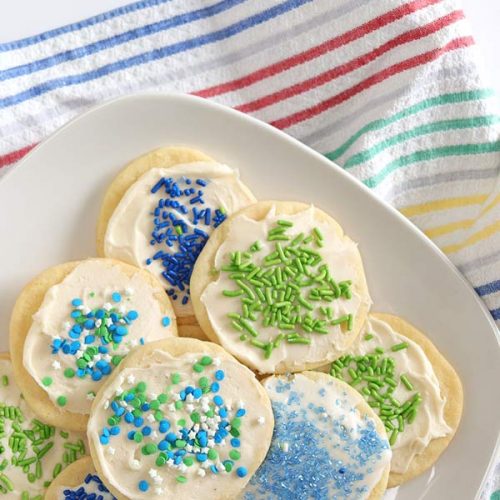 No Chill Sugar Cookies
These sugar cookies are easy to make because they don't have to be chilled before you roll them out. Saving you time.
Ingredients
2/3

cup

Butter

or Coconut Oil, Shortening or Dairy Free Margarine, if need to eat dairy free

1 1/4

cup

Sugar

1 1/2

teaspoons

Vanilla

1/2

teaspoon

Almond Extract

1

large

Egg

2 1/4

cups

Flour

1 1/2

teaspoon

Baking Powder

1/4

teaspoon

Salt
Instructions
Place the butter or other fat into the bowl. Add the sugar, vanilla, and almond extract cream together with a mixer.

Add the egg. Mix until fluffy.

Add the flour, baking powder, and salt. Mix until dough comes together.

Divide dough in half.

Flour your working surface and roll out half the dough to 1/4 to 1/8 inch thick.

Cut with desired cookie cutters.

Transfer cut cookies to a lined baking sheet with a spatula.

Gather up extra pieces of dough and roll out with the next half of dough.

Bake at 375 for 8-10 minutes until cookies are set and just starting to turn golden on the edges.

Remove from baking sheet and let cool on racks.

Once cooled frost if desired.
Video
Notes
Notes, while mixing the flour in, if the dough seems a little dry you can add a little water or milk. But only if needed.
If you don't have almond extract, you can add more vanilla.
If you would like a softer cookie, roll the dough out thicker and bake until the edges are just starting to brown.
Nutrition
Serving:
1
Cookie
Calories:
87
kcal
Carbohydrates:
13
g
Protein:
1
g
Fat:
3.6
g
Saturated Fat:
2.2
g
Cholesterol:
14
mg
Sodium:
42
mg
Potassium:
33
mg
Fiber:
0.2
g
Sugar:
7
g
Calcium:
10
mg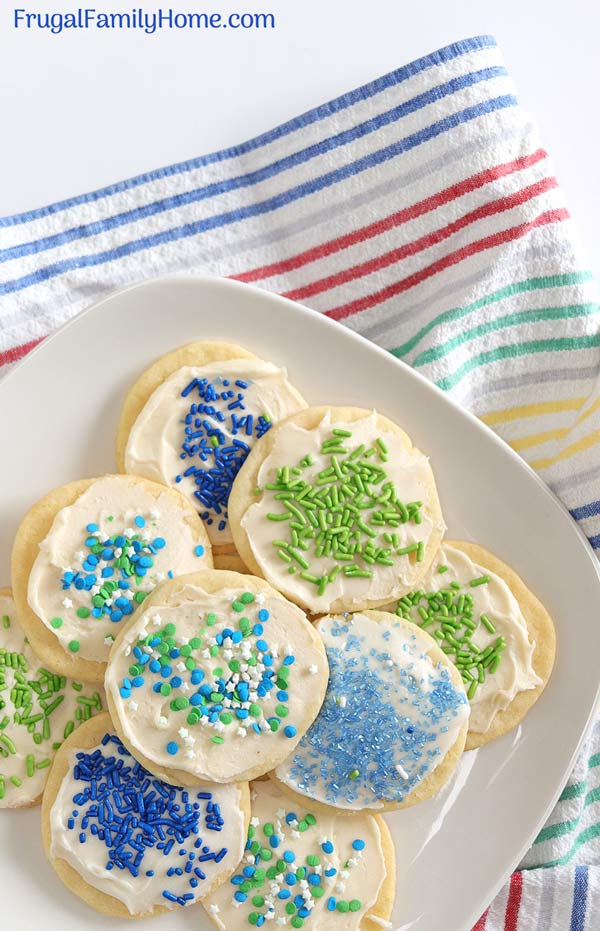 I think once you try these easy no chill sugar cookies, you'll never have to go back to a pre-chilled recipe again. They are the perfect cookie to decorate but taste so good you don't need any frosting at all.
More Easy Cookie Recipes to Try…
Fresh Apple Cookies
Pumpkin Chocolate Chip Cookies
Almond Joy Cookies