Inside: These apple cookies are different because they are made with fresh apples instead of applesauce. They turn out a little crisp on the edges and soft in the middle. These little gems are the perfect fall cookie.
Apple Cookies, I have to say when I set out to make this recipe I wasn't sure how it would turn out. I didn't want to make the same old, same old apple cookies with applesauce in them, I wanted something different.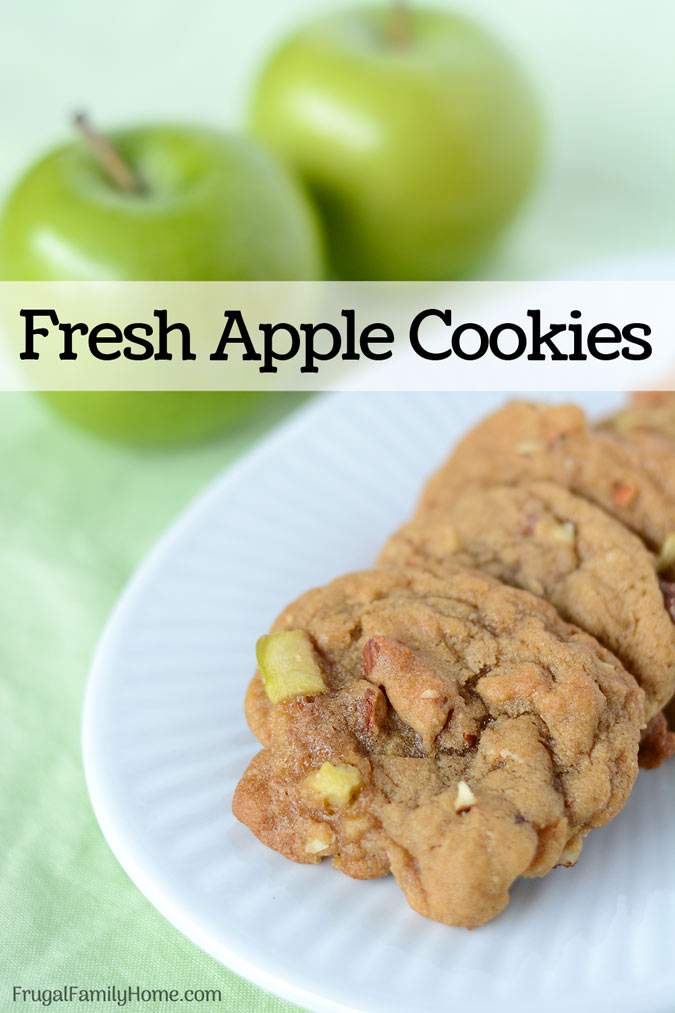 I love cookies, there is something about those little handheld packages of deliciousness that I love. I love cookies so much because once cookies are baked they are done. There isn't any extra frosting or cutting to be done you can eat them.
Why Not Use Fresh Apples for Apple Cookies
Since it's apple season, I wanted to make a recipe for cookies with apples. I wanted to use those great fresh crisp apples you can get this time of year. I wanted a recipe for apple cookies that when you bit into it, you tasted the apple and not just the cookie base.
And what better cookie base to use than a chocolate chip cookie dough base.
I did change up my regular recipe for chocolate chip cookie dough by eliminating the granular sugar and adding brown sugar in its place. I also used a mix of shortening and dairy free stick butter. I find this combination works great to make a perfect cookie.
But if you don't like to use shortening, which I understand, skip it and use all butter.
After those changes, I wanted to add a little crunch to the cookie. I thought about adding oatmeal but there are so many apple oatmeal cookie recipes out there I decided to add almonds instead.
I did a rough chop on the almonds and they add the perfect amount of crunch.
Here's the video version of this apple cookie recipe, for the printable version keep on scrolling down.
Tips to Make This Apple Cookie Recipe Great
Use cold butter in the recipe if you'll be using all butter. Warm butter can make the cookies spread. I like the combination of shortening and butter because it keeps the centers a little soft but lets the edges crisp up a bit.
In the video, I did a rough chop on the apples. But I found I actually liked the cookies that had apples that were more finely chopped. I would recommend a fine chop on the apples. So the pieces are not too big.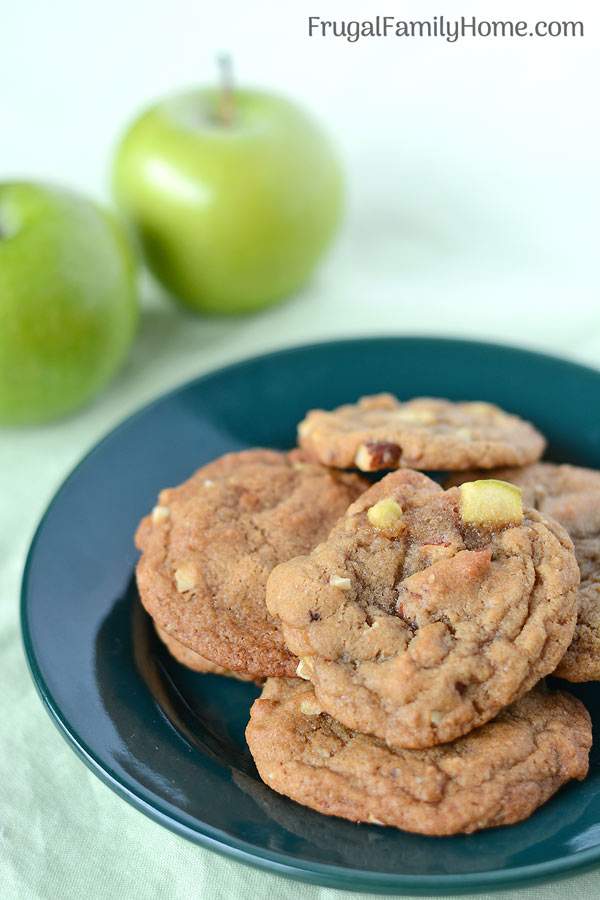 If you'll be adding almonds or other nuts, which is optional, chop them in a rough chop. The nice crunch of the almonds makes the cookie that much more enjoyable. If you do a fine chop you might not get as much of a crunch when you bite into them.
Store the cookies in an airtight container. This recipe makes 3 dozen cookies so they are not likely to last very long at your house, they didn't at mine but they can draw moisture if they are not in a sealed container. I also placed them in the refrigerator since they had fresh apples in them.
These apple cookies only lasted a couple of days at our house, these cookies went fast.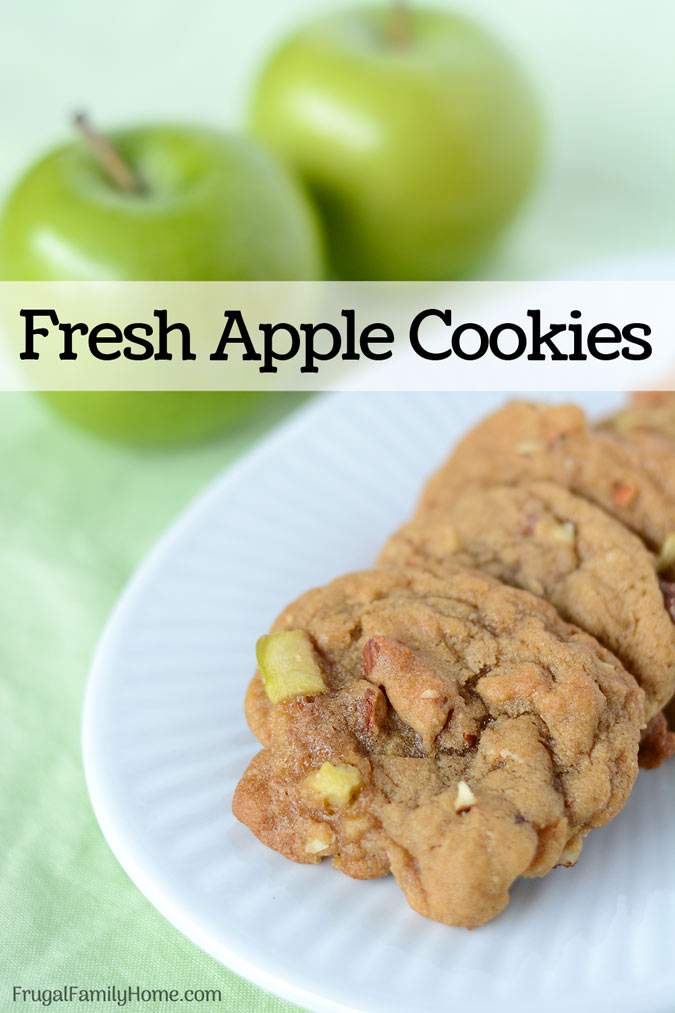 Fresh Apple Cookies
Ingredients
1

cup

Brown Sugar

1/4

cup

Shortening

1/4

cup

Butter or Dairy Free Stick Butter

1

Egg

2

teaspoons

Vanilla

1 1/2

cups

Flour

1/2

teaspoon

Salt

1/2

teaspoon

Baking Soda

1

cup

Apples

finely chopped

1/2

cup

Almond or Other Nuts

chopped (optional)
Instructions
In a bowl with a mixer, cream together the brown sugar, shortening, butter, egg, and vanilla.

In another bowl, mix together the flour, salt, and baking soda.

Combined the butter mixture with the flour mixture and beat until well incorporated.

Add the chopped apples and nuts if using and stir in.

Drop by the teaspoonful onto a lined or greased cookie sheet.

Bake at 375 for 8-10 minutes

Let sit for a few minutes after removing from oven.

Place on a cool rack to cool.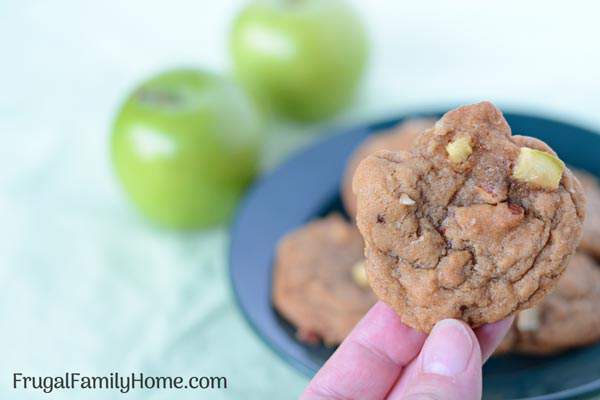 I hope you have a chance to try this fresh apple cookie recipe. It's an easy recipe but it turns out so good. I think leaving out the cinnamon in the recipe and using vanilla instead really makes the flavor of the apple stand out.
Plus the extra crunch of the nuts makes this cookie just about perfect, a little softness and a little crunch what a great combination.
What recipe do you enjoy making with fresh apples this time of year?
Find More Apple Recipes
Easy Apple Fritters
Apple Cinnamon Bread
Quick Baked Apples
Subscribe and you'll get Recipes
sent right to your inbox!
Click the button below and fill out the form.