The perfect way to cook vegetables and make them flavorful and delicious. That's right, we're talking about oven roasted vegetables.
If you haven't tried them, you really should. It will change your mind about vegetables for sure.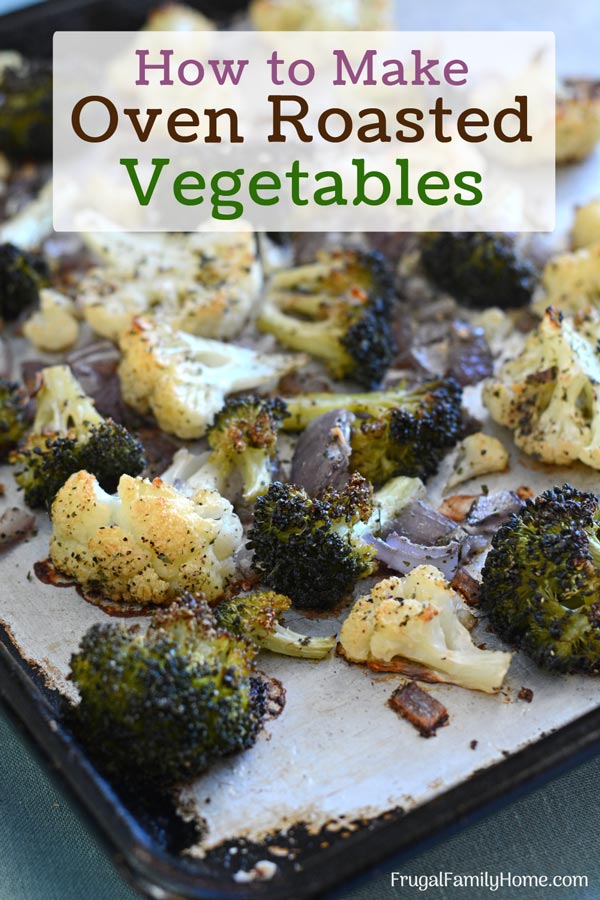 How to Make Vegetables Taste Better
Vegetables you haven't always loved them. In fact, you hate most vegetables.
Why?
Because they all and I mean all tasted bitter.
When everyone around you is raving about how sweet the vegetables they're eating are, you wanted to scream, and ask, "Are we eating the same thing?!"
All you can taste is bitter. Yuck!
Maybe you thought as I did it would get better.
The vegetables would magically taste sweet and delicious like others described them if you gave them a chance.
But no it didn't happen.
I ate my veggies. I stuffed them in my mouth chewed them up and swallowed them. But did I enjoy it.
Heavens no. They were awful.
But I still ate them because I knew they were good for me and maybe that's how it has been for you too.
But I've discovered a magically way to prepare them.
A way that seemed to cook the bitter right out of them and finally I could taste what others were tasting for so long. And I want you to enjoy vegetables too.
A vegetable that actually tasted good.
One you can enjoy eating, even if in the past you have tolerated them, but never really enjoyed them.
It so simple to do too.
Enter the amazing, no bitter tasting, oven roasted veggies…
How to Make Oven Roasted Vegetables
Oven roasting vegetables isn't hard to do. With a sheet pan, a little oil, vegetables and seasoning you can make a batch quickly and easily.
Here's the easy roasted vegetables recipe in photos for you to follow along with…
Pick Your Vegetables to Roast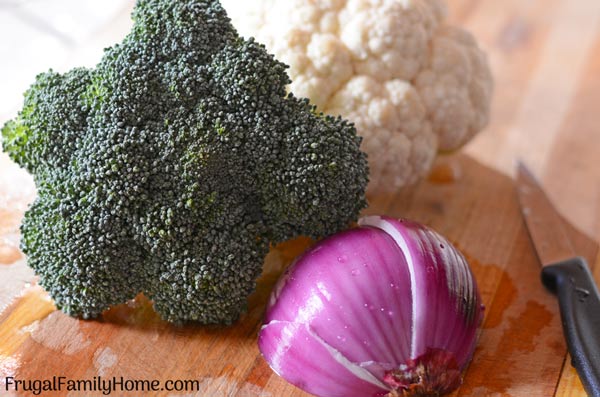 All root vegetables roast well but don't limit yourself to just those, like carrots and potatoes. Branch out and try broccoli, cauliflower, radishes, green beans, onions or even celery.
There are so many combinations to try. You might start with just one vegetable first and then branch out into mixing the vegetables and then roasting them.
Chop the Vegetables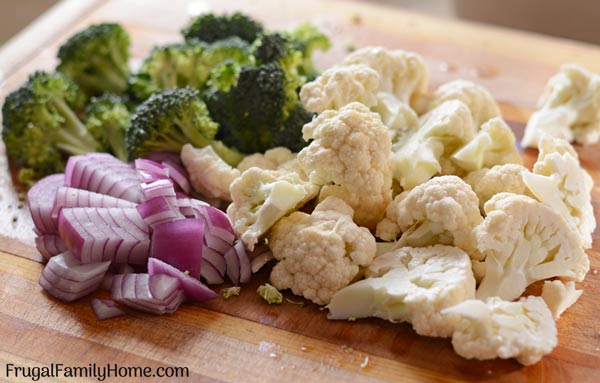 When cutting your vegetables keep in mind how fast each will cook. For denser vegetables like cauliflower and root vegetables that cook slower, cut them into small chunks.
Especially if you'll be roasting them with faster cooking vegetables like broccoli, onions or celery.
The key here to not ending up with charbroiled vegetables is the size when you are mixing vegetables to roast together.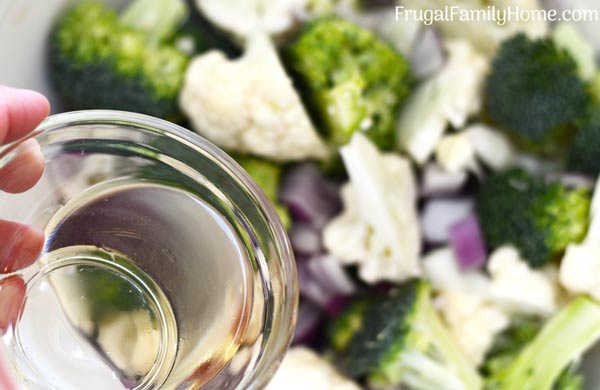 Pick Your Oil
You'll want to add a little oil to your vegetables. It will help them crisp and brown on the edges.
You can use any oil you'd like. I often use olive oil, canola oil, or even bacon grease that I've saved from the pan when cooking bacon.
Pick the oil you like best.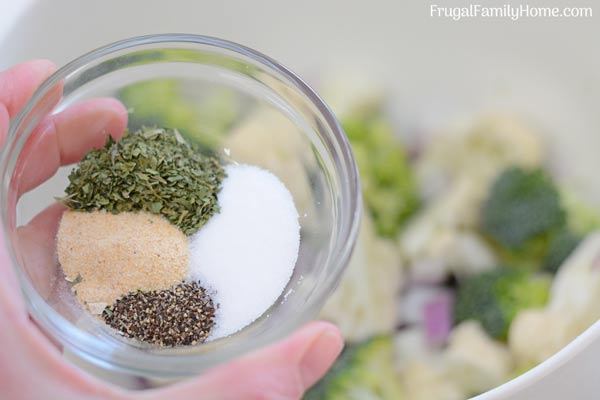 Add Seasoning
You can use any seasonings you'd like to season your vegetables. My favorite and the one I used in the recipe below is the combination of garlic, parsley, salt, and pepper.
It's my favorite go to seasoning mix.
If you have a favorite combination use whatever you like.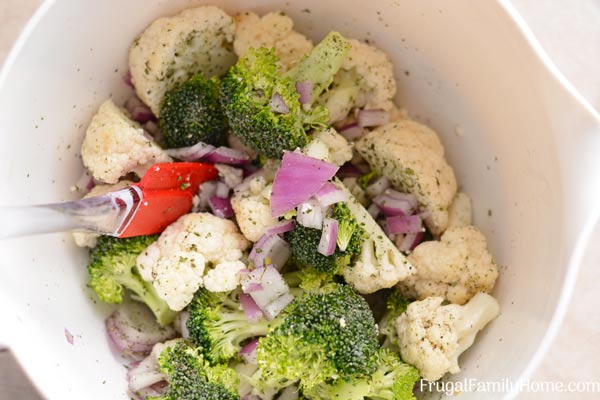 Mix Before You Bake
You'll want to coat your vegetables in the oil and then sprinkle with seasoning. Give them a quick stir to distribute the seasonings well.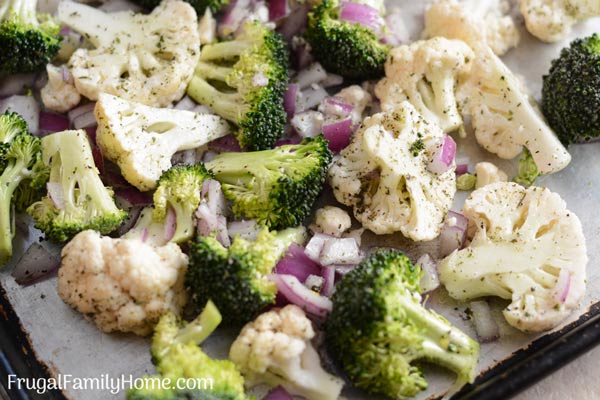 Roast on a Sheet Pan
Place your coated vegetables on a sheet pan and roast in the oven. No stirring is necessary unless you find some are cooking faster than other.
I like to add my vegetables to half of the sheet pan and then add the meat I'll be cooking to the other half. Making for an easy dinner.
Once roasted you can sprinkle with shredded cheese to add even more flavor. A sharp cheddar works great. But also Romano or Parmesan is also delicious too.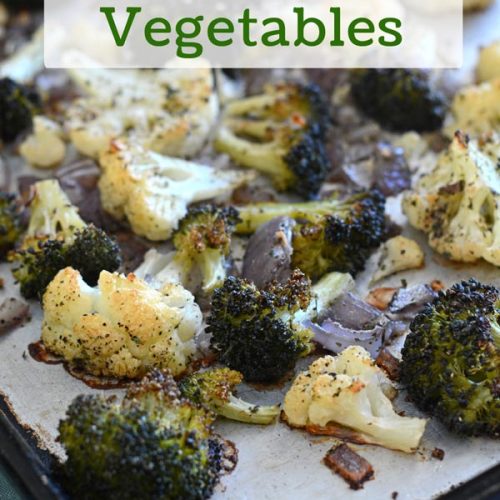 Easy Oven Roasted Vegetables
There is something magical that happens to vegetables when they are roasted in the oven. The tastes sweeten and they become more flavorful too. It a great way to enjoy vegetables even if you don't love them.
Ingredients
1

large head of Broccoli

washed and cup up

1/2

head of Cauliflower

sliced or cut into small chunks

1

large Onion

roughly chopped

2

tablespoons

of Oil

choose the one you like the best

1

teaspoon

Parsley

dried

1

teaspoon

Garlic Powder

1

teaspoon

Salt

1/2

teaspoon

Pepper
Instructions
Place your vegetables into a large bowl.

Drizzle the oil over the vegetables and stir to coat well.

Mix the seasonings together and sprinkle over the vegetables. Stir to distribute them.

Spread onto a sheet pan in a single layer.

Bake in a 400-degree oven for 35-45 minutes until tender and slightly browned.

Sprinkle with cheese if desired.
Nutrition
Calories:
80
kcal
Carbohydrates:
8.4
g
Protein:
2.6
g
Fat:
4.8
g
Saturated Fat:
0.6
g
Sodium:
418
mg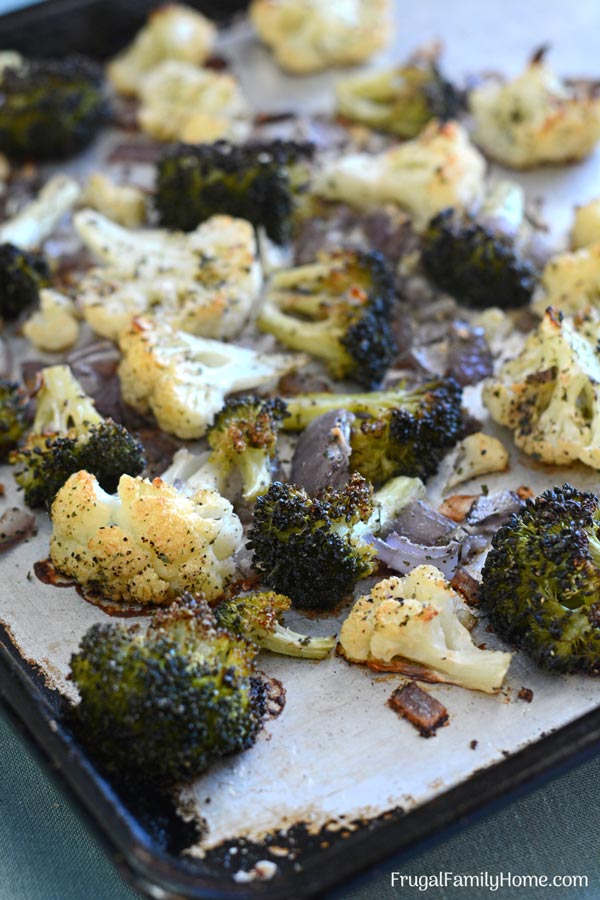 Easy Roasted Vegetables in the Oven
That' how to make oven roasted vegetables. It's a simple process but really makes the vegetables tasted great.
It has transformed me from, "I hate those bitter vegetables person", to a person who loves them. I hope it can help you enjoy vegetables too.
Let me know what you think when you try it.
More Roasted Vegetable Ideas…
Easy Crispy Roasted Potatoes
Oven Roast Frozen Broccoli
Subscribe and you'll get Recipes
sent right to your inbox!
Click the button below and fill out the form.