This is my second Pinterest experiment this week. I tried out dairy-free evaporated milk and it turned out great you can see my post here. I also tried my hand at making dairy-free sweetened condensed milk. The sweetened condensed milk is something I use once a year in a few of my candy recipes. I usually in the past would just make the candy with the regular milk but then my kids and husband couldn't eat it. So I thought this year after finding the recipe for making regular sweetened condensed milk posted on Pinterest I would give making it dairy-free a try.
Sometimes using substitutes in candy recipes won't work but I am happy to report this one worked very well. I think the firmness of the set of my Rocky Road Fudge was a little softer but it still holds its shape just fine and tastes very good.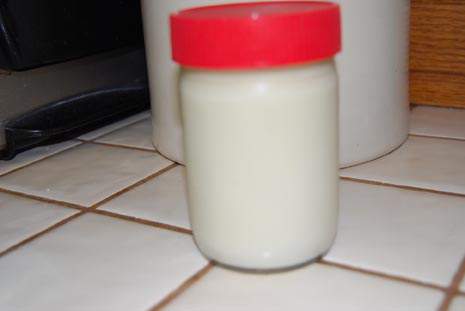 Dairy Free Sweetened Condensed Milk
12 oz dairy-free evaporated milk (see my post on this it is really easy to make)
1 cup dairy free powdered milk ( I used Vance's Dari-Free but I am sure you could use Better than Milk too)
4 cups of sugar
6 Tablespoons of dairy-free margarine (I used Nucoa sticks, Earth Balance I am sure would work too but be careful as the last I checked the Earth Balance sticks were not dairy free you may need to use the tub one)
This first step I think is really important so don't skip it. Place the sugar in a blender or food processor and process until super fine. I did this in two batches in my blender and it worked out great.
Add the processed sugar to a heavy pan add the rest of the ingredients and cook on medium to medium-low just until the sugar dissolved. I just kept checking the back of the spoon and once I felt no more granules of sugar and the margarine was melted I took it off the stove. I divided it up into 3 canning jars about 1 1/4 to 1 1/3 a cup each and placed them in the refrigerator overnight.
The next day I used one of them in my Rocky Road Fudge recipe and it worked. So if you have a favorite recipe that calls for sweetened condensed milk give this one a try. I hope it works as well for you as it did for me.
Subscribe and you'll get Recipes
sent right to your inbox!
Click the button below and fill out the form.