I made up this recipe on a whim. Sometimes the recipe I create on the fly turn out good. Sometimes they turn out bad. This one turned out to be a keeper. If you like pork chops this is a great quick and easy dinner recipe for those nights you have lots to do. Or for those summer days when it's too hot to bake pork chops.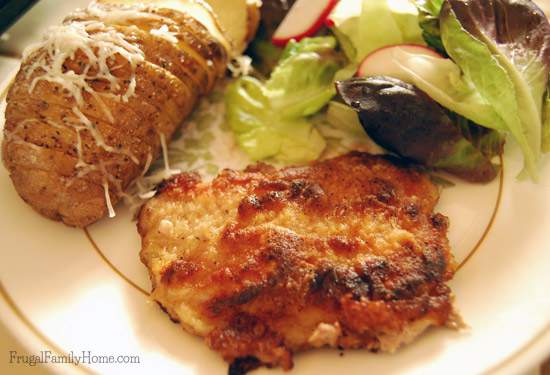 To make this recipe even easier, you could make the seasoning ahead of time and have it ready to go in the pantry. Then you could just take out the amount of seasoning mix you need as you need it. Just be sure, to throw away any seasoning mix you don't use, that the pork chops have even dipped in. Since, it will be contaminated with bacteria from the raw pork chops.
I purchase pork tenderloin on a regular basis at Costco or on sale at the local supermarket. In our area around $2 a pound is a good price. So much better than pork chops at $3-4 a pound. If you don't know how to cut up a pork tenderloin check out my post to see how. It's easy to do and it can save you a bundle on pork chops.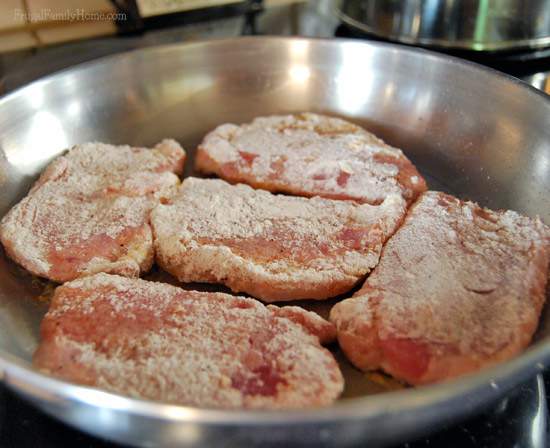 When mixing the seasoning mix, the measurements don't have to be super accurate. It's mainly just flour with some spices added. If your family likes a little more spiciness to their pork chops you might add in some cayenne pepper to the mix. If your family is more like mine and doesn't like too much spice then you should be fine with how the recipe is written below.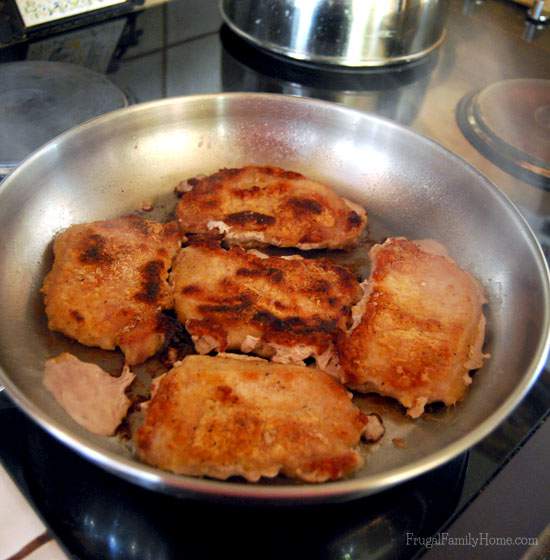 Cooking and Browning the Chops
I have found the best way to get a good coating on the pork chops without having to use too much oil is by preheating the pan. If you get the pan nice and hot before placing the floured chops in the pan, they will brown nicely and you will get a beautiful browned chop without too much oil.
I cut my pork chops fairly thin. So as the pork chops brown they also cook through. But if your pork chops are cut thicker, you'll want to have a nice hot pan to get the crust brown and then turn it down to cook the pork chops through. Be sure to check for doneness either by cutting a slit in the chops to check to see if they are done, or use a meat thermometer. (affiliate link)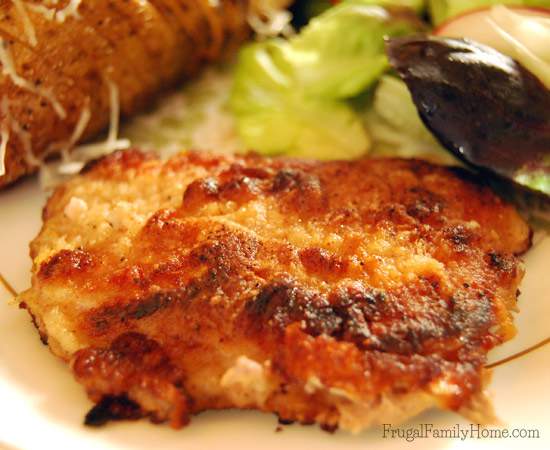 Once the chops are done let them rest and drain on a paper towel. Since these are pan fried there won't be much oil at all, but it's best to let them drain off just in case. Also the resting time of about 10 minutes helps to keep the juices in the meat and not all over your plate. A plus don't you think?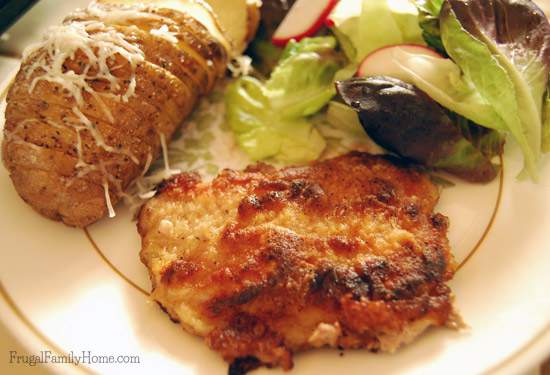 Pan Fried Pork Chops
Ingredients
Instructions
Mix all the ingredients except the pork chops and oil in a pie plate or shallow dish. Mix with a whisk.

Heat 2 tablespoons of oil in a frying pan over medium to medium high heat, until the pan is nice and warm.

Drudge the pork chops in the flour mixture and shake off and excess.

Place the pork chops in the hot pan and fry until golden brown. I like to wait until the pork chops release from the pan before I attempt to flip them. If they are sticking wait another minute and try again.

Once the pork chops are browned on both sides check for doneness with a thermometer or by cutting into one to see if it is cook through.

Once cooked through, remove to a lined plate and let rest for about 10 minutes.

Enjoy!
I like to serve these pork chops with a nice cold side salad and potatoes. In the summer, these pork chops would also be great sliced and served over a nice bed of lettuce as a main dish salad.
What's your favorite way to prepare pork chops?