This shop has been compensated by Collective Bias, Inc. and its advertiser. All opinions are mine alone. #DairyFree4All #CollectiveBias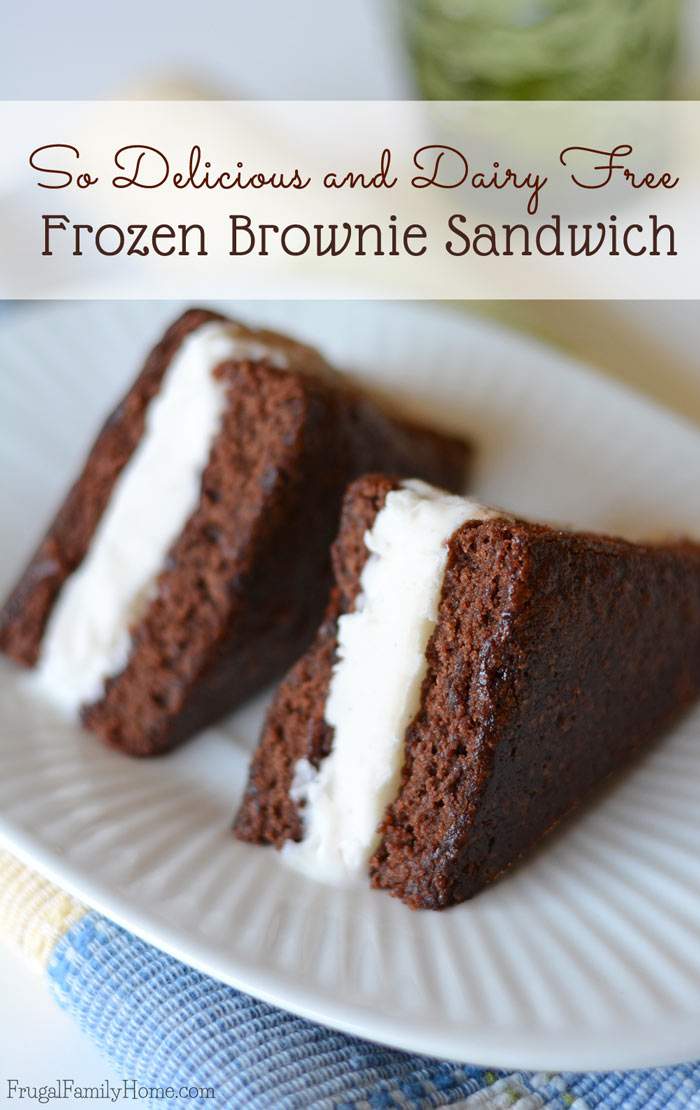 We have been eating dairy free around our house for years now, actually approaching twenty years. It was a big adjustment when we started eating dairy free there were so many food items we used to eat that our family could no longer eat. We really missed having frozen treats. Sometimes you just want a yummy creamy delicious frozen treats.
There were a few brands out there when we first started eating dairy free. So Delicious Dairy Free® was one of the first brands we gave a try. We've been eating their products for years now. They make the most delicious dairy-free frozen desserts. They don't contain high fructose corn syrup, they are plant based, dairy free, and egg free too. Great for our family members who have to avoid dairy products.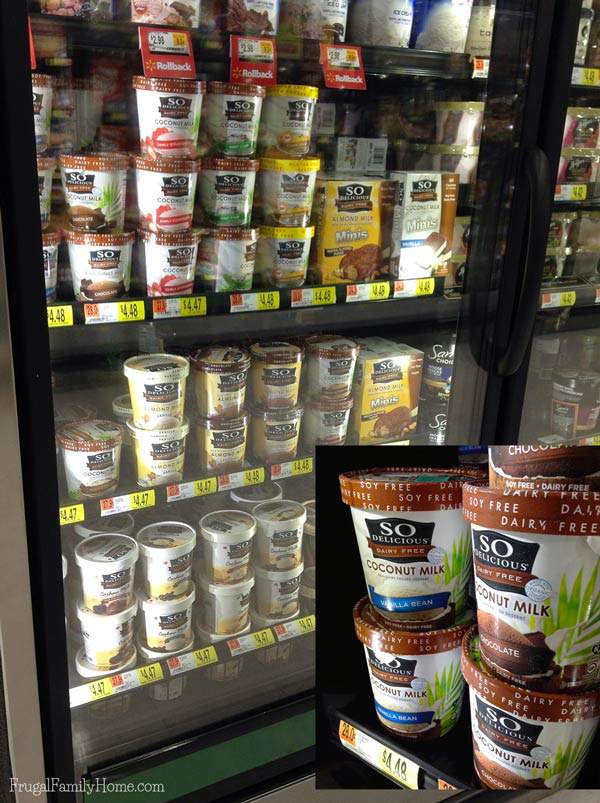 I also like that So Delicious Dairy Free® is available where I shop. I picked up the containers of the frozen dessert used in this recipe on a trip to my local Walmart Neighborhood Market. They had a great selection of So Delicious Dairy Free® to pick from.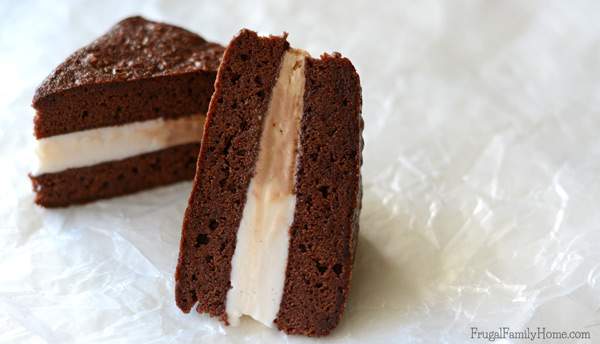 I wanted to make a handheld frozen treat for my kids. So I combined the cool yummy creaminess with my homemade dairy free brownies to make a yummy brownie frozen treat.
Making the Brownie Frozen Sandwich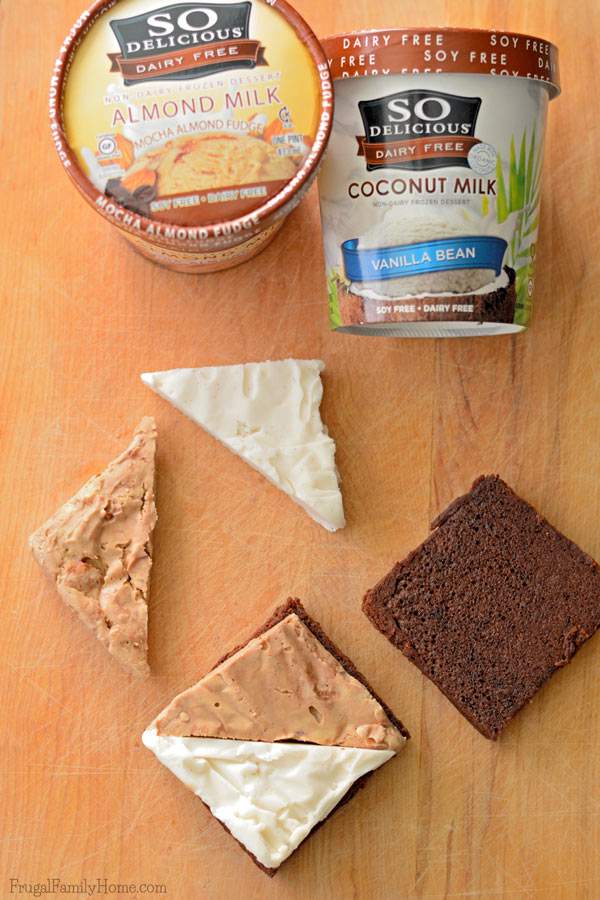 I started by thawing the container of Coconut Milk Vanilla Bean and the container of Almond Milk Mocha Almond Fudge to soften it up and then I spread each of them into a loaf pan and pressed down with waxed paper. I returned it to the freezer to firm up again while I made a batch of dairy free brownies.
After baking and cooling the brownies, I cut them into squares. Since I baked our brownies in a 9 by 13-inch pan they weren't too thick. I cut one 3 inch square for the top of the brownie sandwich and another for the bottom.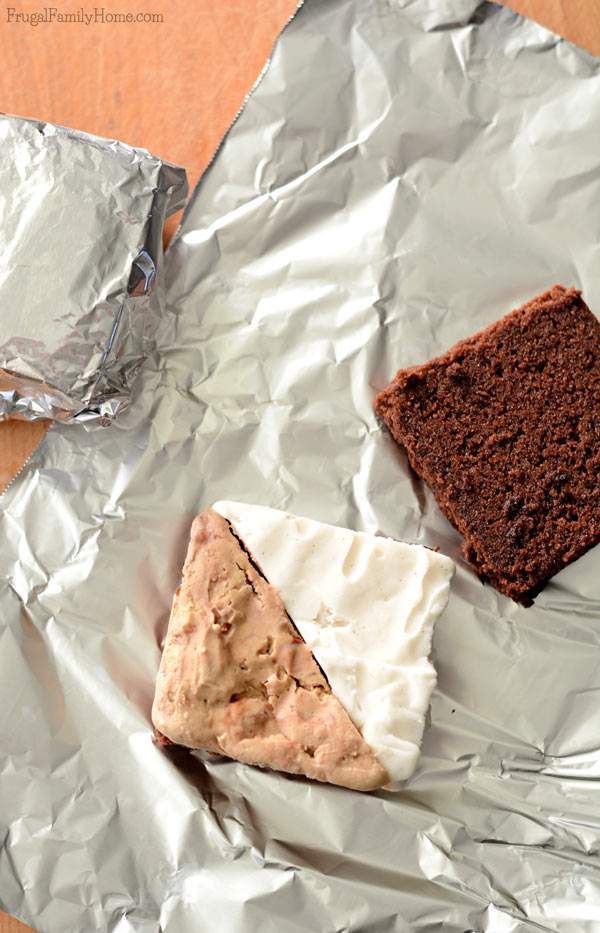 Once the Coconut Milk Vanilla Bean was firm, I cut a square of it to fit on top of my brownies. I repeated the same for the Almond Milk Mocha Almond Fudge. Then I cut each square of frozen desserts in half on the diagonal, making two triangles. I placed one triangle of each flavor on top of the bottom brownie. Then I added the top of the brownie and wrapped the brownie sandwich in foil and returned to the freezer while I worked on the rest.
To Serve,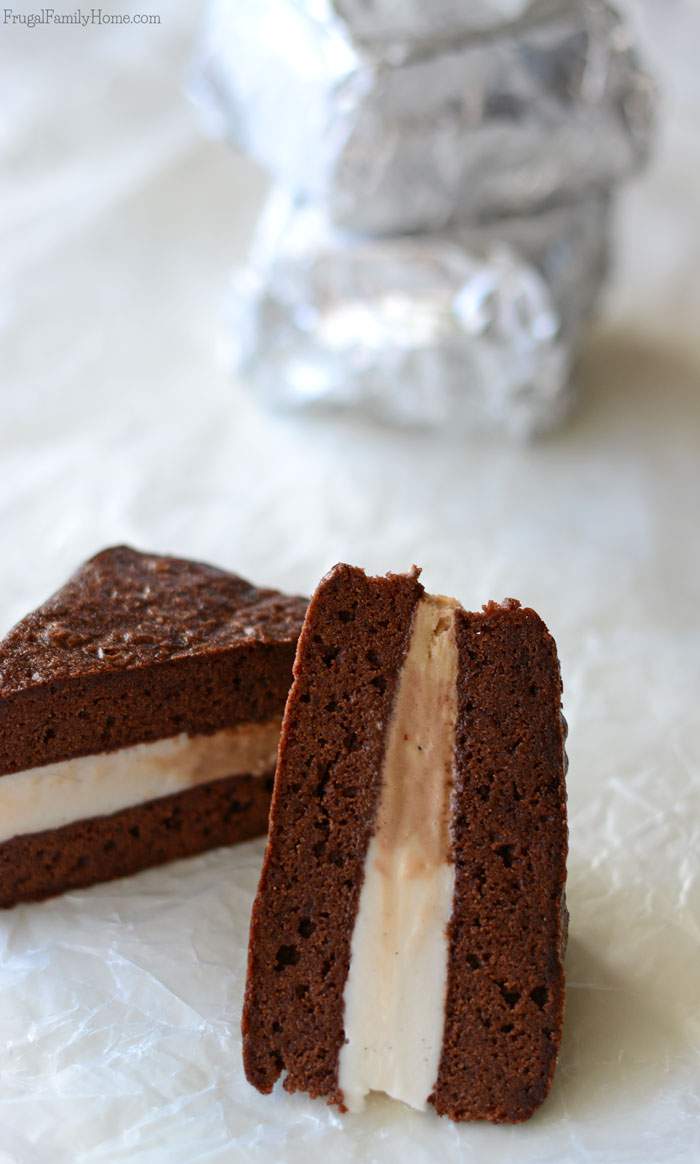 As I took out each brownie sandwich frozen treat to enjoy, I cut them in half diagonally so that each half had two flavors enclosed in the brownie. Making for a double flavored yummy brownie frozen treat. Having the two flavors side by side added to the deliciousness of the dessert but it also made it look just a little fancier than a regular brownie sandwich. Without any extra work.
Fancy Holiday Serving Ideas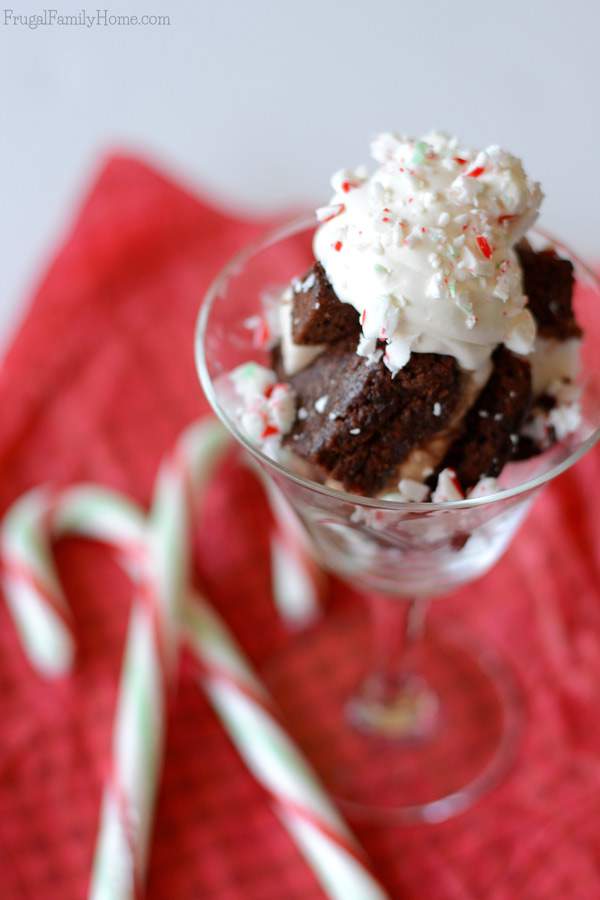 If you want an even more elegant dessert to serve, try cutting up your frozen brownie sandwiches into small squares, then pile them into a stemmed glass. Add a little dairy free caramel sauce or dairy free chocolate sauce. Then a dollop of dairy-free whipped topping. It really dresses up the brownie sandwich in a whole new way. Perfect for a holiday dinner dessert and quick to assemble too.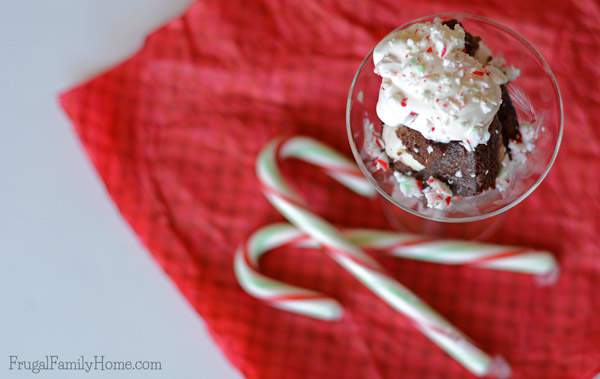 If you'll be making this for Thanksgiving, sprinkle the whipped topping with pumpkin spice. If it's for Christmas, sprinkle it with crushed candy canes. Either way, I'm sure everyone will love it.
Here's the recipe for our dairy free brownies and how to assemble the Double flavored Frozen Brownie Sandwich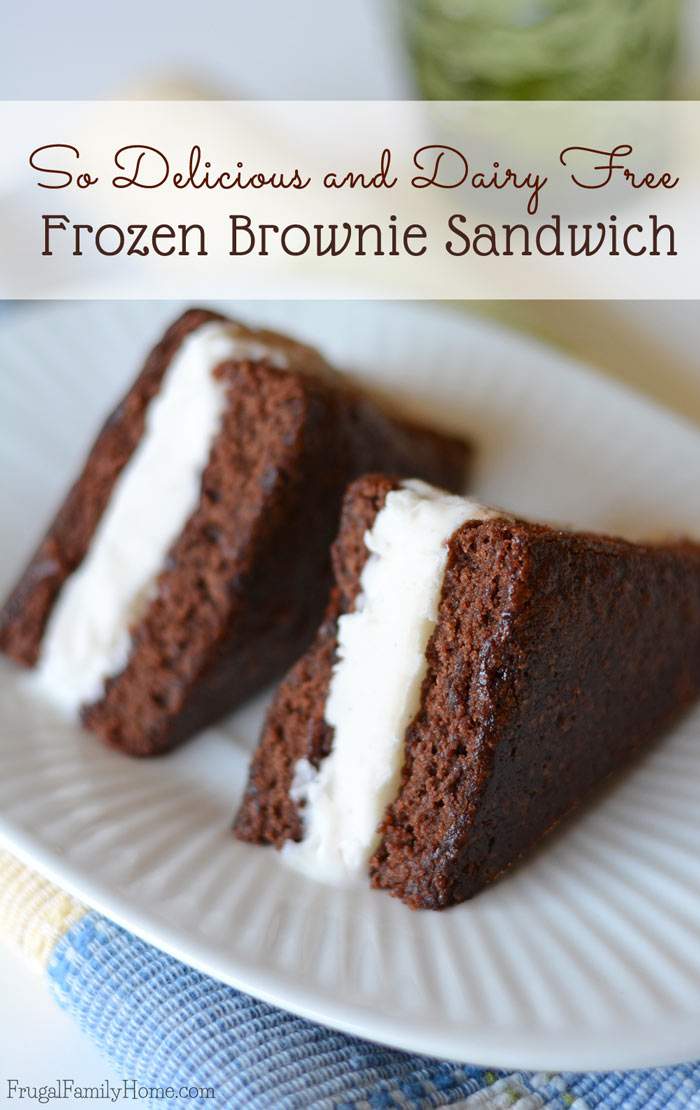 So Delicious and Dairy Free Frozen Brownie Sandwich
Ingredients
3/4

cup

Oil

4

Eggs

2

cups

Sugar

5

tablespoons

Cocoa Powder

1/4

teaspoon

Salt

1

teaspoon

Vanilla

1 1/4

cups

Flour

1

pint

So Delicious Dairy Free® Almond Milk Mocha Almond Fudge

1

pint

So Delicious Dairy Free® Coconut Milk Vanilla Bean
Instructions
Thaw slightly and spread the So Delicious Dairy Free® frozen treat into a freezer safe dish the size of a loaf pan. Press and then freeze. Repeat for the second flavor.

Mix oil, eggs, cocoa powder, and sugar in a bowl and mix well.

Add salt, flour and vanilla to the egg mixture and stir just to combine.

Pour batter into a 9 by 13-inch pan for 25 minutes at 350 degrees

Cool brownies completely then cut into 3-inch squares. If your brownies are thicker you might want to slice them to make them thinner.

Cut a square of the So Delicious Dairy Free® frozen treat then cut the square in half to make two triangles. Repeat for the second flavor.

Place one flavor triangle on the bottom brownie square. Place a triangle of the second flavor next to it then top with the top brownie.

Wrap in foil or plastic wrap and then freeze.

When ready to serve, unwrap the frozen brownie treat, then cut in half diagonally making sure to cut through the brownie so that you have a little of each flavor on each half of the brownie bar.
What is your favorite dairy-free treat to enjoy? I would love to have you share your favorite in the comments below.
Subscribe and you'll get Recipes
sent right to your inbox!
Click the button below and fill out the form.