Inside: A yummy sweet cornbread recipe you can make from scratch in no time. I bake the cornbread in a skillet but it can be baked in a baking pan too.
Do you like cornbread? Cornbread goes great alongside so many dishes. It easy to whip up quickly and is yummy by itself warm out of the oven or with a little butter or honey added.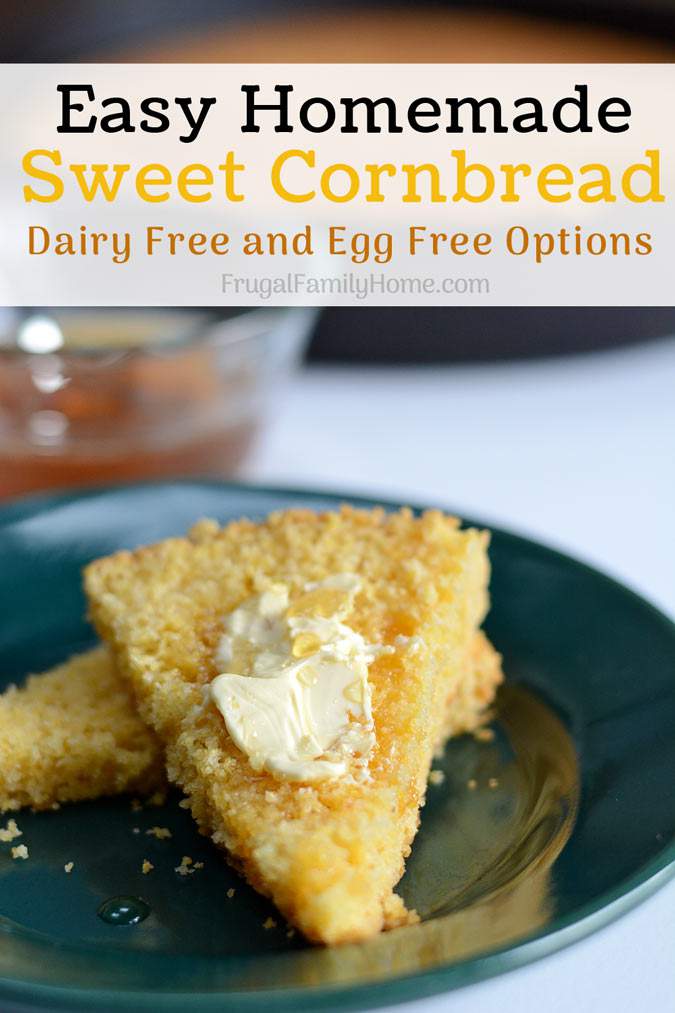 You may make cornbread using boxes of cornbread mix, I used to use them too. They were so convenient to make cornbread when we needed it but then I discovered making your own cornbread isn't really hard at all.
I've found it only takes a few minutes to measure the dry ingredients. The rest of the process is the same as the boxed mix.
Plus you can adjust the recipe for your tastes. Adding more sugar if you like it sweet, less if you don't. More cornmeal for a bigger corn taste or less.
This is a yummy sweet cornbread recipe that is dairy and eggs free. You don't have to make it egg or dairy free, but it's nice if you have someone who needs to avoid eggs or dairy.
Here's the quick recipe video for you. If you want to print the recipe scroll down to print it. Also I have the cost breakdown and a few sweet cornbread making tips below.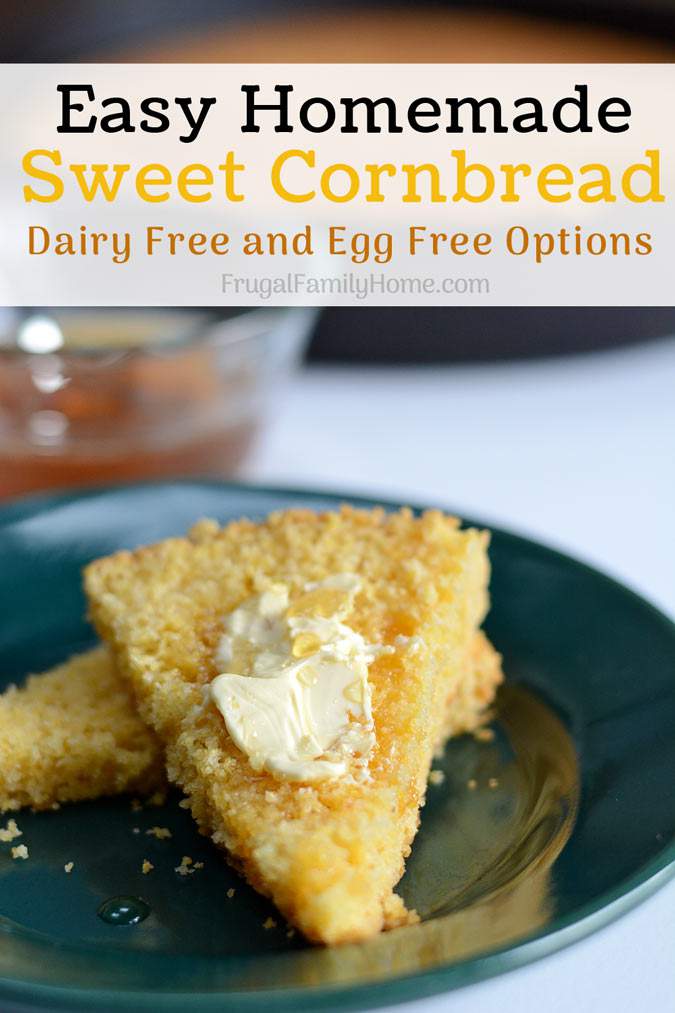 Sweet Cornbread
Ingredients
3/4

cup

Cornmeal

1 1/4

cups

Flour

1

cup

Sugar

1/2

teaspoon

Salt

1

tablespoon

Baking Powder

1

tablespoon

Soy Flour or 1 Egg

3/4

cup

Soy Milk or Milk

1/4

cup

Oil
Instructions
In a bowl combine all the dry ingredients and whisk to combine.

Add the soy milk and oil. Stir to mix until all the dry ingredients are moistened.

Bake in an 8-inch pan or cast iron skillet at 425 degrees for 25 minutes or until golden brown.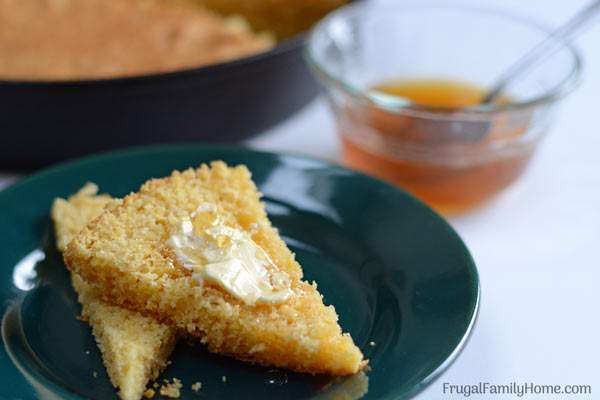 Baking Tips for Sweet Cornbread
Measure the dry ingredients and mix with whisk this helps to make sure all the ingredients are distributed evenly.
Add the wet ingredients and then only mix until the dry ingredients are moistened. Don't worry about a few lumps in the batter.
I don't grease my cast iron skillet but you may need to grease a square or round cake pan to keep it from sticking. If you want to add a little flavor use bacon grease to grease the cast iron skillet.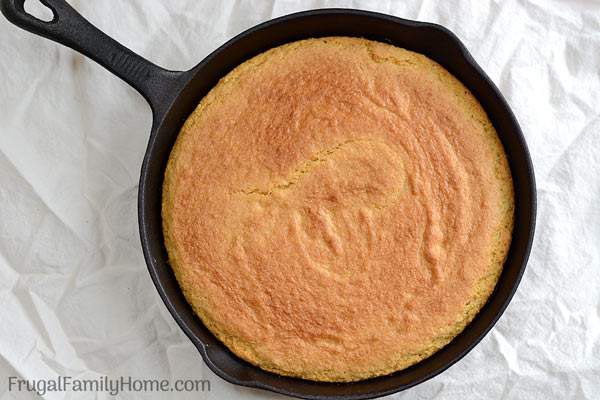 If baking in a cast iron skillet, warm the skillet up in the oven before adding the batter. I've found the bottom of the cornbread doesn't brown well if I don't preheat the pan while the oven is preheating.
If you are using a square pan or round cake pan no preheating of the pan is needed.
Make the cornbread in muffin tins for preportioned servings. Mini cornbread muffins are cute and kids love them.
One Pot Dinner Cornbread, You can add chili to the bottom of the baking dish and spoon the cornbread batter over the top of the chili and then bake for an easy one dish dinner.
Make homemade corn dog muffins, fill each muffin cup half full with batter add a hot dog cut to fit the muffin tin then top with more batter. Bake until golden and cooked through.
If you like whole corn in your cornbread, mix in a little leftover canned or frozen corn into the batter before baking.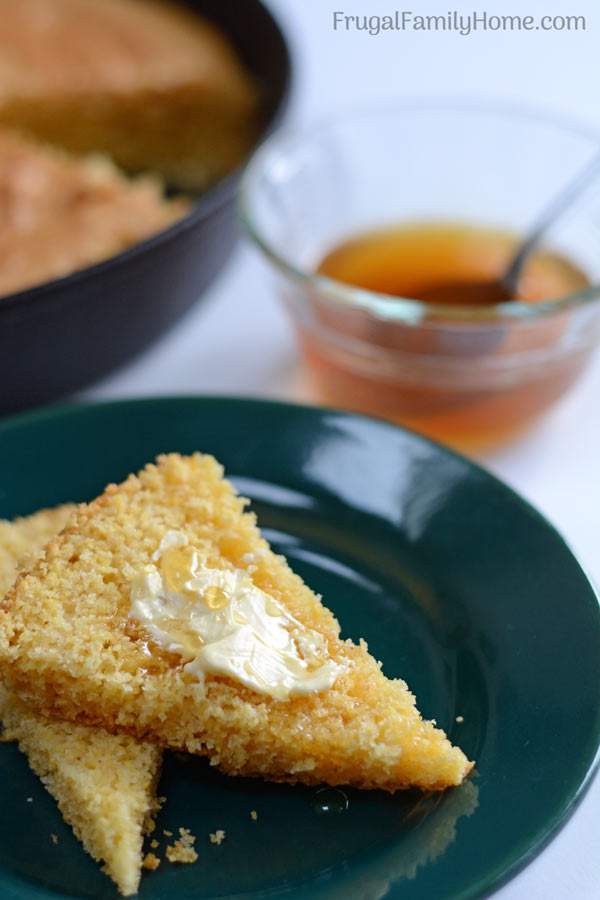 Cost Breakdown for a Batch of this Sweet Cornbread Recipe
For this recipe, I did two cost breakdowns. I did one for the regular version of the sweet cornbread with eggs and milk. I also did a cost breakdown of the dairy free, egg free options.
Dairy Free/ Egg Free Recipe
Cornmeal $.15
Flour $.14
Sugar $.22
Salt $.002
Baking Powder $.08
Soy Flour $.02
Soy Milk $.28
Oil $.09
Original Recipe
Cornmeal $.15
Flour $.14
Sugar $.22
Salt $.002
Baking Powder $.08
Egg $.10
Milk $.18
Oil $.09
To make a batch of cornbread mix (the recipe without the liquid ingredients) it would cost $.59 which is savings of $.40 over the cornbread mix from the store.
The cost of regular sweet cornbread recipe is $.96 and the cost of the dairy free, egg free, sweet cornbread recipe is $.98. They are really close in price.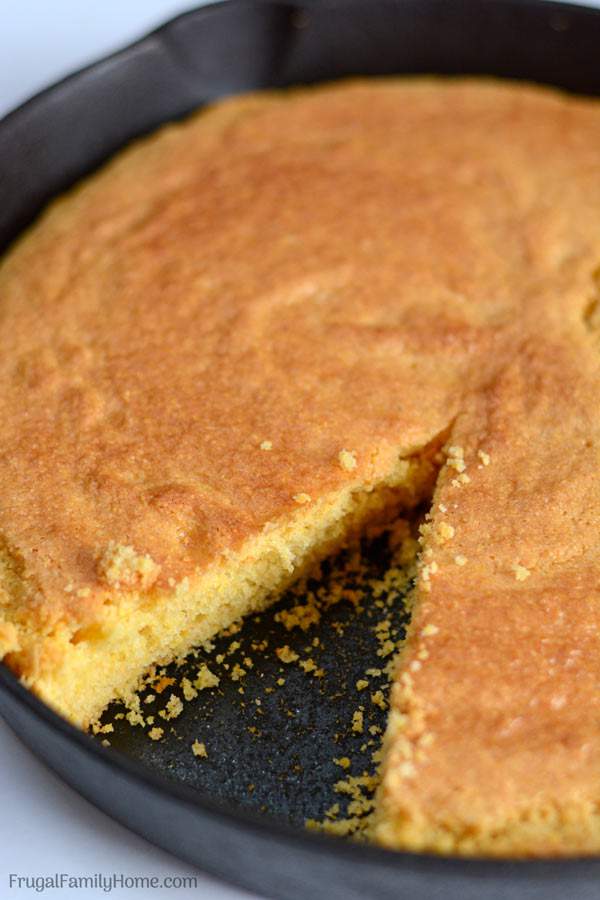 How do you and your family like their cornbread? Do you like to include whole corn? Do you like sweet cornbread?
Recipes to Serve with this Sweet Cornbread Recipe
Skillet Chili
The Best Pulled Pork
Slow Cooker Hamburger Dish
Subscribe and you'll get Recipes
sent right to your inbox!
Click the button below and fill out the form.