Inside: A quick, simple and easy recipe for chili. Make this skillet chili from scratch start to finish in about 30 minutes. Pair it with cornbread for a simple and easy dinner.
Chili is a great alternative to soup or stew on a cool day. It's great with cornbread or on top of a hot dog. It's a delicious dish.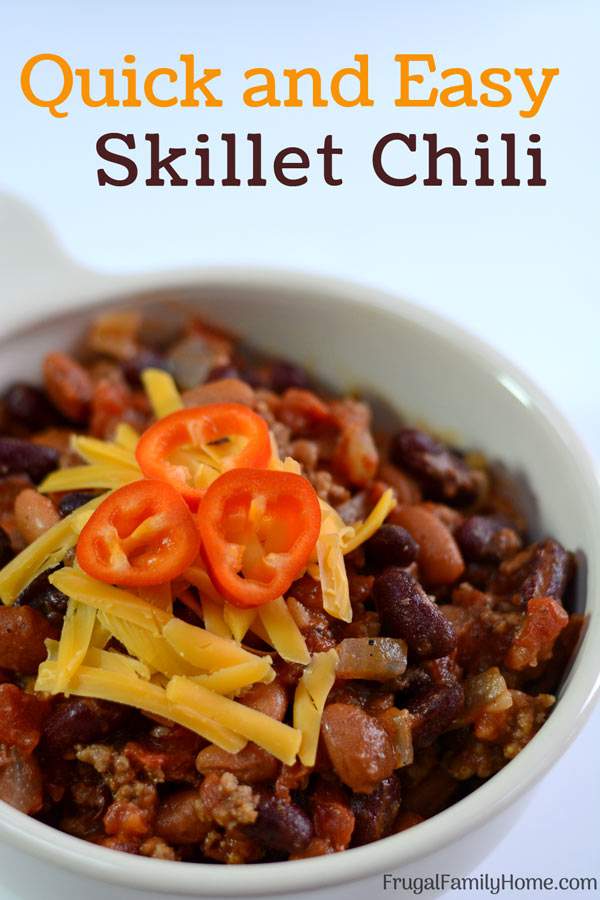 This skillet chili recipe is simple and easy to make. From start to finish it's under 30 minutes to prepare and under $4 for 4 servings.
How can you beat a homemade dinner for under $4? And in less time than it takes to grab take out from the drive through too.
You can keep all the ingredients for this recipe in the pantry, making for an easy meal when you forget to start dinner in the slow cooker.
It's a one pot dish, well I guess it a one skillet dish. I love there aren't a bunch of dishes to clean after the meal is done.
What You'll Need to Make this Skillet Chili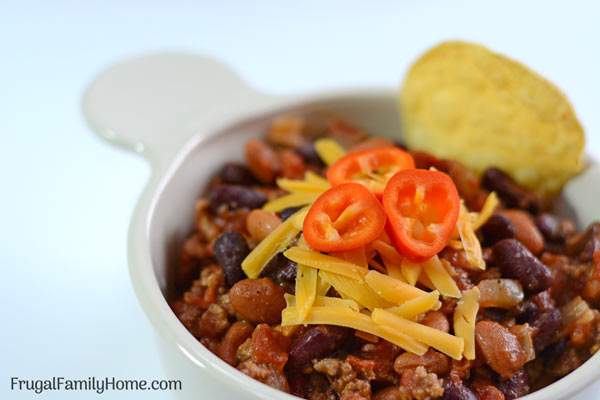 ⚬ Ground Beef
⚬ Beans
⚬ Onions
⚬ Garlic
⚬ Diced Tomatoes 
⚬ Salt and Pepper
⚬ Chili Powder
Here's a quick video of the full recipe. Scroll down for the printable recipe, tips for making this recipe and the cost breakdown too.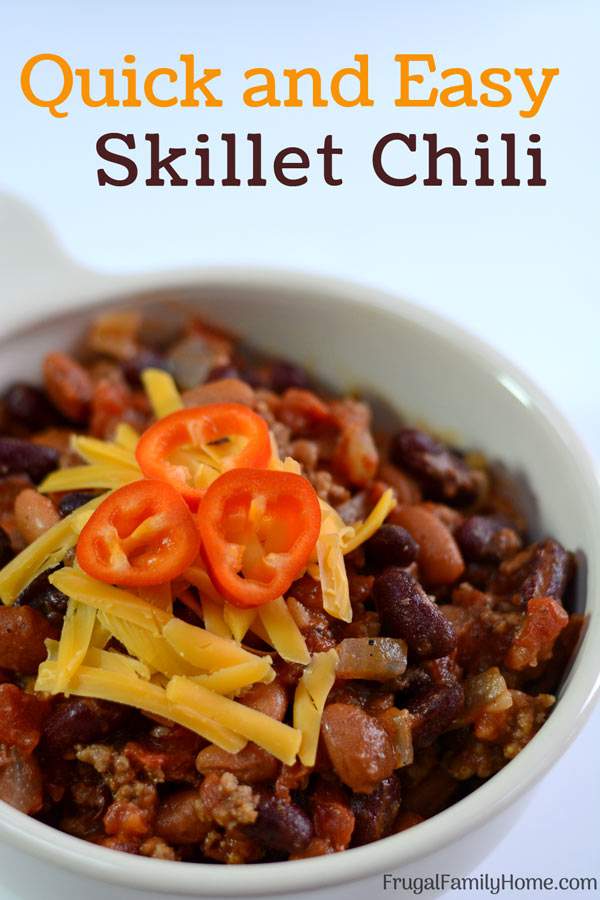 Skillet Chili
Ingredients
1/2

pound

Ground Beef

browned and fat drained

1

tablespoon

Oil

2

minced Garlic Cloves

1

small Onion

diced

2

cans Beans

drained

1

can Diced Tomatoes

Salt and Pepper to Taste

2-3

teaspoons

Chili Powder
Instructions
Add the onions and the oil to the skillet. Sauté until the onion is soft.

Add garlic, chili powder, salt, and pepper to the onions and sauté until fragrant about a minute.

Add the cooked ground beef, drained beans, and diced tomatoes to the skillet.

Cover the skillet and let simmer about 20 minutes.

Remove from heat and serve with the desired topping.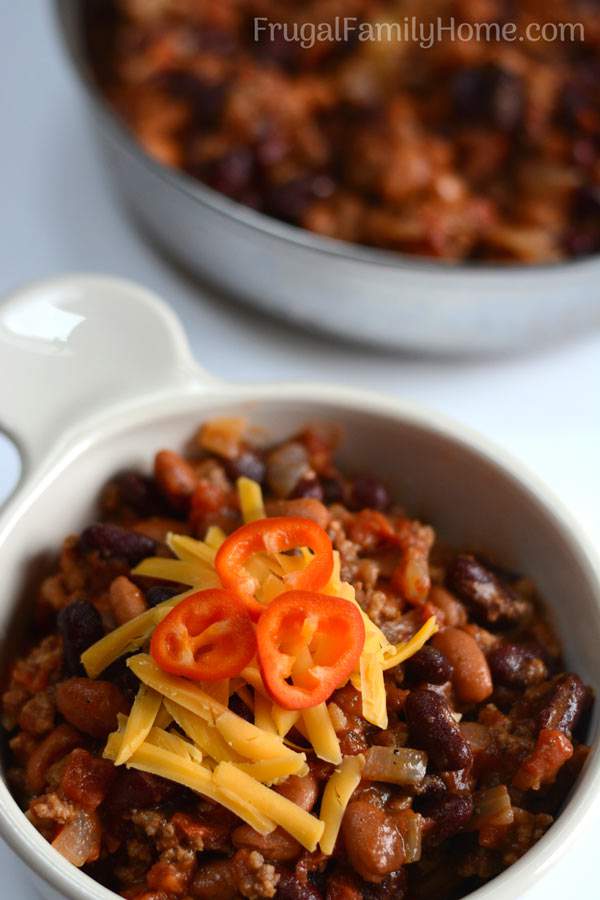 Skillet Chili Tips
✳︎ Make it vegetarian by leaving out the ground beef. Add diced peppers instead.
✳︎ If tomatoes are in season use fresh diced tomatoes instead of canned diced tomatoes to make the chili taste even fresher.
✳︎ Make packages of cooked ground beef for the freezer when you purchase ground beef in bulk to make preparing this chili even easier.
✳︎ Save more money by preparing dry beans instead of using canned beans. You can cook them in the slow cooker or pressure cooker and store them in the freezer.
✳︎ Want your chili spicier? Try adding cayenne pepper or increasing the chili powder.
✳︎ Use a couple different kinds of beans. We like pinto beans and kidney beans or black beans and kidney beans.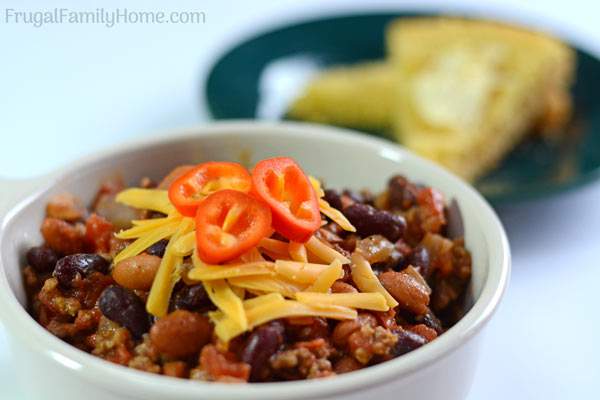 Skillet Chili, How Much Does it Cost?
This skillet chili is really quite inexpensive to make. At under $4 for 4 serving it's a perfect cool weather dish that won't break your grocery budget.
I've included the prices I usually pay at my local grocery stores. If you shop sales, you can probably beat these prices. But in some areas, the prices you find might be a little higher.
Ground Beef, half a pound $1.50
Beans, $.59 each can
Tomatoes $.50 can
Onion $.10
Garlic $.05
Spices $.05
Total cost for 4 servings of skillet chili is $3.38, or $.85 a serving. Pair this with homemade cornbread and a salad and you have a full meal.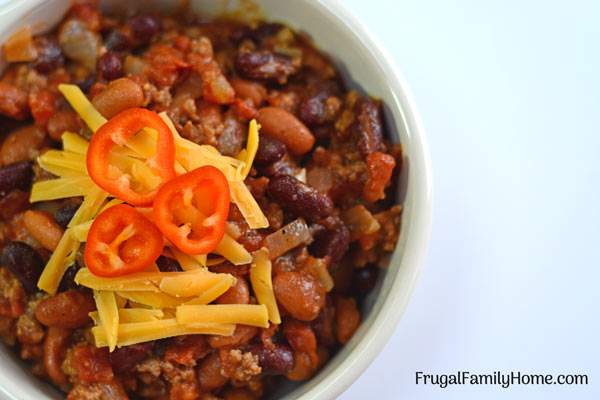 If you have more time you can let the chili simmer on the stove longer than 20 minutes. But it's nice to be able to have this skillet chili ready so quickly when you are in a hurry to get dinner done.
More Quick Dinner Ideas
Chicken Artichoke Casserole
Crock Pot Split Pea Soup
Twice Baked Taco Potatoes