Inside: A delicious recipe for a hearty crock pot split pea soup. It is made in the slow cooker so even on a busy day you can come home to a delicious homemade bowl of soup. It's also Weight Watchers friendly when made with lean ham at just 5 SmartPoints.
On a cold day, there is nothing quite so good as a hearty bowl of soup. This crock pot split pea soup recipe is one my husband and kids love.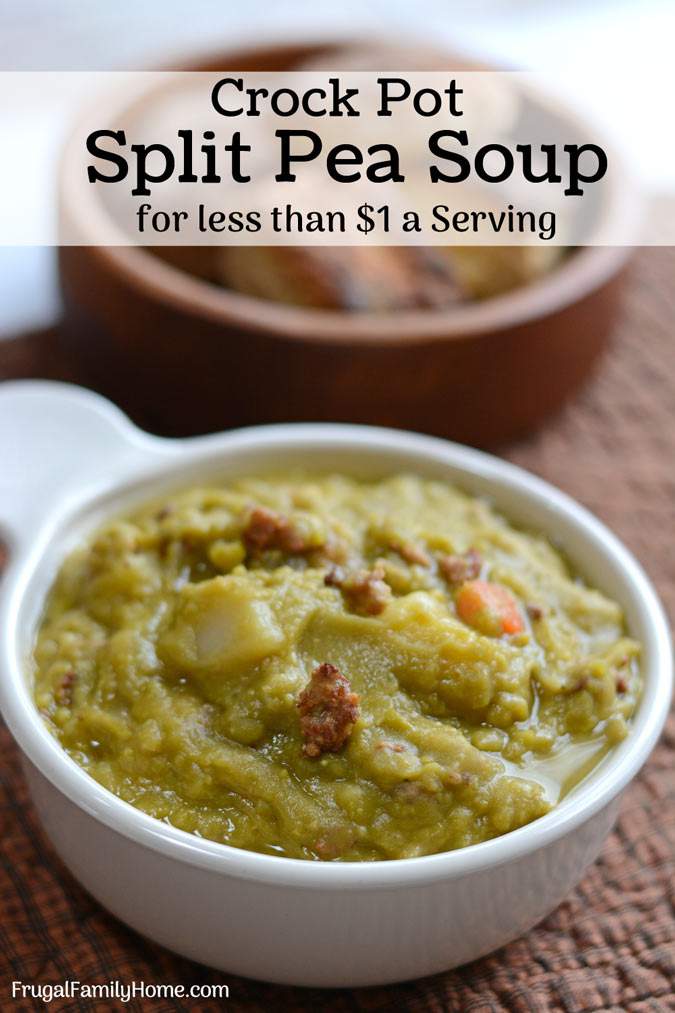 I'll admit I'm not a fan of split pea soup. I can not stand the split pea soup that comes in a can, it just awful. But my family loves split pea soup and when I make a batch of homemade split pea soup, I actually like it.
Even if you are not a fan of split pea soup, you might actually find this pretty good. I know I was surprised when I actually like it.
I also love that it is a slow cooker soup. It's great to set the slow cooker in the morning with all of the ingredients and when we are all starving and ready to eat, dinner is done. Almost like magic, but not quite because you actually have to load the ingredients into the slow cooker.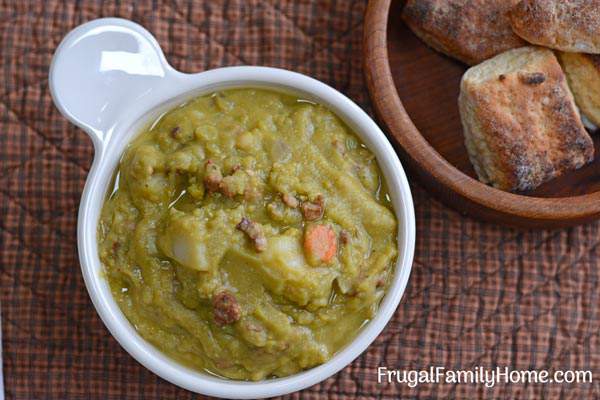 Plus when you make this split pea soup with ham, it's also a weight watchers friendly meal at 5 SmartPoints. Healthy, frugal and tasty too!
What to Serve with Crock Pot Split Pea Soup
I have different ideas of what to eat with split pea soup depending on the time of year I'm making the soup. If it's in the spring, I'll serve it with a nice fresh green salad with lettuce right out of our garden.
In the fall and winter, I like to serve it with yummy bread. Our favorites are butter dips and light and fluffy biscuits. If we make biscuits I'm sure to have some homemade jam to put on top of them. Oh, it's making me hungry just thinking about it.
This is a great soup to enjoy almost all year round, although in the summer we don't eat much soup, but you could even eat it then too.
What's the Cost of this Crock Pot Split Pea Soup
It's fun to see how inexpensive a meal can be. Do you like to do that too? I think it's the math nerd that comes out in me every once in a while or the thrill of knowing a meal our family enjoys is also a frugal meal that saves us money.
It also helps to keep us from eating out. When I see how much it costs to eat out versus eating at home, it helps us eat out less. It's hard to spend that extra money on food to eat out.
I've figured out the cost of this meal. Because when you know what a meal cost it can help you plan a more frugal menu for those short on money weeks without feeling like you are going without.
Split Pea $2.50
Potatoes $.10
Sausage $3.00 or Ham Cubes $2.00
Onion $.33
Carrot $.08
Celery $.15
Seasonings $.05
For the full recipe of soup, it cost $5.88 for the ingredients. These are average prices in my area. I can usually get the split peas for around a dollar a pound in bulk and the sausage on sale can be as low as $2/lb.
If I'm using ham cubes they are either from the freezer that was leftovers from ham, I purchased for a holiday or I found a good deal on them at Grocery Outlet for around $2.
The soup makes 6-8 servings. At 6 servings the soup cost $.98. But if you get 8 servings out of the soup it's only $.73 per serving. Either way, it's still an inexpensive meal. Plus like I mentioned earlier if you make this split pea soup with ham instead of sausage it also Weight Watchers friendly at 5 SmartPoints.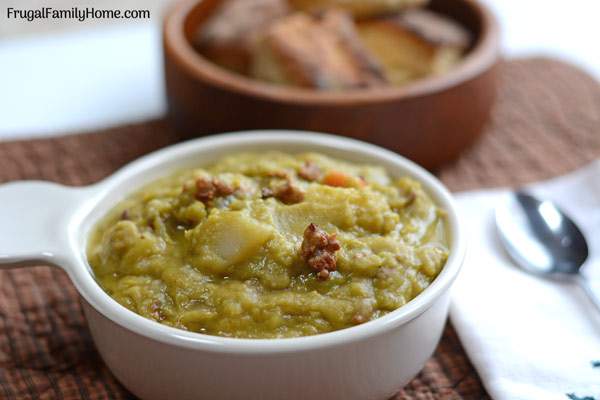 If you add in season fruit and homemade biscuits or butter dips it wouldn't cost much more and you'd have a full meal for just a little over a dollar a person. Here's the recipe for how to make split pea soup.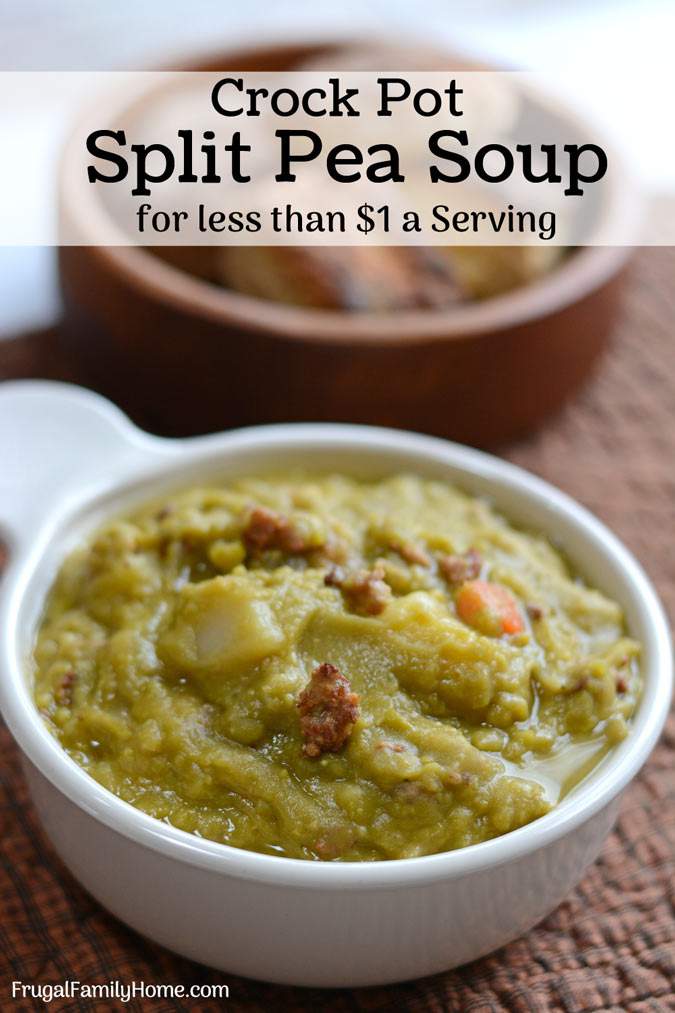 An Easy to Make Crock Pot Split Pea Soup
Ingredients
1

pound

Sausage

browned and drained or 2 cups Ham Cubes

6

cups

of Water

1

pound

of Split Peas

3

medium Potatoes

1

Onion

Chopped

1

Carrot

sliced

2

stalks Celery

sliced

1/2

teaspoon

Thyme

1/2

teaspoon

Pepper

Salt to Taste
Instructions
Wash the peas under running water to remove any debris or stones.

Add all the ingredients to the slow cooker.

Stir to mix and cook on low 10-12 hours
Notes
When you make this recipe with lean ham it's Weight Watchers friendly at just 5 SmartPoints.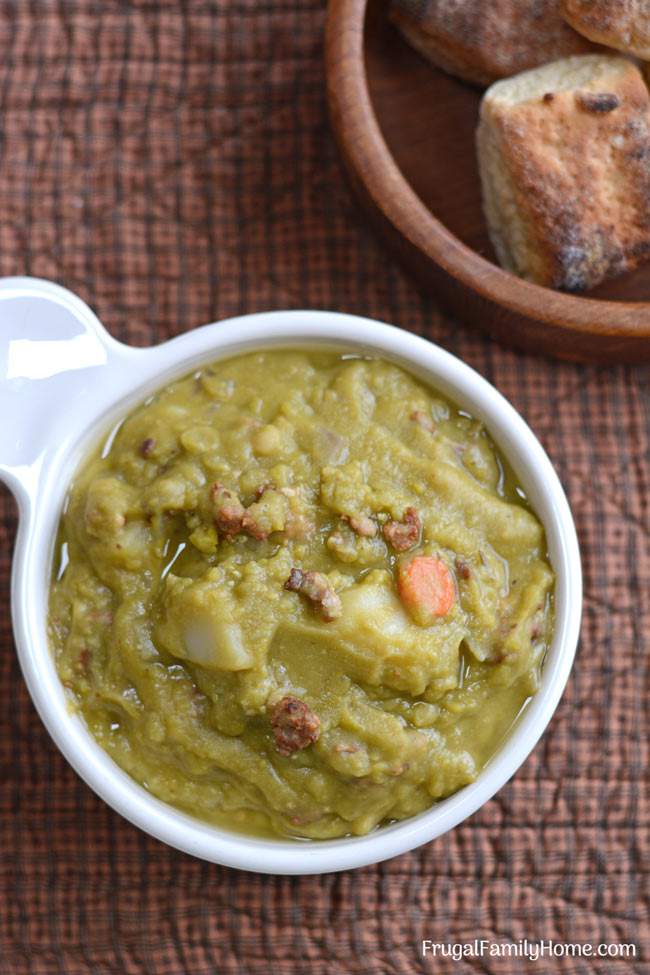 I hope your family enjoys this recipe for crock pot split pea soup. It's an easy slow cooker recipe that even a non split pea soup eater, can enjoy having for dinner. Plus it's a frugal dinner at under $1 per serving.
What's your favorite soup to make?
More Soups You'll Want to Try
Potato and Corn Chowder with Bacon
Chicken Pot Pie Soup
Taco Soup
Subscribe and you'll get Recipes
sent right to your inbox!
Click the button below and fill out the form.