Do you purchase the pop can biscuits? I know I used to purchase them too and with coupons they are often a good deal. But what if you could make them at home in about the same amount of time and for less money, would you make biscuits from scratch? With my quick and easy 123 biscuits recipe you can make them at home almost as easy as the pop can ones.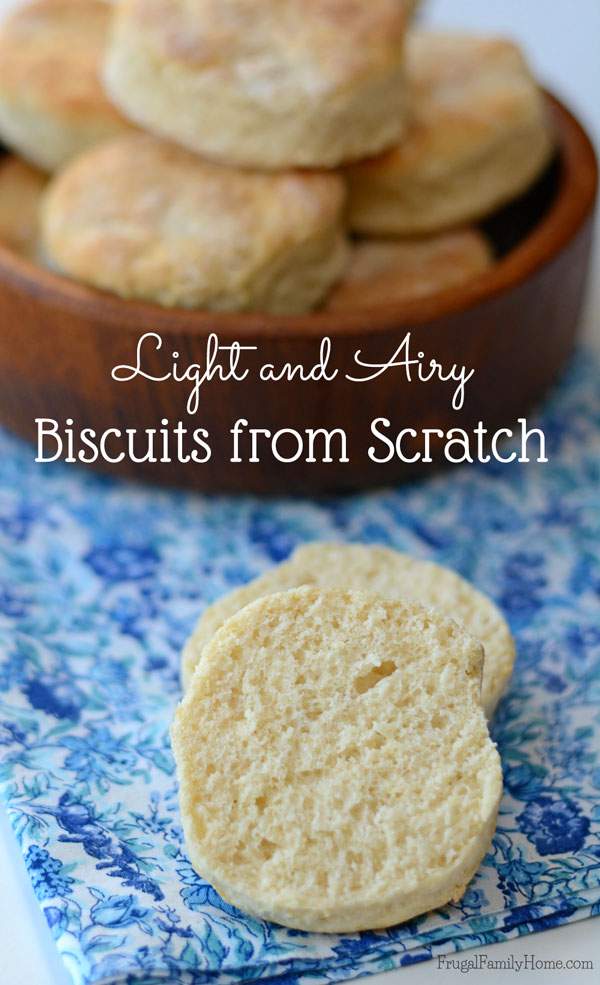 Here's the recipe for you to print. If you want to see the step by step video just scroll on down after you print the recipe. I'm sure after watching the video you'll wonder why you haven't been making biscuits from scratch before now. I've also included the cost comparison between the canned pop biscuits price and the price of the homemade biscuits.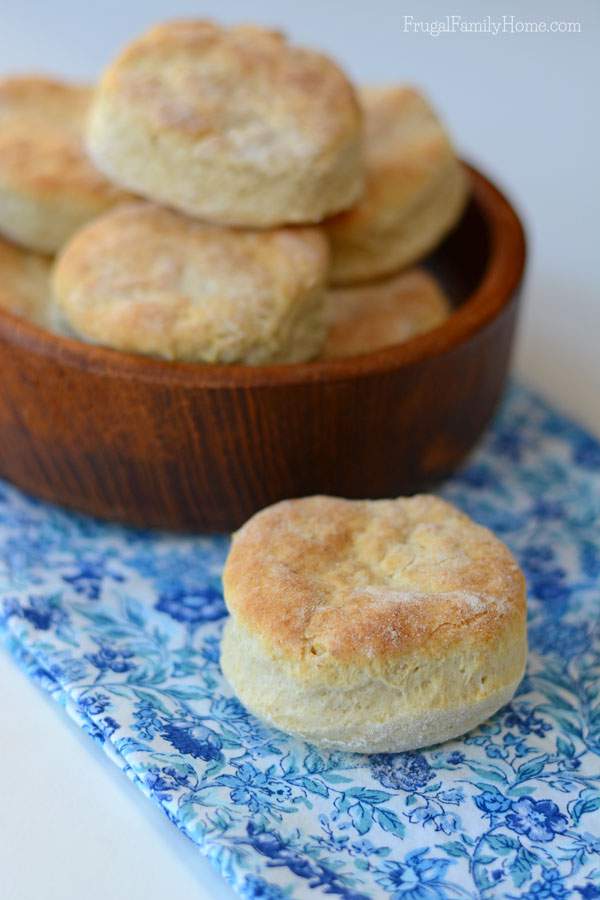 Quick and Easy Homemade from Scratch Biscuits
Ingredients
2

cups

Flour

1

teaspoon

Salt

3

teaspoons

Baking Powder

1/3

cup

Water

1/3

cup

Milk

we use soy milk to make them dairy free

1/4

cup

Oil

vegetable, canola, olive whatever you have on hand
Instructions
In a bowl add the flour, salt, and baking powder. Whisk to combine.

In a measuring cup at the milk, water, and oil. You can use all milk instead of milk and water but I like to use the water to save a little money.

Add the milk mixture to the flour mixture and stir until the flour is moistened.

Once the dough clings into a ball, use your hands to knead it in the bowl about 5-6 times.

Place the dough on a floured board or surface and pat out about 1/4 inch thick.

Cut with a biscuit cutter, or a glass. When I'm feeling lazy I just cut them into squares.

Place on a cookie sheet and bake at 450 degrees for 8-12 minutes or until baked through and golden brown. I usually check at 8 minutes so they don't over bake.

Serve warm with butter and jam.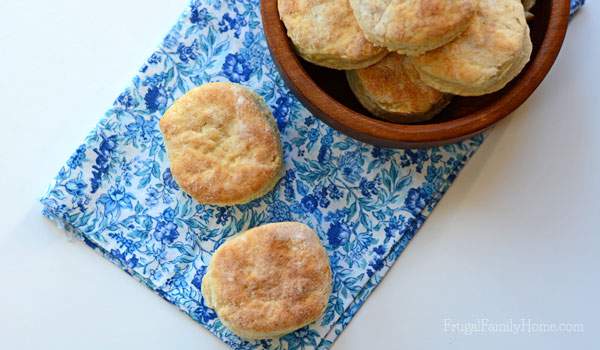 Quick and Easy Biscuits Recipe, Video Tutorial
Here's the step by step video of how to make my 123 biscuits. I think once you watch it you'll see just how easy it is to make biscuits at home.
Cost Comparison Pop Can Biscuits vs Homemade Biscuits
A tube of 8 pop can biscuits cost right around a dollar sometimes $1.25 if there isn't a coupon. Which makes each biscuit cost about $.13 This recipe for 12 biscuits, sometimes a baker's dozen of 13 works out to cost about $.50 for the batch or $.04 per biscuit.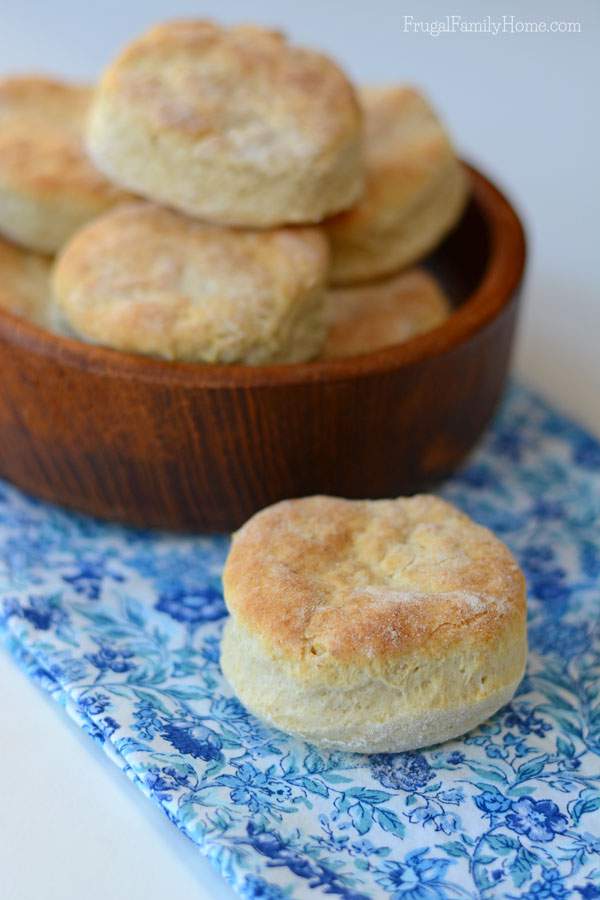 Tips for Making Light and Airy Biscuits Easily
Most biscuit recipes call for shortening, butter, or lard to be cut in. I've found that I can use oil and the biscuits still turn out great and no need to cut in the fat. Making this recipe easy to make.

When mixing the flour mixture and the milk mixture, be careful not to over mix. You only need to mix it with a spoon until the flour is all moistened and the dough comes into a ball. Over mixing will cause the biscuits to fail to rise and become tough, not light and airy.

If when mixing, the dough seems really sticky add a little flour to the mixture, you want a soft dough but not a sticky dough.

If the dough is too dry, add a little milk or water. The amount of flour or liquid needed can vary with the humidity. If the dough is too dry, be sure to add some more liquid.

If you are in a hurry, cut the biscuits into squares instead of using a biscuit cutter. It makes the task quicker and no little scraps to press back together.

Preheat your oven while you are mixing the biscuit dough. No need to wait until it's fully warm, I hate to waste the energy, just place them in the oven when they are ready.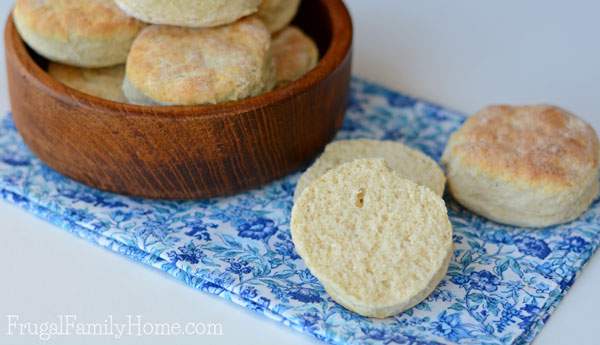 That's all there is to making these light and airy biscuits at home in no time flat. Plus you can save almost 9 cents per biscuit over the pop can biscuits when you make them at home.
More Easy Make from Scratch Recipes
Homemade Potato Chips
From Scratch Egg Noodles
Homemade Pita Bread
Frugal Homemade Bread