Chicken is great for dinner, but sometimes when you use the same chicken recipes over and over it can get boring. That's why you are going to love this chicken artichoke casserole recipe.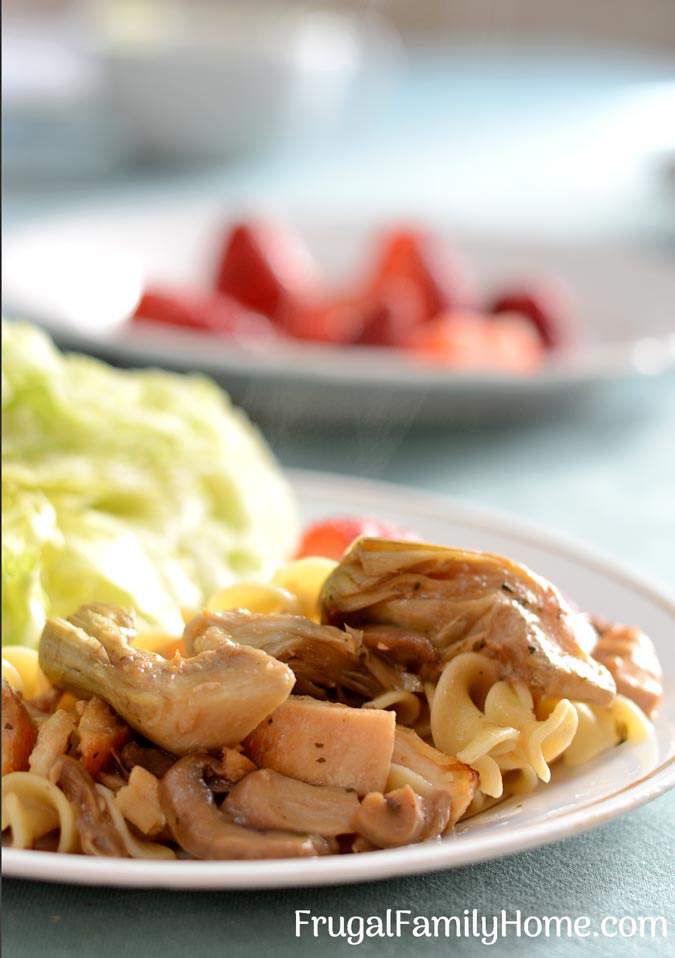 Some of the links in this post are my referral links. Which means when you purchase through them I can make a little money at no extra cost to you. Thanks for your support in this way.
Chicken is a great frugal meat. It can be grilled, broiled, baked and even fried. Plus you can usually purchase it for under $2 a pound, making it a much better buy than other meat.
I purchase chicken regularly from Zaycon Fresh (I did before they went out of business). When you have 40 pounds of chicken to prepare for the freezer, you need to have quite a few recipes to make. So the family doesn't get bored with eating the same chicken dishes over and over.
That's why my family loves this chicken artichoke casserole. It's a unique combination of chicken, mushroom, and artichokes.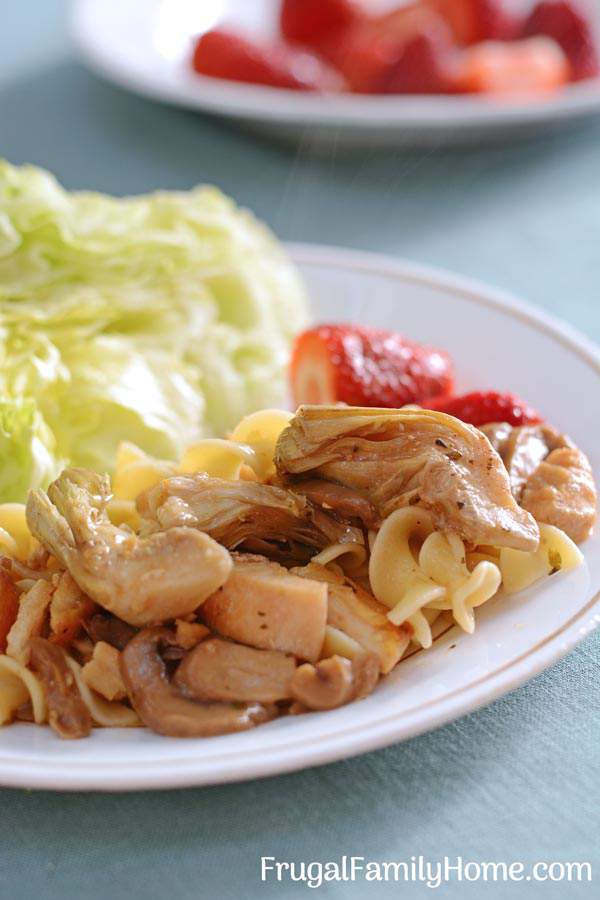 Ingredients Needed to Make Artichoke Chicken Casserole
Chicken Breast, sliced
Mushrooms, canned
Marinated Artichoke Hearts, canned
Olive Oil
Garlic
Chicken Broth
Flour
Salt and Pepper
Pasta
This recipe is a great pantry recipe. All of the ingredients are items you probably already keep in your pantry. If you are like me you always have a few chicken breasts in the freezer too.
Making this chicken artichoke casserole great for those nights when you forgot to start the meal in the slow cooker, which happens at our house occasionally. It's quick and easy to make.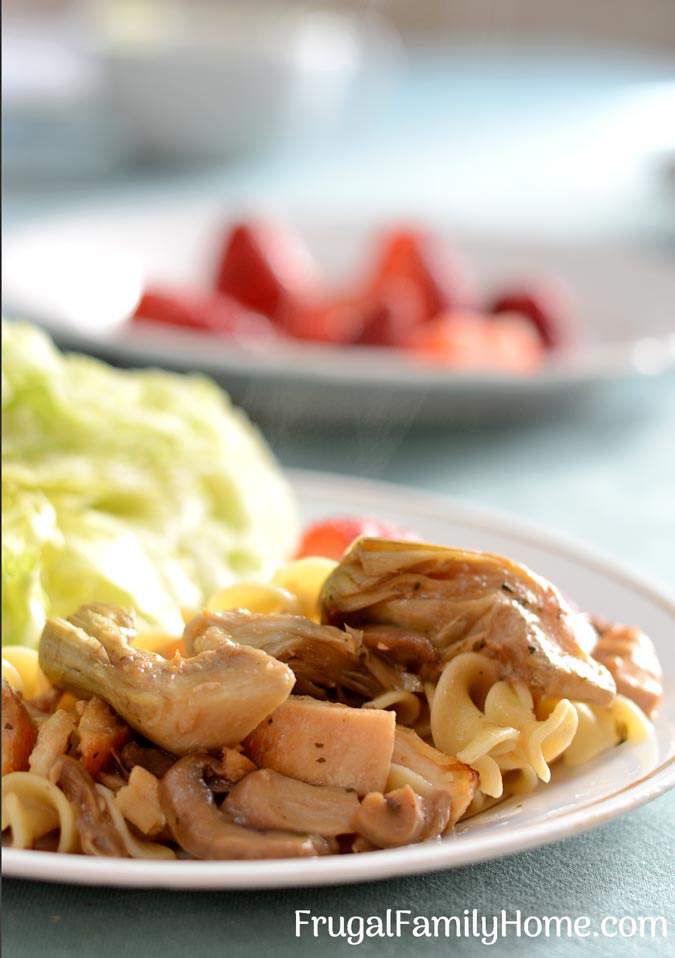 Chicken Artichoke Bake
Ingredients
1

pound

Chicken Breast

cut into strips

1

can Mushrooms

1

jar Marinated Artichoke Hearts

4

tablespoons

Olive Oil

2

cloves

Garlic

2

cups

Chicken Broth

2

tablespoons

Flour

Salt and Pepper to Taste

1/2

pound

Pasta
Instructions
Preheat the oven to 350 degrees.

To a skillet add 2 tablespoons of oil and cook the chicken strips until browned over medium high heat.

Drain the can of mushrooms and add the mushrooms and the garlic to the browned chicken in the skillet.

Cook for a minute or until the garlic is fragrant. Add salt and pepper to taste.

Grease a casserole dish and add the chicken mixture to the greased casserole dish.

Drain the artichoke hearts and place on top of the chicken and mushroom mixture. Set aside.

To the skillet, add 2 tablespoons of olive oil to the pan and add the flour. Whisk to blend well.

Slowly add the chicken broth to the skillet and whisk well to make sure no lumps form.

Bring to a boil and then simmer until mixture is thickened.

Once the sauce has thickened pour over the chicken mixture and bake uncovered for 30-45 minutes.

During the last 15 minutes of cooking prepare the pasta according to directions.

Once the chicken mixture is cooked, spoon over the pasta noodles and serve.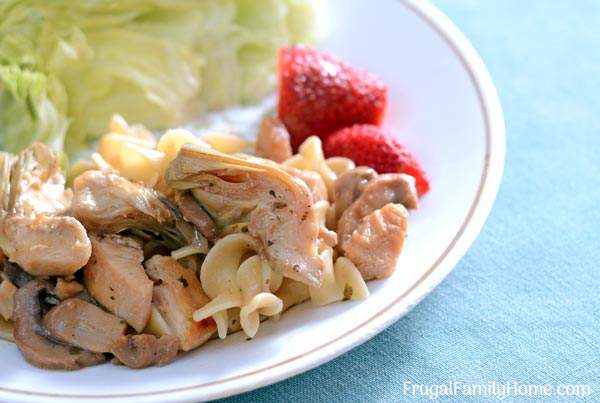 Tips for This Chicken Artichoke Casserole Recipe
✳︎ If you purchase chicken in bulk like I do, prepare the chicken when you purchase it. Cut a pound of chicken breast into strips and then place it into a freezer bag. Label it with the recipe name and date it. The chicken is ready for this recipe. All you have to do is thaw and drop into the pan. No messy raw chicken to handle.
✳︎ Make your own chicken stock at home. Freeze it in 1 cup portions so it will be ready to go in the freezer for this recipe and others. It's less expensive and no additives you don't want.
✳︎ Don't worry about any bits of brown that stick to the bottom of the skillet when cooking the chicken. That is called fond and will come up when cooking the sauce. It adds great flavor to the sauce too.
✳︎ When adding the broth to skillet with the flour and oil mixture, be sure to add a small amount of chicken broth and whisk well. Then add more and whisk well again. It's easy to whisk out lumps in a small amount of liquid than a large amount.
✳︎ Start the pasta boiling about 15 minutes before the chicken artichoke casserole is done cooking. This way you'll have the right amount of time to cook and drain the pasta before the chicken is done cooking.
✳︎ To make a pretty presentation on a platter, add the noodles to the platter and gently spoon the chicken, mushrooms and artichoke hearts over the noodles then drizzle the sauce over top. Finish it with a sprinkle of parsley or parmesan cheese. This is a great way to serve this dinner when is company coming over.
What's your favorite chicken dish to serve your family? I would love to have you leave your chicken dinner ideas in the comments below.
Other Yummy Chicken Dinners
BBQ Chicken
Grill Pineapple Chicken Sandwiches
Garlic and Herb Chicken Thighs
Pin This Recipe for Later,

Subscribe and you'll get Recipes
sent right to your inbox!
Click the button below and fill out the form.