In the last month or so, I have found some great deals on chicken thighs. My family seems to prefer thighs over chicken breast. But I try to have a mix of chicken in the freezer. When I spotted bone in chicken thighs for just $.59/lb, I purchase a few packages and got busy making a few freezer packs.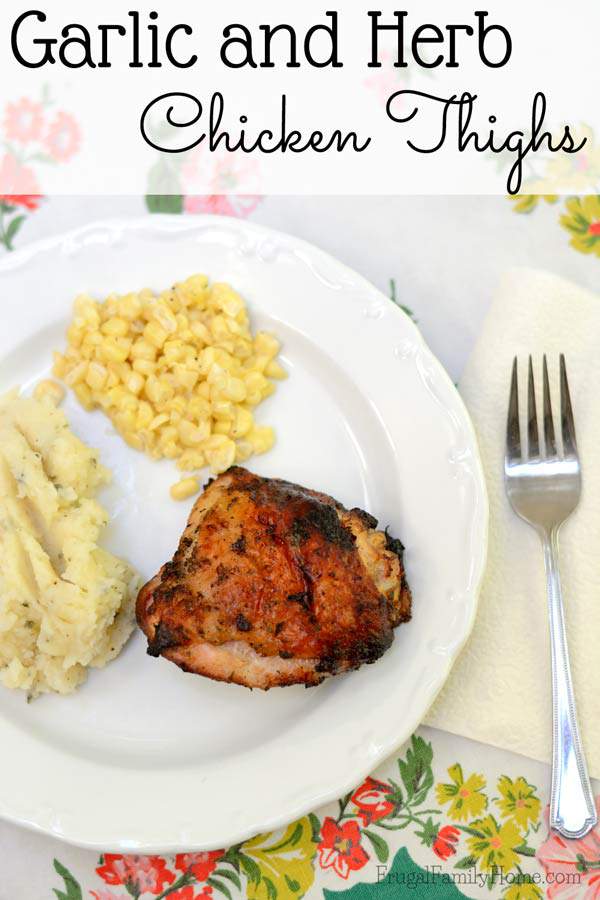 Just so you know, this recipe would also work for boneless, skinless chicken thighs or breasts. Use whatever chicken parts your family likes the most.
Making the Herb and Garlic Chicken Thigh Freezer Packs
To make these packs is easy. I like easy and the easier it is the more I likely it will get done. So even if you only have a few minutes after getting home you can have a few meal packages in the freezer in no time flat.
Step One, Rinse, Trim, and Skin (if desired)
The thighs I purchased had a little extra skin on them so I trimmed it off. You can leave the skin on, like I did or removed it, if you want.
Once the chicken thighs are trimmed and rinsed clean, I pat them dry. I like to place them thighs into a large baking dish or on a large plate so I can season them all at one time. If you have purchase two or three packages of thighs you might want to place them on a cookie sheet.
Step Two, Season and Seal the Chicken
Sprinkle the chicken with garlic and herb seasoning and then place them into a zipper freezer bag. Make sure to mark the bag with the date and what the bag contains. I always think I will remember but I never do.
Preparing the Herb and Garlic Chicken Thighs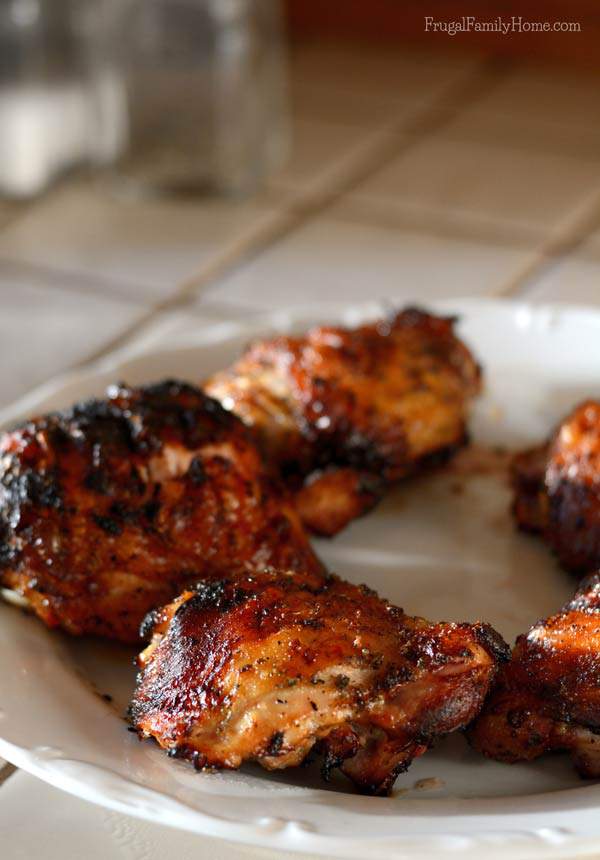 When you are ready to prepare the chicken. Thaw overnight in the refrigerator. While the meat is thawing the seasoning will help to soak into the chicken to flavor it.
I like to grill the chicken thighs. But you could also bake or slow cook the chicken. Cook the chicken until it's cooked through and no longer pink. The skin, if you left it on, gets nice and crisp and the flavor is delicious.
I like to serve the chicken with corn from the freezer and some chive mashed potatoes. It makes for a yummy comfort food meal, in no time at all.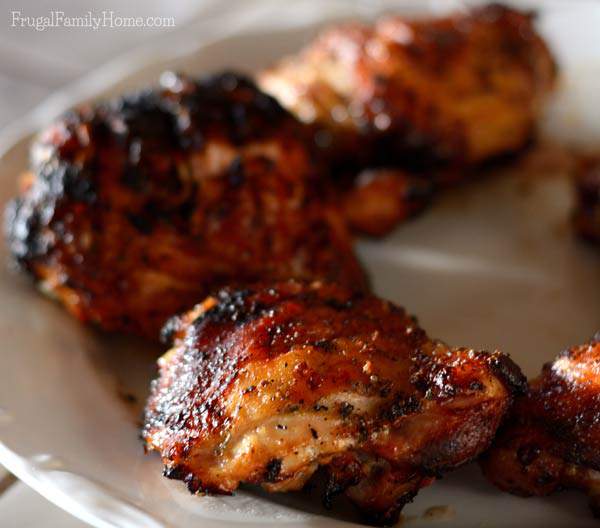 Garlic and Herb Chicken Thighs
An easy dinner you can make ahead for the freezer and later cook in the slow cooker or oven.
Ingredients
Chicken Thighs

trimmed and rinsed
Instructions
Place the trimmed and rinsed chicken thighs on a plate and sprinkle with seasoning mix.

Make sure to sprinkle the chicken on both side and rub the seasoning mixture in.

Place the seasoned chicken thighs into a zipper freezer bag, label and freeze.
To Prepare
Thaw the chicken thighs overnight in the refrigerator, until thawed completely.

Cook the chicken on the grill 10 minutes per side, in the slow cooker (6-8 hours) or bake 45 minutes in the oven until cooked through and no longer pink.

Let cool a few minutes and then enjoy.
Do you freezer cook? What's your favorite freezer meal to make?
A few more chicken freezer recipes to try,
Island Chicken
World's Best Chicken
Herb Rubbed Whole Chicken
Freezer Fajita Chicken
Subscribe and you'll get Recipes
sent right to your inbox!
Click the button below and fill out the form.