I love making meals to freeze. I make them so often that my freezer gets stuffed full, but who can really complain about having dinners ready and waiting in the freezer? I don't know too many people who would. If you need a new freezer meal to try or if you haven't tried making meals to freeze yet, this is a great freezer meal for barbecued chicken to get you started.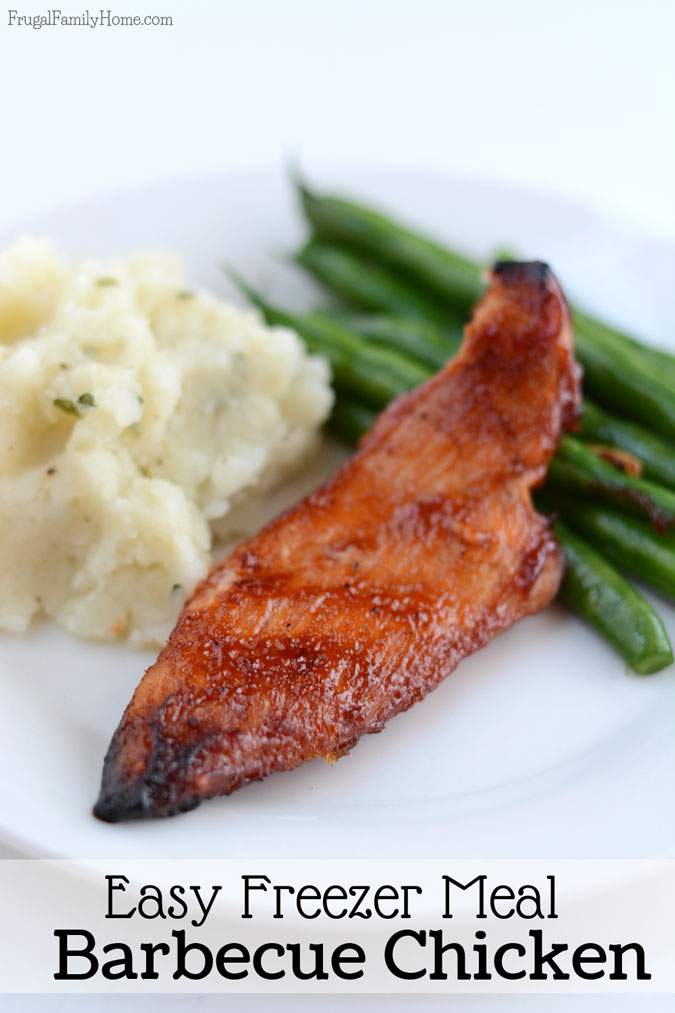 Now the freezer meals I share are not ones that you'll be working hours in the kitchen to make. I like to keep my freezer cooking simple and easy. I also like to keep the precooking to a minimum to keep the time needed to dedicate to freezer meals as little as possible. Because I'm guessing that you are busy like I am and don't need to dedicate hours in the kitchen to making freezer meals.
Okay, let's get right to the recipe and then below the recipe I'll give you some freezer cooking tips to help you get the most out of your freezer cooking time. Plus a few more options for cooking the barbecued chicken.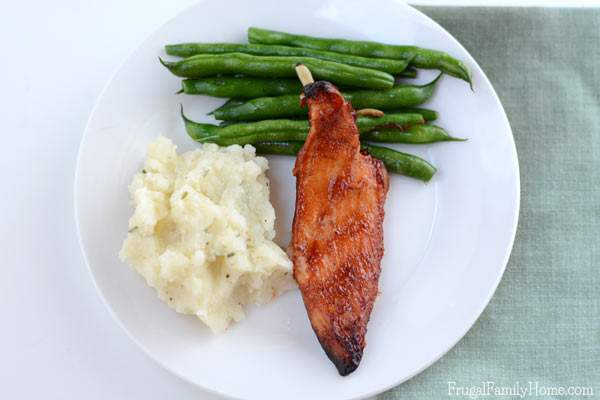 Easy Meals to Freeze, 2 Ingredient Barbecued Chicken
Ingredients
1/2

cup

Barbecue Sauce

1

pound

Boneless Chicken Breast or other chicken pieces
Instructions
Place the barbecue sauce into a quart size freezer bag.

Take chicken cut into serving size pieces.

Place the chicken into a zipper freezer bag.

Squish the chicken around inside the bag to distribute the barbecue evenly over the chicken pieces.

Label zipper freezer bag with contents and date.

Freeze until ready to prepare.

To Prepare

Thaw the barbecue chicken in the refrigerator.

Dump the chicken with the sauce into a slow cooker and cook on low for 6-8 hours or until cooked through or on high 3-4 hours or until cooked through.

Serve with mashed potatoes and green beans.
More Options for Cooking the Barbecued Chicken
While you can cook the barbecued chicken in the slow cooker I thought I would share a few more ways this freezer meal can be prepared.
Grill or Broil the Barbecued Chicken
The second option for cooking this freezer meal is to broil or grill it. You will need extra barbecue sauce to prepare it this way.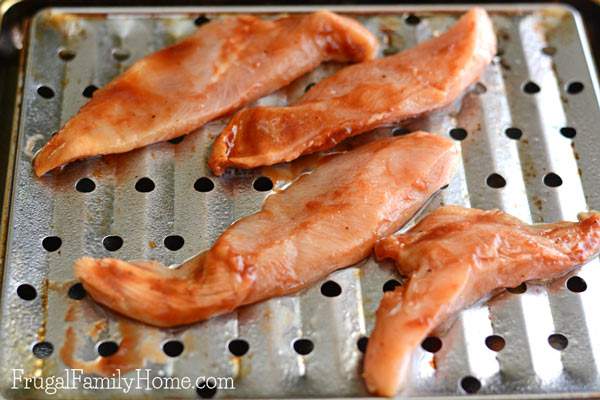 We love the barbecued chicken grilled, it comes out so delicious but you need to do an extra step to make sure it doesn't burn. After thawing the chicken remove the chicken from the barbecue sauce and discard the barbecue sauce in the bag. Try to remove as much of the barbecue sauce as you can without actually wiping it down.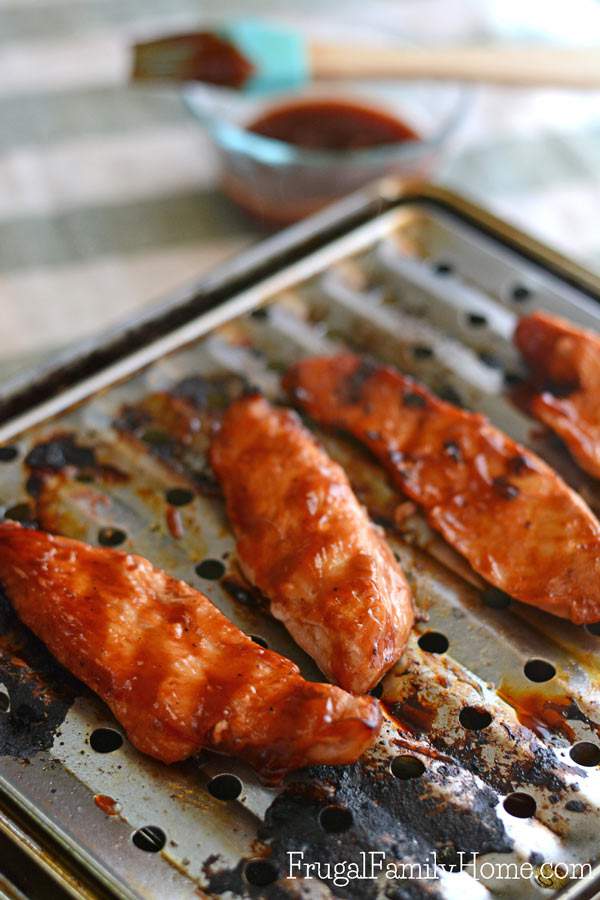 Grill as usual until the chicken has a few minutes left to cook until it's done. Brush the chicken with fresh barbecue sauce, don't use the barbecue sauce you marinaded the chicken it's is tainted with raw chicken juices and could make you sick. Brush the new barbecue sauce onto one side of the chicken grill a minute or two and flip the chicken and brush with more barbecue sauce grill until done.
It's one extra step and a little extra barbecue sauce but it does turn out great.
Bake the Barbecued Chicken
If you'll be making baked potatoes or baking another dish for dinner, baking is a great choice for cooking the barbecued chicken. Just thaw as usual and add the chicken to a sprayed casserole dish.
Bake at 350 degrees until the chicken is cooked through and juices run clear. The cooking time will depend on how thick your chicken pieces are. I check mine after 20 minutes with a meat thermometer if it's done great if not, I will check again in 10 minutes. Keep baking until the chicken is cook through and no longer pink.
Tips for Preparing Meals to Freeze
Prepare your bags before you start. If you know how many bags of each type of freezer meal you are making you can prepare the bags before you even start. I like to label my bags with the contents and date. Then all I need to do is fill them.
Prepare the Sauces. Before I even get my meat out of the refrigerator I prepare my sauces and place them into the freezer bag. This way the marinades are ready to go and I only have to add the meat.
Portion the Meat to Serving Sizes. I find it's easier to portion the meat at the time of preparing the freezer meals. My son and I eat a smaller serving so I always include a small piece of meat for us. My daughter and husband like a little more meat so their serving portions are bigger.
Lay the Bags Flat to Freeze. If your freezer space is limited lay the bags of freezer meals flat and get them as flat as possible until they are frozen. Once frozen you can stand them on end to help conserve on freezer space.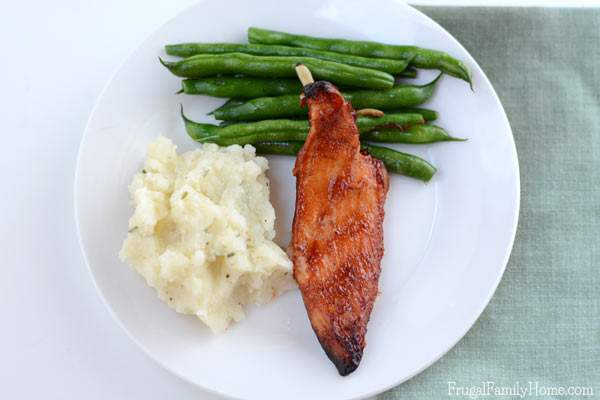 That's my super easy barbecue chicken freezer meal. If you haven't tried making meals to freeze yet, this is the perfect recipe to try.
What's your favorite way to cook barbecued chicken?
[signoff]
More Chicken Freezer Meals