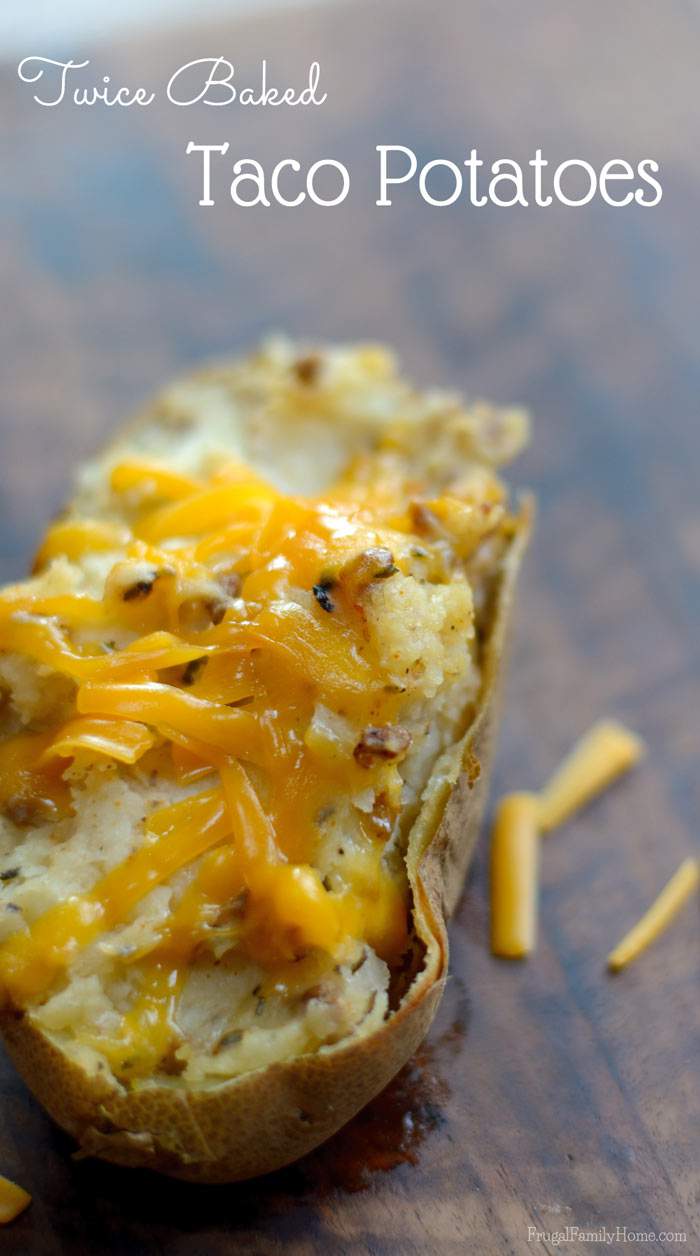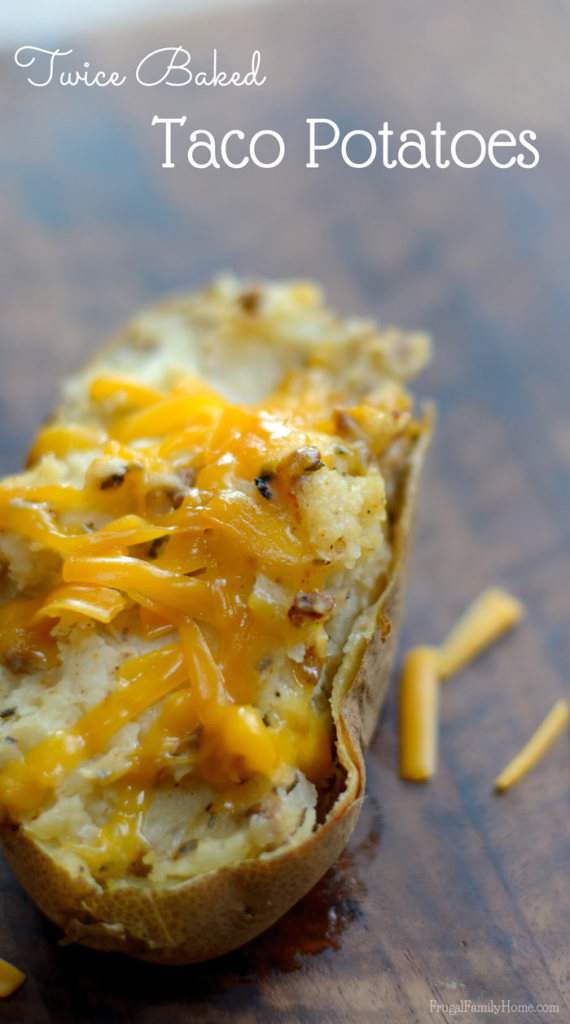 When I first found this recipe, I knew this would be one my family would really like. We like twice baked potatoes and we like tacos, so put them together and how could we not love this recipe.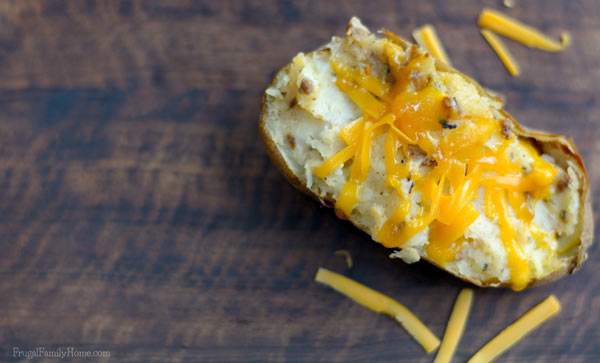 I did change-up the recipe a little, as we didn't have any dairy free sour cream. I used cream cheese instead of the sour cream. I also made it dairy free using the dairy-free cream cheese from Trader Joe's and dairy free shredded cheese too.
But if you don't need to eat dairy free, the regular cream cheese will work great too.
The results were very good, a creamy and slightly spicy potato. In fact, I made a double batch and we ended up eating all of them, except two.
They were a really big hit. We ate them as a main dish, but these potatoes would also make a really nice side dish also.
If you'll be making them as the main dish be sure to make at least one potato per person. These potatoes were great served with a side salad and fruit to round out the meal.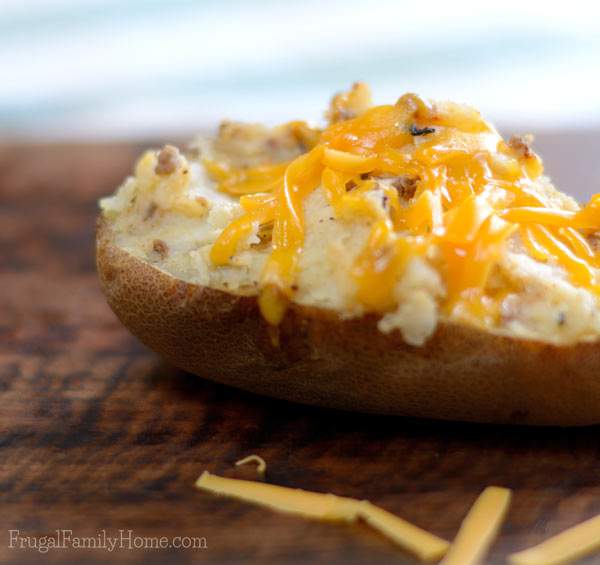 To make a batch of the Twice Baked Taco Potatoes, it will cost $3.06 for the whole recipe, or $.77 per serving. Not bad at all for such a yummy recipe, that our family really loves.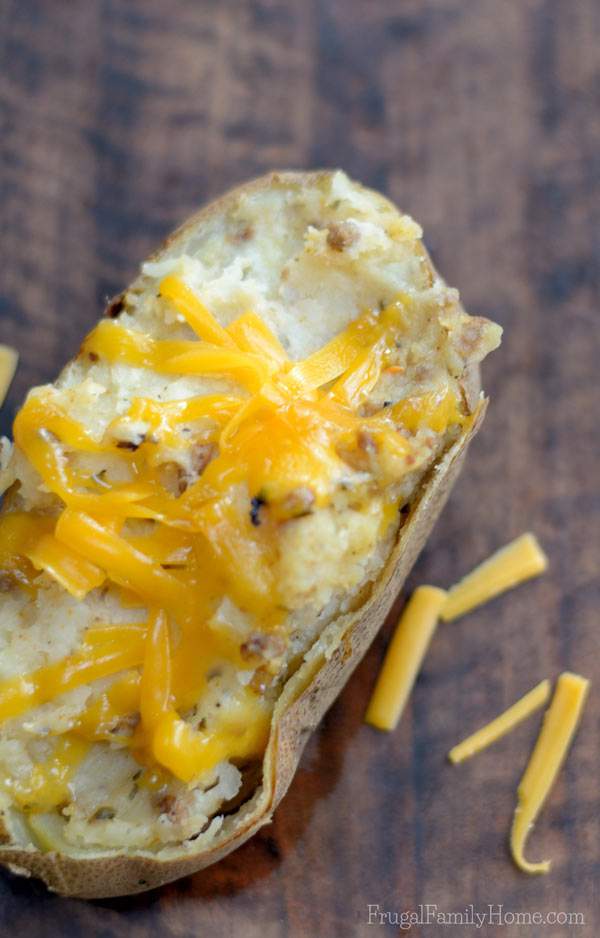 Twice Baked Taco Potatoes
Ingredients
4

Baked Potatoes

2

T

Butter or Margarine

2

T

Cream Cheese

we use the Trader Joes dairy free

2-4

T

Soy milk or regular milk

1

t

Salt

1/4

t

Pepper

1/2

pound

Ground Beef

browned and seasoned with taco seasoning

1 1/2

Cup

Shredded Cheese
Instructions
After baking potatoes either in the oven or microwave. Let them cool for about 10 minutes.

Then cut in half lengthwise and scoop out the potato leaving a small amount of potato near the skin.

Place the potato pulp into a bowl.

To the potato pulp add the cream cheese, margarine, salt, pepper and milk and mash until smooth. Add the seasoned ground beef and 1/2 cup shredded cheese. Mix well.

Once mixed well scoop the potato mixture into the potato shells and then top each potato with the cheese remaining.

Bake 375 degrees for 20-25 minutes.
I am sure these would do well as a freezer meal but we just didn't have any leftover to freeze this time. 🙂
Other Posts in This Series
Day One, Oat Groats
Day Two, Rice Cereal
Day Three, Cinnamon Twists
Day Four, Jam Danish
Day Five, Caramel Sticky Buns
Day Six, Cheeseburger Muffins
Day Seven, Pinwheel Sandwiches
Day Eight, Pizza Cups
Day Nine, Crisp Bean Burritos

SaveSave
Subscribe and you'll get Recipes
sent right to your inbox!
Click the button below and fill out the form.