I like to make meatballs and have them on hand in the freezer. It's so convenient to have them waiting for a busy night when I need to get dinner done fast.
Having the meatballs baked and ready to go makes getting dinner on the table a snap. Since I have so many meatballs in the freezer, I've been trying to come up with a few new recipes to use them in. This one I created, is a keeper, our whole family loved it.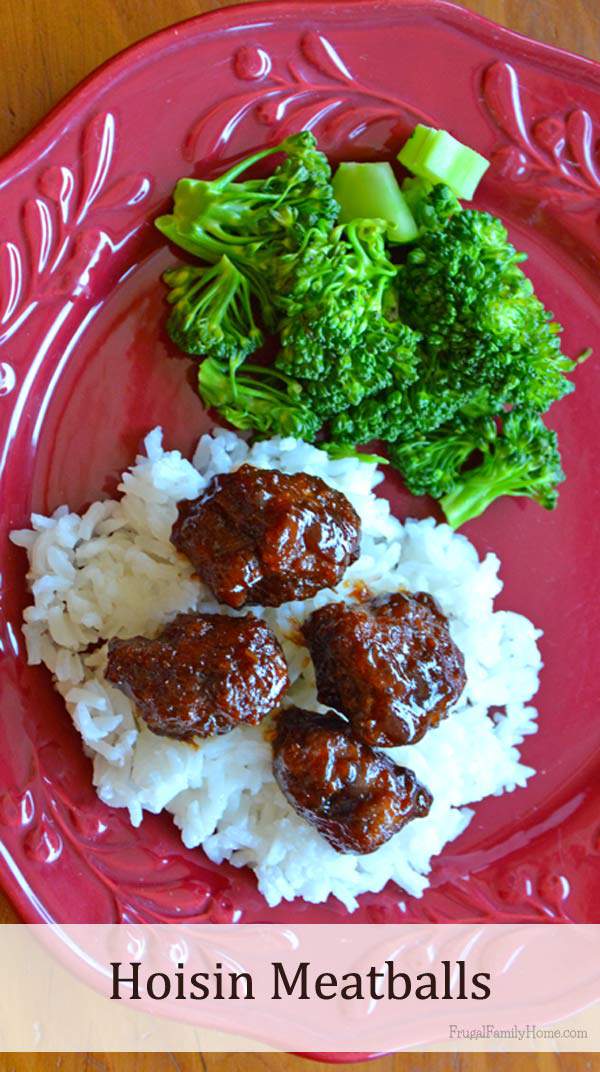 Yummy Tangy Hoisin Meatballs
My family loves hoisin sauce. We put it on our spring rolls, in our stir fry, and now on these meatballs. I was a little apprehensive about adding this sauce to meatballs, after all, it's an asian sauce.
So, I wasn't really sure how well it would go with the meatballs I make for the freezer.
But they turned out so very good. I mean we didn't have one leftover at all. I'm so glad I grabbed a few photos before we ate dinner.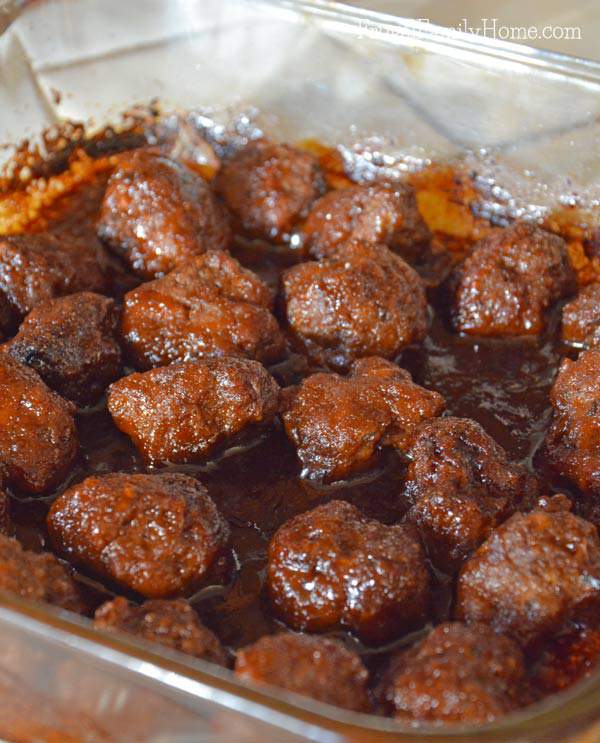 I've seen some other recipes that use hoisin sauce on meatballs. Those recipes called for rolling the meatballs in the sauce after baking.
I really like the sauce to stick and caramelize on the meat, so I added the sauce to the meatballs before I heated them in the oven.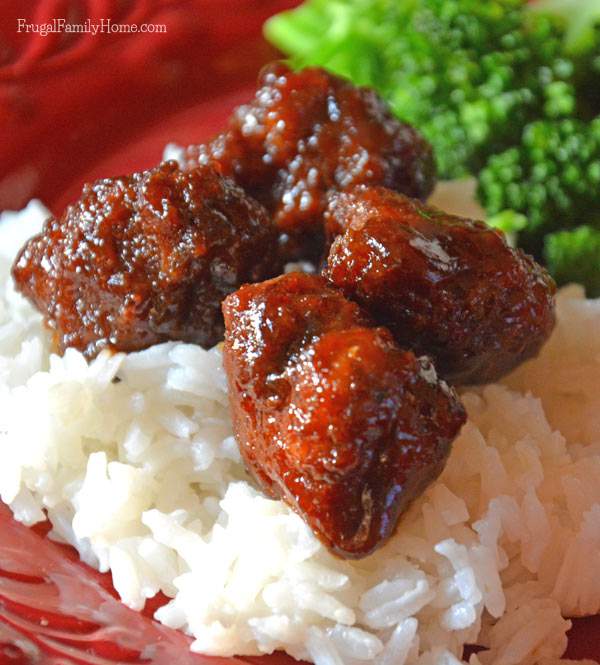 The sugars caramelized really nicely, this gave them a wonderful great baked in flavor. With just a slight crispness on some of the edges, just how my family likes them.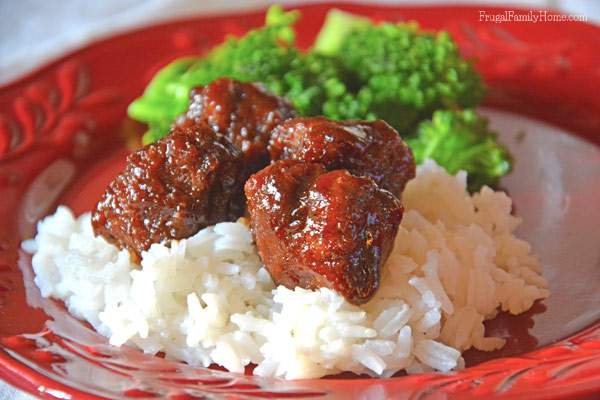 I served those yummy caramelized meatballs on a nice bed of rice, with a little sauce added too. Then finished out our meal with a nice helping of steamed broccoli.
Did you know you can get kids to eat broccoli if you have them mix a bite of these great meatballs with the broccoli? At least it worked with my little one.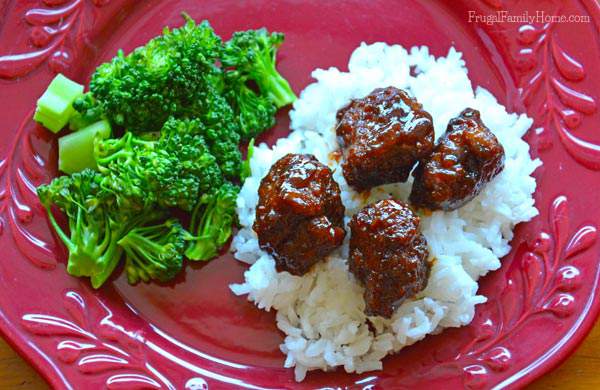 I make this meal a quick and easy one by making a big batch of meatballs ahead of time. Then all I have to do is thaw the meatballs, toss them in the sauce and bake.
In about 15-25 minutes, when the rice is done cooking, we are ready to eat. Yum!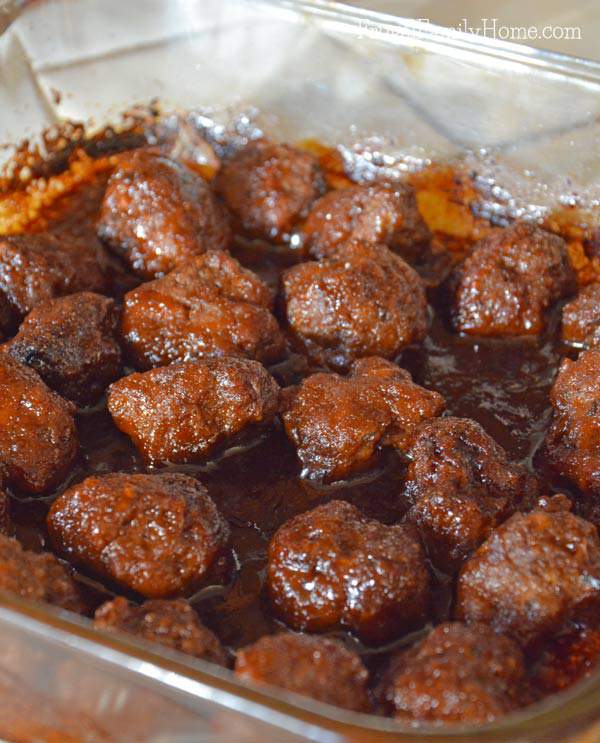 Yummy Tangy Hoisin Meatballs
Ingredients
20-25

Precooked Meatballs

1/2

cup

Hoisin

1/4

cup

Water

1

teaspoon

Garlic Powder

1

teaspoon

Ginger Powder

1

tablespoon

Rice Vinegar
Instructions
If using frozen precooked meatballs, thaw, place in a baking dish and set aside.

Place the rest of the ingredients in a bowl and mix well.

Pour the sauce over the meatballs. Stirring to coat.

Bake at 375 degrees for 15-25 minutes.
What's your favorite way to enjoy meatballs? I would love to have some new recipes to give a try. If you have a good one please leave me a comment and let me know how to make them. Thanks!
Subscribe and you'll get Recipes
sent right to your inbox!
Click the button below and fill out the form.