If you garden and grow zucchini, you probably have lots of zucchini. I know we ended up with lots of zucchini this year and I needed to figure out a way to use it up. That's how I came up with this recipe for zucchini hash.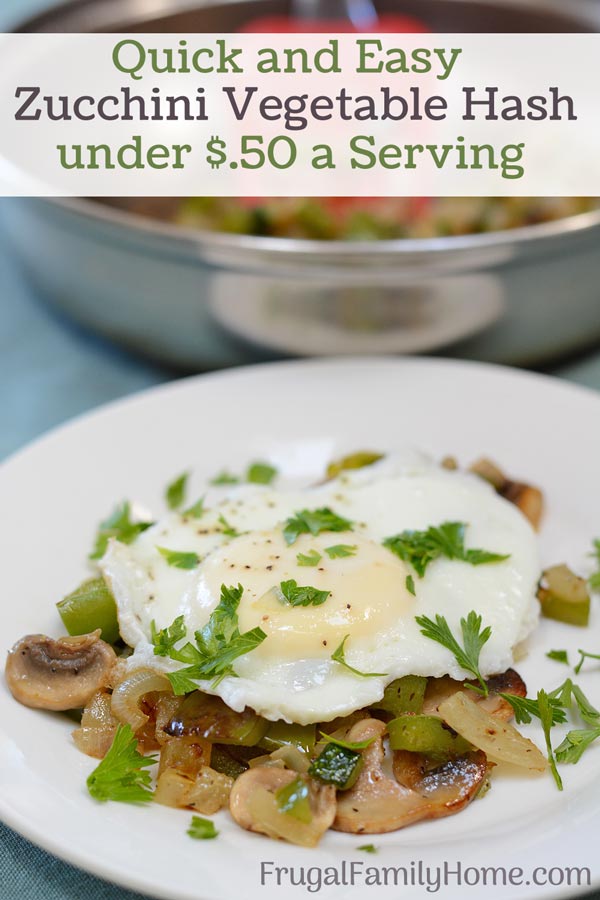 I know you are probably thinking, what zucchini for breakfast?! But it's fantastic.
Even my hubby who is a staunch zucchini hater eats this hash. Although the first time I made it for him I hid it under his fried egg and didn't tell him.
Luckily he loved it and has been eating this zucchini hash often for breakfast ever since.
The secret to making this hash delicious instead of slimy is to make sure not to overcook the zucchini.
Once the zucchini is overcooked, there is no saving this hash. It will be a yucky mushy mess. So be sure to only cook it until it's tender-crisp. Under-cooked is better than overcooked.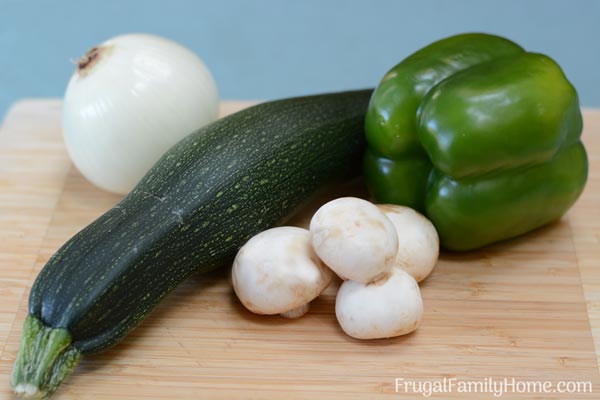 Ingredients Needed for this Zucchini Hash Recipe
Zucchini
Onion
Pepper
Mushrooms
Salt and Pepper
Oil or Bacon Grease
Now you can use any combination of vegetables you have on hand. I used this combination since I had lots of zucchini from the garden. I had a bag of onions from the store. And I have received mushrooms and green pepper in my imperfect produce delivery.
You can use any kind of oil you like, canola, olive oil, coconut oil or even bacon grease you saved from when you cook bacon. Any of these will work well.
Use what vegetables you have on hand. You could just use zucchini but I'm not sure my hubby would like just straight zucchini so I mix it up with a few other vegetables to keep him happy.
How to Make Zucchini Hash
I've made a quick video to walk you through how to make zucchini hash. If watching a video isn't your thing keep on scrolling down to get the printable recipe and tips for making this recipe great.
Zucchini Hash Cooking Tips
Cutting the Vegetables
Try to cut the vegetables about the same size. I diced all the of vegetables, except the mushroom to make sure they cook at about the same rate. I slice the mushroom thinly to help them brown quickly.
Dicing the Zucchini
To dice the zucchini quickly, I'll cut thick rings of zucchini and then sack them. Cut them in one direction, then turn the cut the other direction perpendicular to the first cut. This makes a nice uniform dice.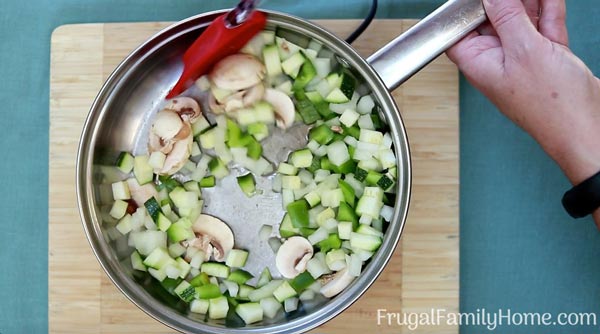 Cooking the Hash
I like to cook the hash on medium-high to high heat. It gives the vegetables a little brown color to them without overcooking them. If the vegetables seem to be cooking too fast, turn the heat down and stir more often.
But don't cook it too long or the zucchini will get mushy.
Serving your Zucchini Hash
We've found that this zucchini has is great with a fried egg on top, or mixed in with scrambled eggs. Both ways are equally delicious.
Prepping Ahead the Zucchini Hash
If mornings at your house are super busy, try prepping the hash ahead of time.
The night before wash and dice the vegetables. Then store them in the refrigerator. In the morning all you have to do is heat the skillet and add the vegetables.
Making for a quick and healthy breakfast loaded with vegetables.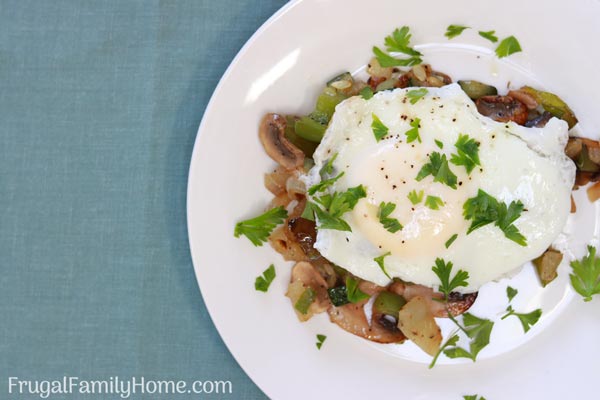 Grab the Printable Recipe…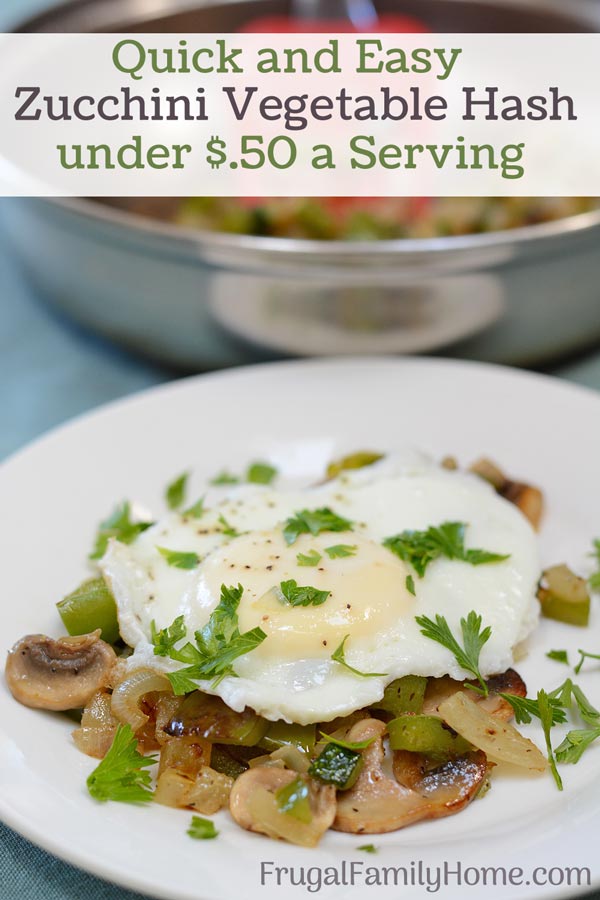 Quick and Easy Zucchini Hash
A quick and easy way to eat more vegetables at breakfast.
Ingredients
1/2

of a small Zucchini

diced

1/2

of a medium Onion

diced

1/2

of a Bell Pepper

diced

4-6

Mushrooms

sliced

1/2

tablespoon

Oil or Bacon Grease

Salt and Pepper to Taste
Instructions
Heat a medium skillet over medium-high heat. Add the oil.

Once the oil is warm, add the vegetables. Stir to coat in the oil.

Cook while stirring occasionally to brown the vegetables.

Sprinkle with salt and pepper.

Cook until tender crisp. Depending on how big you dice your vegetables anywhere from 3 to 5 minutes should cook them to tender crisp.

Once done cooking remove from heat and dish up onto plates.

Fry an egg for each person and serve on top of hash.

This goes great with sausage or bacon and a serving of toast.
How much does this Zucchini Hash Recipe Cost to Make…
I think you'll love this recipe, even more, when you find out how inexpensive it is to make. This recipe is a frugal recipe that is delicious and healthy too. All for under $.50 a serving and that's with the egg included in the price too.
Zucchini, free from the garden or $.56 for a small one from the store at $1.69 per pound or $.28 for this recipe
Onion, $.60 per pound or $.15 for half an onion for this recipe
Bell Pepper, $.58 each or $.29 for half of one for this recipe
Mushrooms $2 for an 8-ounce container from the store, use about 1/4 of it costing $.50
Salt and Pepper $.02
Oil, $1.99 for 48 ounces of Canola Oil or $.01 for half of a tablespoon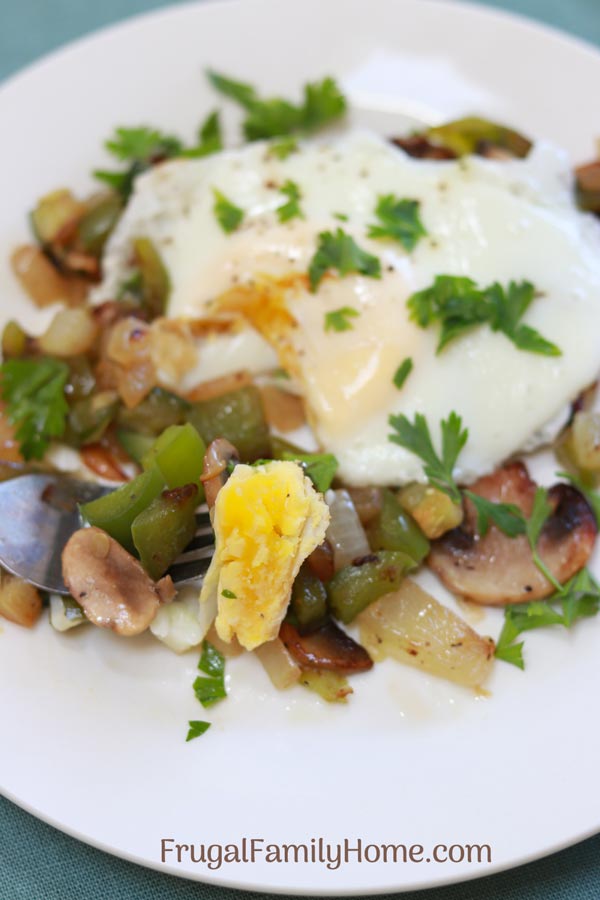 That brings the cost of this zucchini hash recipe to $1.25 for 4 servings. Which works out to just $.31 a serving. Add a large egg to that and breakfast can cost just $.42 a serving.
Now a healthy breakfast for under $.50 a serving. That is such a good deal. Who says it has to be expensive to eat healthily?
A cheap donut will cost you at least $.60 at the grocery store.
Instead you could have a delicious and healthy breakfast that will keep you fueled all morning long for less. Who wouldn't want to eat healthy zucchini hash?
If you think zucchini doesn't belong in your breakfast except for maybe zucchini bread, I think you'll change your mind once you try this zucchini hash.
You can prep it ahead to cut down your prep time in the morning and make a delicious and frugal breakfast for your family. Let me know how you like it when you try it.
More Breakfast Recipes to Try..
Double Chocolate Zucchini Bread
7 Cheap and Easy Breakfast Ideas for Under $1
Subscribe and you'll get Recipes
sent right to your inbox!
Click the button below and fill out the form.