A yummy and easy recipe for caramel apple oatmeal, it's really delicious. It's a great breakfast to use all those great fall apples. The caramel sauce is homemade and dairy free too.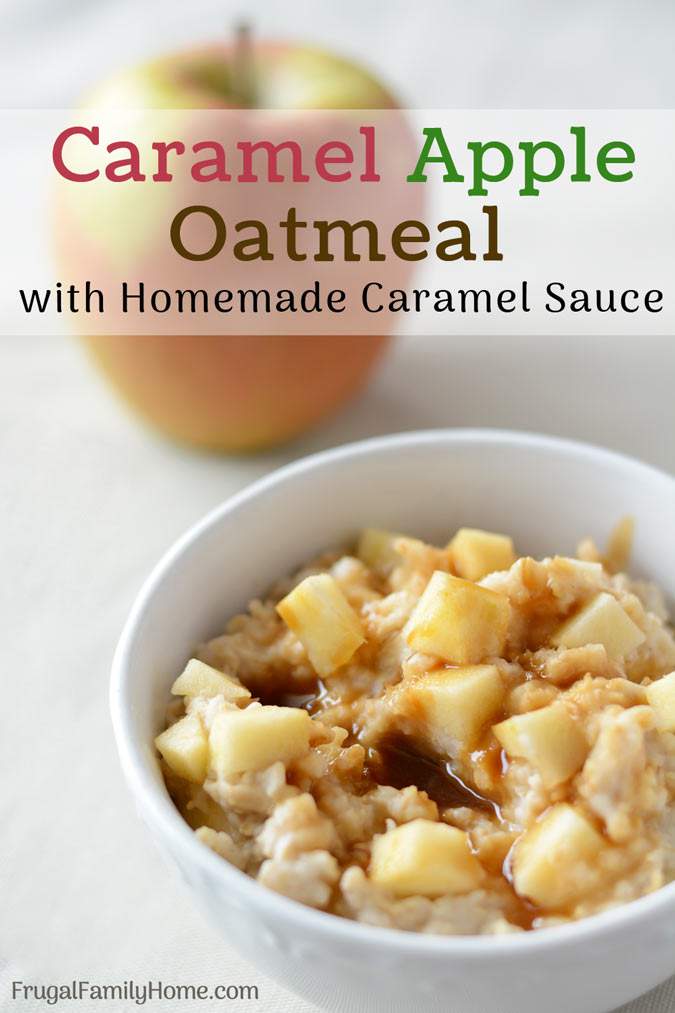 This oatmeal reminds me of those yummy caramel apples you can get in the fall. They are delicious crisp apples that are coated in a smooth and creamy caramel. When you bite into them you get a perfect mix of both apple and caramel.
Am I making you hungry for one right now?
If you have a craving for caramel apples at breakfast, you could eat a caramel apple, no judgment here. But probably it would be better to enjoy a nice warm bowl of this caramel apple oatmeal instead.
What You'll Need to Make Caramel Apple Oatmeal Recipe
Oatmeal, minute or regular oats
Apples
Brown Sugar
Coconut Oil
Salt
I've made a quick video tutorial for you below. If watching a video is not your thing keep on moving down to see tips for this recipe and grab the printable recipe too.
Tips for making Caramel Apple Oatmeal Recipe Perfect
Caramel apple oatmeal is really simple to make. You can prepare it on the stove on in the microwave and in a few minutes, it can be ready.
I think the hardest part is making the caramel sauce and even that is pretty easy.
A few steps to take to make this caramel apple oatmeal perfect.
Powder part of the oatmeal. I use regular oats but you can use quick oats too. Whichever one you use I like to take part of the oatmeal and process it in the food processor or blender to make an oatmeal powder.
Doing this serves to make the oatmeal even creamier without needing to add milk.
You can chop or shred the apples for the oatmeal. I like chopped apples the best, but if you are short on time you can take the whole apple and shred it on box shredder down to the core.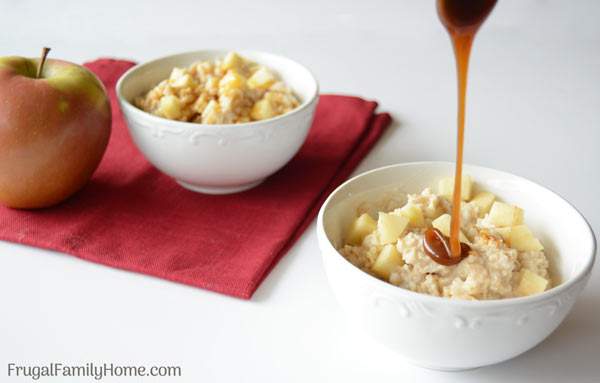 Make the Caramel Sauce ahead of time. While the caramel sauce takes a little time to make, you can make it ahead of time and have it in the refrigerator ready to go. Then when you have a hankering for caramel apple oatmeal you'll have the caramel sauce ready to go.
Chop the apples ahead of time. If you have a bunch of apples on hand you can dice them ahead of time, freeze them and take out what you. Making it so simple to make quickly.
Prep ahead the oatmeal into packets. You can powder the oatmeal and measure the oatmeal into individual packets so they are quick and easy to prepare.
You can also purchase or dry apples and add them to your packets too. Then all you need is your caramel sauce in the refrigerator and the oatmeal can be made in minutes.
Make this recipe gluten free by using gluten free oatmeal.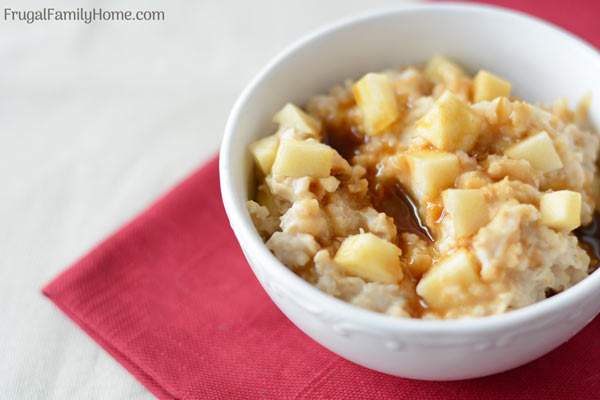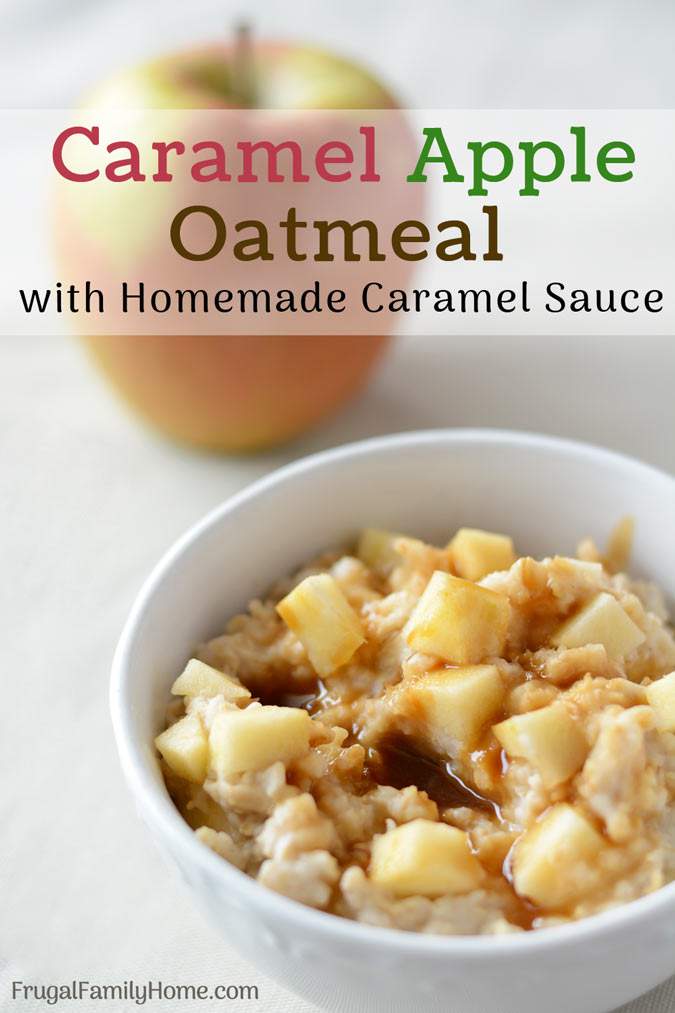 How to Make Caramel Apple Oatmeal
Ingredients
2

cups

Oatmeal

1

cup

Apples

chopped

1/4

teaspoon

Salt

1

cup

Brown Sugar

2

tablespoons

Coconut Oil
Instructions
Start with the caramel sauce by adding 1/4 cup water and 1 cup brown sugar to a pan and bring to a boil stirring until sugar is dissolved. Then cook 8-10 minutes on low without stirring.

Take the sugar mixture off the heat and add the oil and a dash of salt to the sugar mixture. It will thicken more as it cools.

Once the caramel sauce is done, make the oatmeal.

Add 3 1/4 cups of water and salt to a saucepan and bring to a boil.

Once water is boiling, add oatmeal.

Cook for 5 minutes or until thickened.

Add the chopped apples and stir in.

Divide the oatmeal between 4 bowls and drizzle with the caramel sauce.

Serve warm.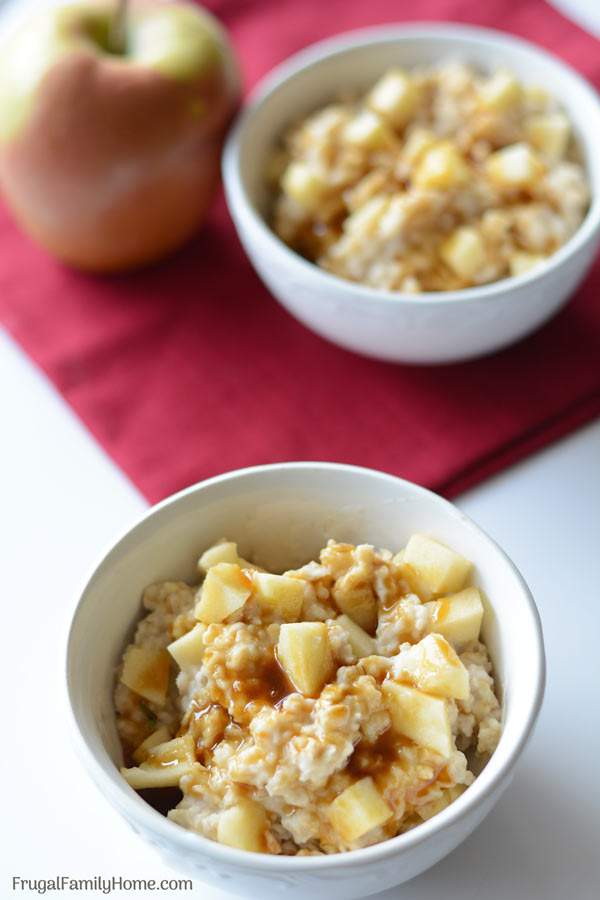 Whether you make this caramel apple oatmeal recipe batch by batch or prep ahead the oatmeal packets, it's sure to be a morning breakfast favorite for your family.
What's your favorite way to enjoy oatmeal on a cool fall morning?
More Breakfast Apple Recipes to Try
Apple Fritters
Mini Apple Muffins
Apple Crumle Bars
Pin it for Later…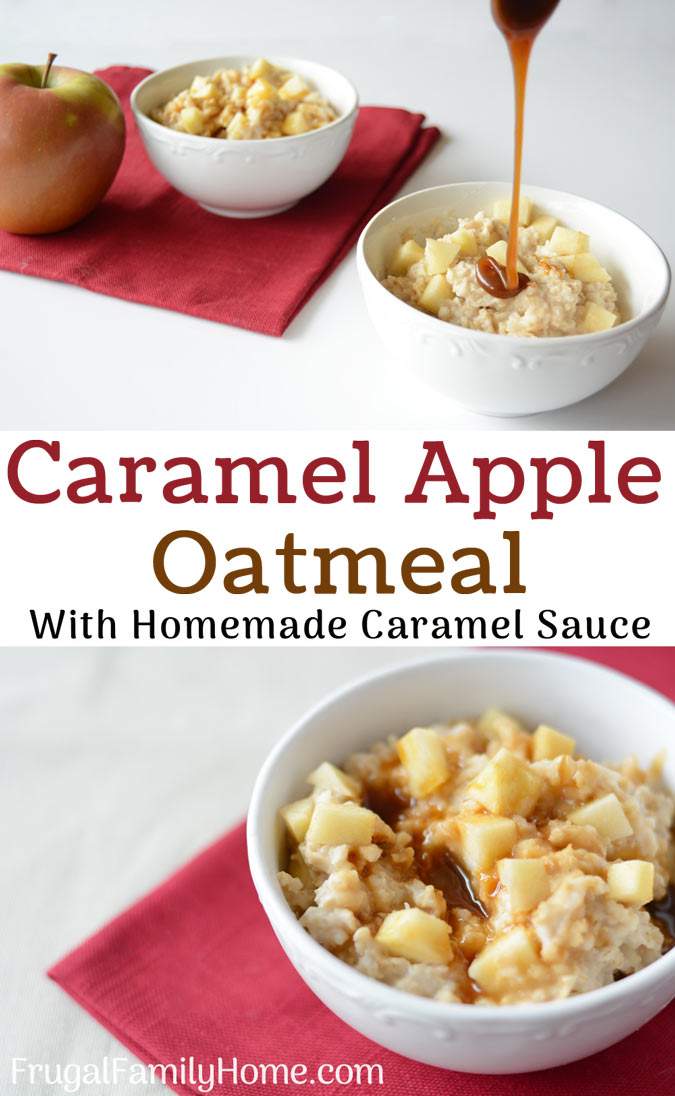 Subscribe and you'll get Recipes
sent right to your inbox!
Click the button below and fill out the form.