I like to keep my kitchen stocked with fruits that I've preserved myself. It's so nice to be able to purchase them in season and stock up when they are on sale and tuck them away for those long winter months, when the out of season fruit can be so bland. I do a combination of canning, drying, and freezing of fruit. Apples are coming into season soon and if you find a good sale on them you'll want to stock up. Did you know you could freeze apples? Here's how to freeze them.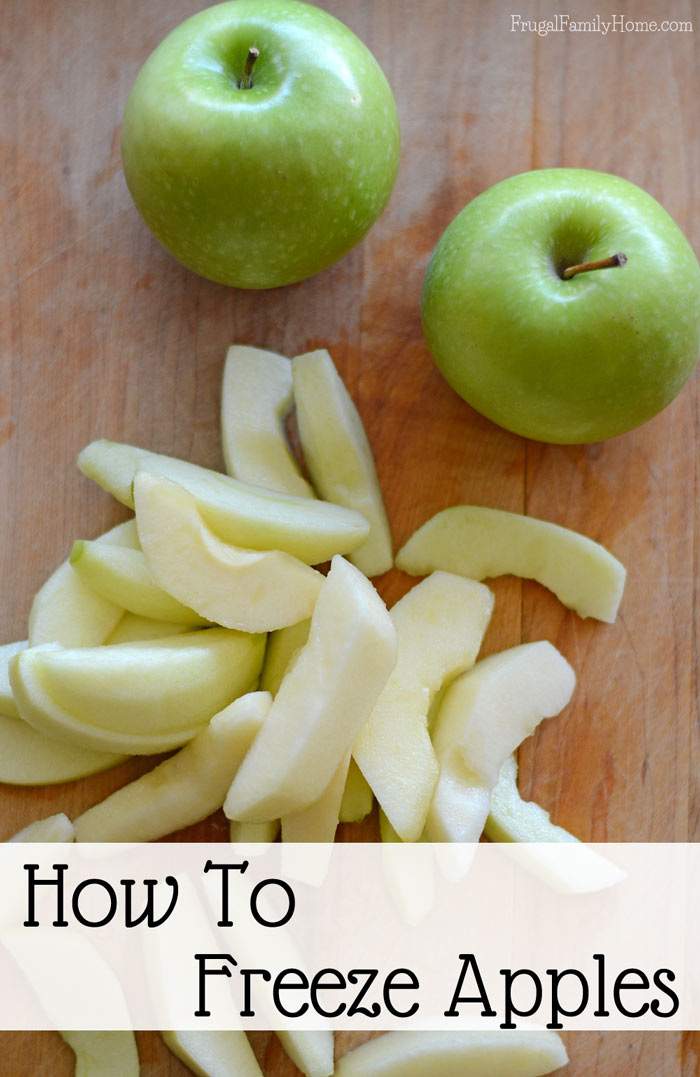 Apples from the freezer are good for pies, crisps, smoothies, and applesauce. Pretty much any cooked recipe these frozen apples will work in. By following this method, your apples can look really great too. They won't turn brown in the freezer.
I discovered how to keep them from turning brown one day when I ran out of fruit fresh. I was working on canning peaches. When canning peaches you use a mixture of water and fruit fresh to keep the peaches from browning while you are preparing the rest of the batch.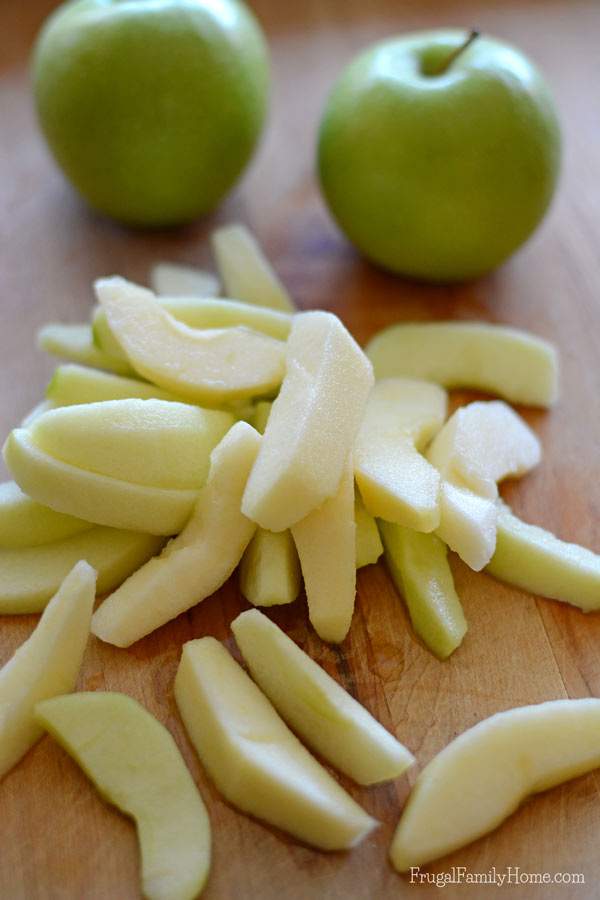 Half way through canning the peaches, I discovered I had run out of fruit fresh. When I needed to make another batch of fruit fresh soak. I knew there had to be another way to keep the peaches from browning. I looked through my pressure canner book and right in the book was a super inexpensive way to keep the fruit from browning. It was salt water.
Yes, just salt water will keep the fruit from turning brown. It's cheap to make and works just as well as the fruit fresh. And it doesn't make the fruit taste salty at all. The salt water just keeps the fruit from turning brown. It works great with all kinds of fruit.
How to Freeze Apples
The salt water works great for keeping the apples from turning brown too. Here's how I mix it up. I place 8 cups of water in one of my big bowls. Make sure the water is not much over 2/3 full since you need room to add the apples to it. If the bowl is too full you won't be able to add too many apples.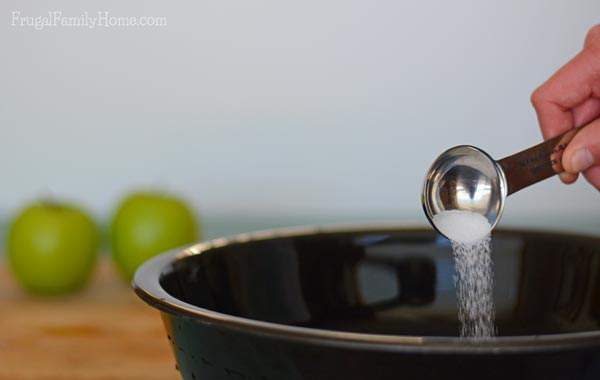 To the 8 cups of water, I stir in 2 tablespoons of salt and stir to dissolve. This mixture will keep the apples from browning while you are preparing all of them for the freezer and it will keep them from turning brown in the freezer. I love that it's so inexpensive too, much less expensive than the fruit fresh.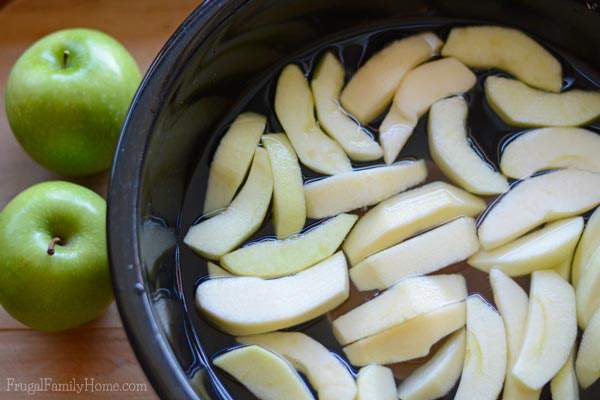 Make sure to submerge the apples by pressing them down. This ensures that they get the salt water on them to keep them to keep them from turning brown. Once all the apples are prepared and have soaked for a few minutes. Drain them in a colander, but don't rinse them.
Add the apples to the freezer bags and be sure to label them. I know I always think I will remember what is in the bag, but I don't always remember. Once I thought I had peaches but it turned out to be pumpkin. So be sure to label the bag with the contents and date.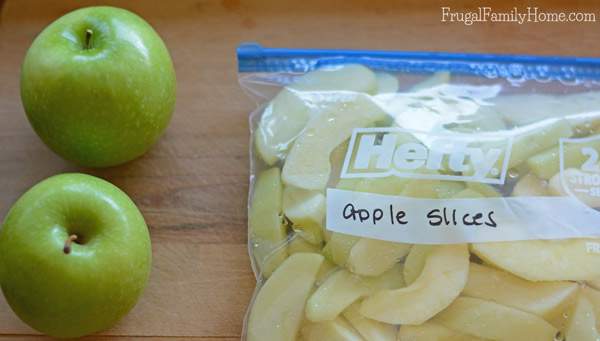 Place the prepared apples into the freezer and freeze until ready to use. If you know what recipes you'll be using your apples in, you can prepare them for the recipe in just the right amounts. I know for my apple crumb pie, I need 4-5 apples sliced thin.
If I'm preparing the apples for a pie, I'll be sure to label the bag pie apples or something like that. It makes it so much easier to just thaw the apples and dump them in the recipe.
That's my inexpensive way to freeze apples. It doesn't take too long to do and you can preserve those great fresh apples for your fall and winter pies, cakes, muffins, and bread. I can almost smell it all now.
Have you ever tried freezing apples before? If you know someone who would love to read this post, I would love to have you share it. Just scroll down a bit and use the social buttons below. Thanks so much!
More Fall Food Preserving Ideas
How to Make Pumpkin Puree
How to Freeze Tomatoes for Soups and Stews
How to Dry Tomatoes