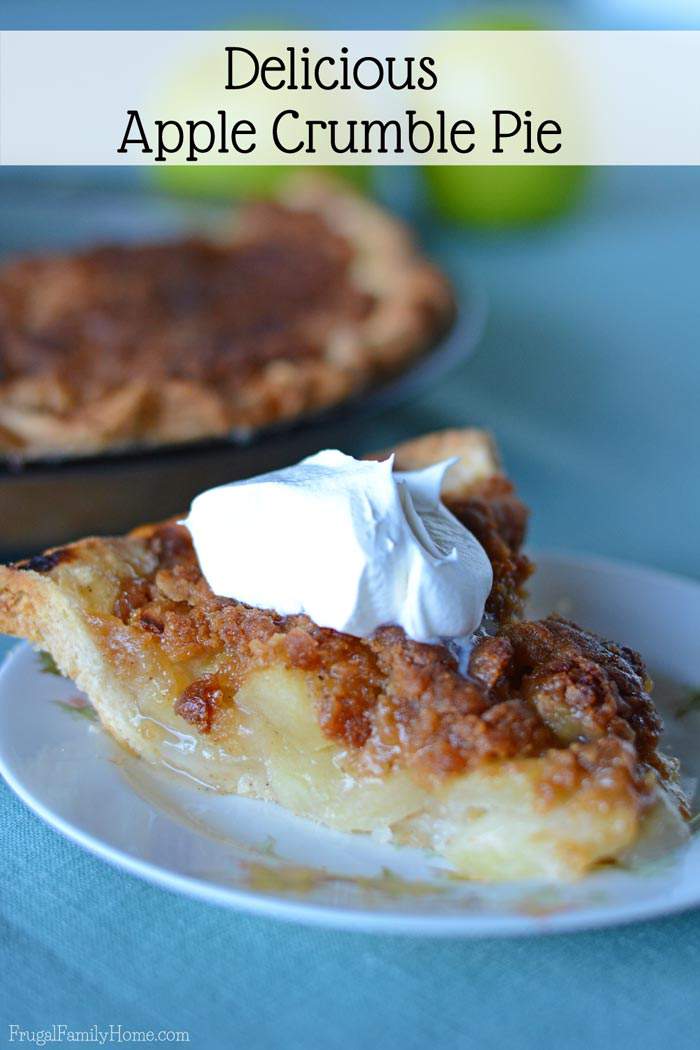 With fall just arrived, the new crop of apples will soon be here. There is just something about those yummy fresh crisp apples you can get in the fall. When I think of apples I think of yummy apple pie. I think you will like this yummy apple crumble pie recipe too.
I love that this apple crumble pie recipe has the crisp topping. It reminds me of apple crisp placed into pie crust. I like to start with a good baking apple, like granny smith apples. The tart flavor to them I think balances out the crisp and sweet crumble topping. Making for a delicious crunch with a slightly tart hint as you take a bite.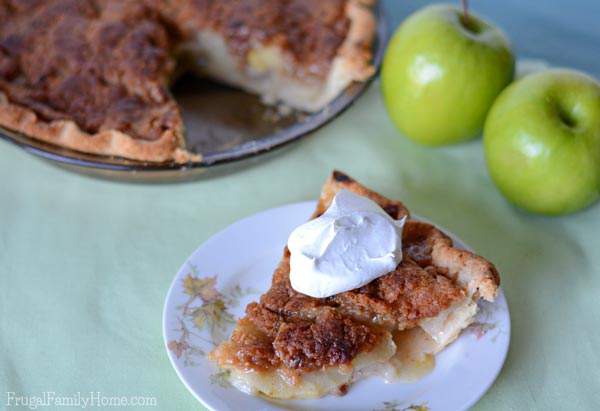 My great grandma used to make the best apple pies. They were also so delicious. She hardly had to measure anything when she baked. She just knew how much to add into each recipe. I know with recipes I make often this is how I tend to bake too. Most of the time she would make a regular apple pie but on occasion we would have the apple crumble pie. Which was always equally as good.
What you'll Need to Make this Apple Crumble Pie Recipe
Apples, thinly sliced, about 4-5 cups for an 8-inch pie
Sugar
Nutmeg
Single Pie Crust
Butter or Dairy Free Margarine
Brown Sugar
Flour
How to Make an Apple Crumble Pie
Step one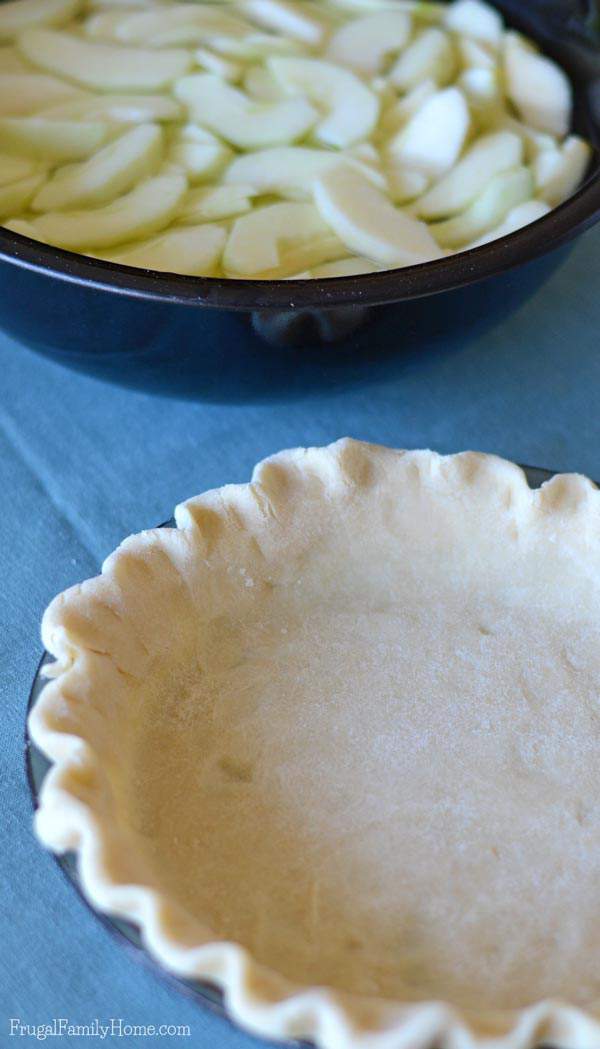 Place the pie crust into the pie plate and flute the edge. You can make your own crust or buy a ready made crust. I've found dairy free pie crusts in the refrigerator section of the grocery store.
Step Two
Add the apples, sugar, flour, and nutmeg to a bowl. Stir to combine and then place into the pie crust.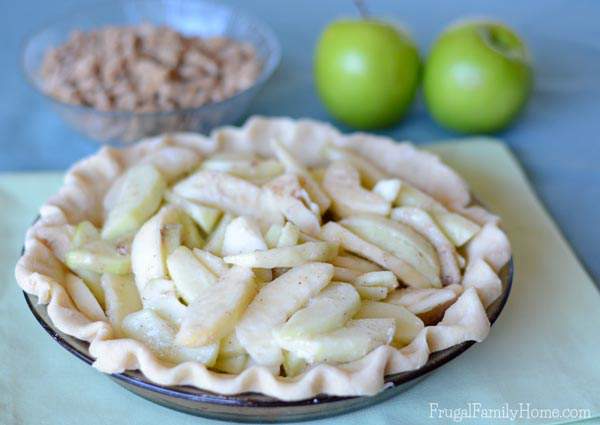 Step Three
Make the crumble topping. Mix the brown sugar and flour together in a medium size bowl. Cut in the butter (or dairy-free margarine if you need to eat dairy free like our family) until you have a crumbly mixture.
Step Four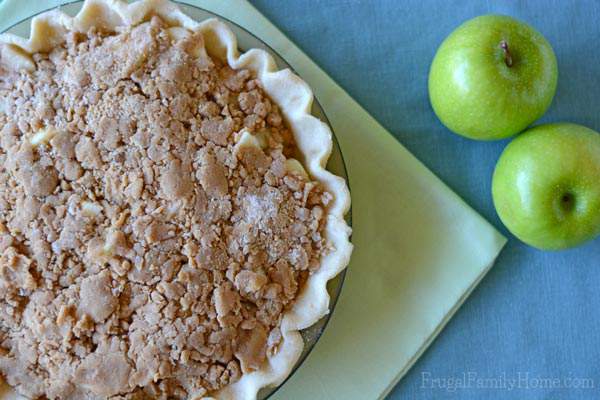 Add the crumble topping to the pie and press it into the apples.
Step Five
Bake in a 400-degree oven for 40-50 minute or until apples are tender and pie crumble topping is crisp and brown.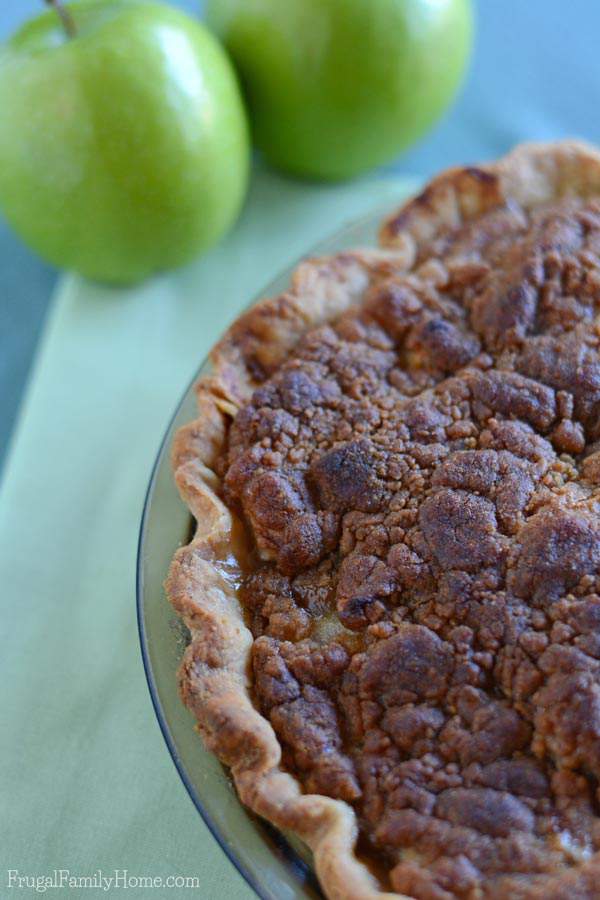 Here's the printable recipe to make it easy for you to add it to your recipe file,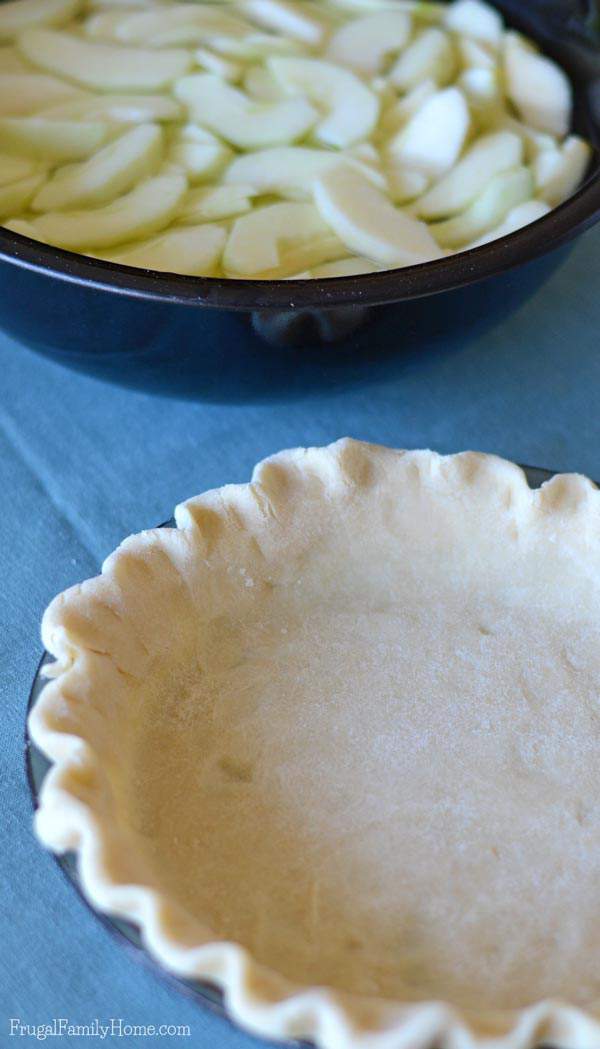 Delicious Apple Crumble Pie
Ingredients
Single Pie Crust

4-5

cups

of Sliced Apples

I like to use granny smith

2

tablespoons

of Flour

1/2

teaspoon

Nutmeg

1/2

cup

Sugar

1/3

cup

Butter or Dairy Free Margarine

3/4

cup

Flour

1/3

cup

Brown Sugar
Instructions
Place the pie crust into the pie plate and flute the edges

Add the apples, flour, sugar, and nutmeg into a bowl and stir to combine.

Place the apple mixture into the prepared pie crust.

Add the flour and brown sugar to a medium-size bowl and cut in the butter. The mixture should be crumbly.

Place the crumble topping on top of the apples and press into the apples.

Bake in a 400-degree oven, for 40-50 minutes. Or until the apples are tender and the topping is crisp and brown.
That's it, that's all there is to making this delicious apple crumble pie recipe at home. I know some bakers think pies are hard to make, but I think it's mainly the crust that can be troublesome to some bakers. If you overwork the dough you get a tough crust instead of a light and flaky crust.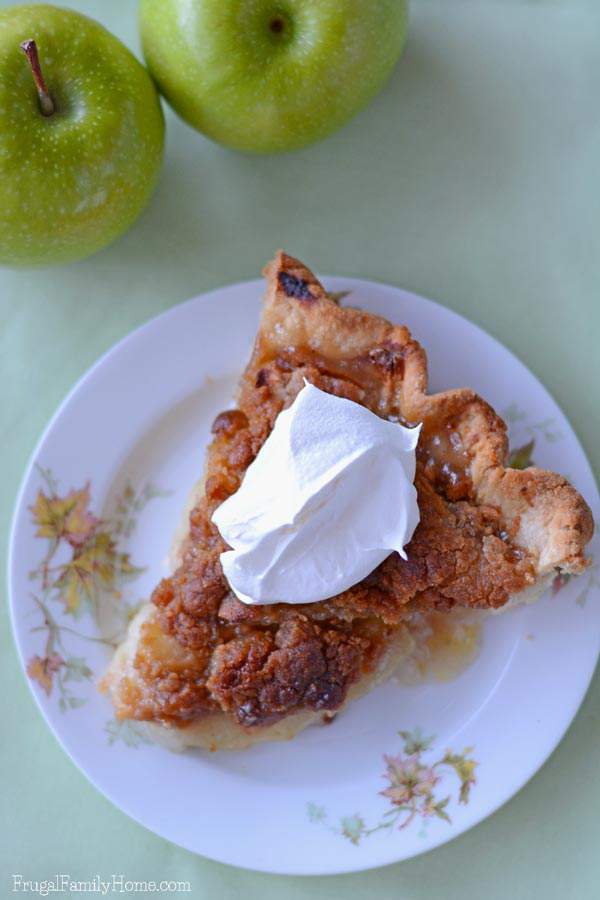 If you want to try to make your own pie crust, I've included a few tips that have helped me make my own perfect crusts at home. If making your own crusts, keeps you from making the pie, just buy them at the store. The pie will still be delicious and easier to make too.
Here're a few tips if you'll be making your own pie crust,
I like to use shortening in my pie crusts because we can't eat butter. But if you use butter in your crust, cut it into the flour, salt mixture and then once you have the dough made, wrap it and refrigerate it for a little while. It helps to harden up the butter again, making the crust turn out better than if you skip this step.

Don't be afraid to add water or flour as you are mixing up the pie crust dough. If you find your pie crust dough is a little dry add more water, if it's a little too wet add a little more flour. You want a nice dough that sticks together but doesn't stick to everything.

Before you start to roll out your pie crust, be sure to pat the dough out into a circle. Then roll the dough out away from you only. Give the dough a quarter turn and then roll away from you again. Keep repeating the rolling and then turning.

As you are rolling and turning the dough to roll it out, be generous with the flour. There is nothing worse for a pie crust than to be rolled out twice because it stuck to your board or countertop. Use enough flour to keep the pie crust from sticking.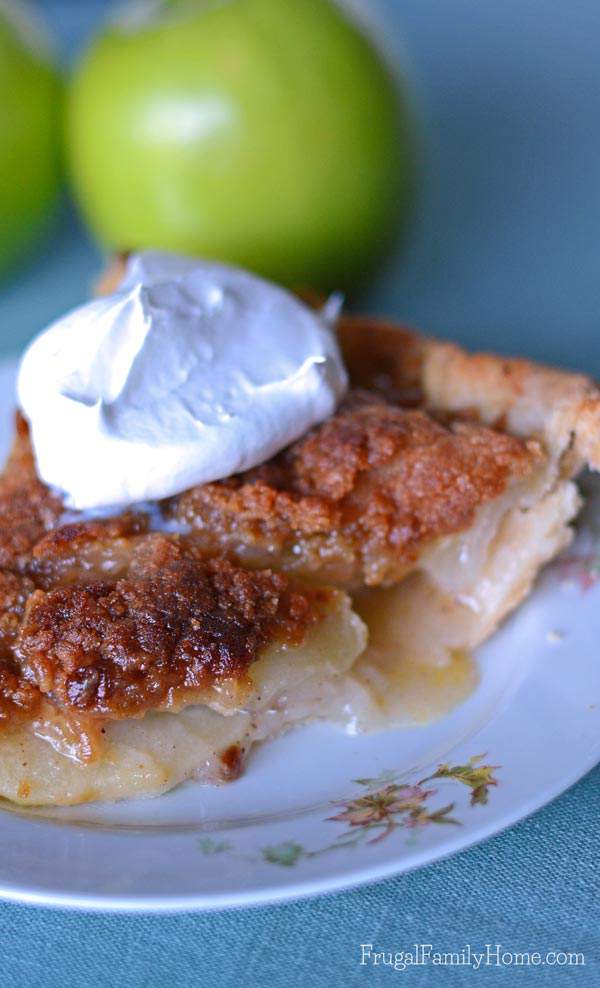 What is your favorite kind of pie to make in the fall? Apple is really one of my favorite pies, but pumpkin is a close second.
Find more apple recipes by clicking here.
More Yummy Fall Recipes
Baked Apple
Mini Apple Muffins with Crumble Topping
Maple Glazed Pumpkin Bread
Caramel Frosted Pumpkin Bars
Subscribe and you'll get Recipes
sent right to your inbox!
Click the button below and fill out the form.