Inside: Find a delicious recipe for the best apple crumble bars. They are easy to make and not too sweet. Perfect for breakfast or dessert.
Fall and apples go hand in hand. I love fall for the cooler weather after a long hot summer and crisp apples are a staple in the fall. If you need a new recipe to try with all those great fall apples, give these delicious apple crumble bars a try.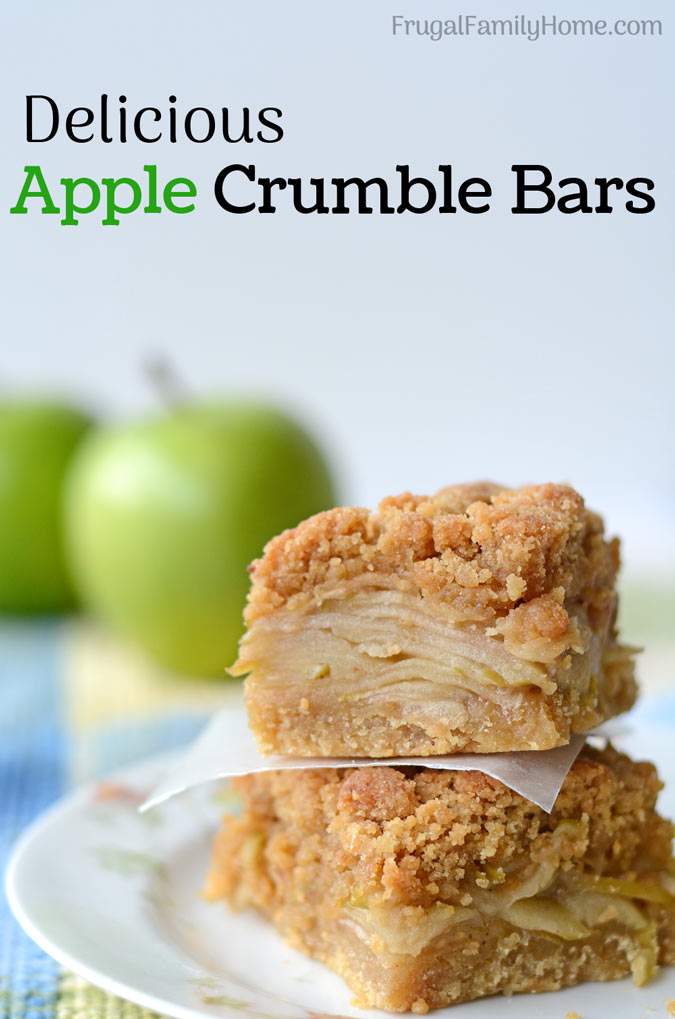 I've included affiliate links where appropriate. When you purchase through them I can make a little money at no extra cost to you. Thanks for your support in this way. You can read my disclosure policy for more information.
After a long hot summer, I'm ready for a change and that's when all the great apples are ready to harvest. I know you can enjoy apple desserts any time of the year. But fall apples are the best.
You can find apples that are tart and apples that are super sweet as well as varieties in between the two. My favorite apples for sweet recipes are tart apples. Granny Smith apples are great in recipes, they are a little tart and add a good balance to the sweetness of most dessert recipes. But any apple can really be used in just about any recipe.
For this apple bar recipe, I used granny smith apples. The lunchbox-sized apples were on sale, and you know I love a good sale.
To get these apple slices thin, I like to use my mandolin slicer. It works great and makes perfect slices. It works so much better than slicing free hand. Plus when the apples are uniform in thickness they bake more evenly too. No big hard pieces to bite into because they were too thick.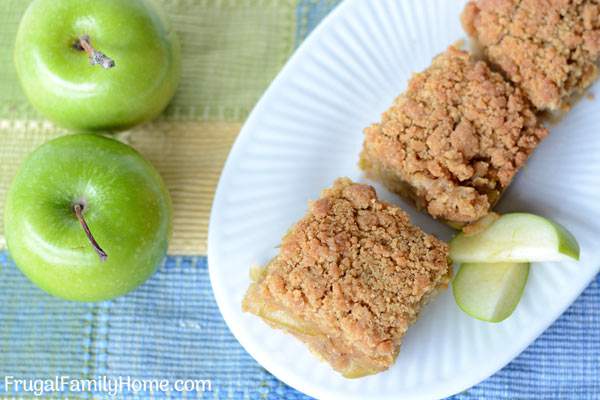 I love lemon and lime bars and that is where the inspiration came from for this apple bar recipe. This recipe starts with a shortbread bottom, very similar to a lemon or lime bar. But that's where it departs from those.
Although I thought about using apple juice and making an apple topping similar to the lemon or lime filling, I decided having the whole apple would be better.
This quick video shows the whole recipe in a little over 2 minutes, scroll down for the printable recipe too.
How to Make the Apple Crumble Bars
I start by making a slightly sweet shortbread crust. The crust is only 3 ingredients and comes together quickly. The mixture might look a little dry but it will press into the pan just fine.
After the shortbread crust is made, while it's baking it's time to slice the apples. Like I mentioned before a mandolin slicer works great for this job. I quarter the apples and then slice them with the mandolin slicer to make the slices nice and uniform. I like to have lots to layers of apples so I slice them as thin as I can.
If you didn't watch the video, I have a little trick to coring the apples. I use a melon baller to remove the stem and blossom ends on the apple. Then I slice it in half and scoop out the core. It's quick a quick way to core an apple with not too much waste.
If you've not used a mandolin slicer before, the guards are really good to use. That blade is sharp which I learned the hard way by not using the guard when slicing cucumbers for pickles, I sliced a little off one finger, I learned that lesson the hard way.
Once the apples are sliced I add a little flour, sugar, and nutmeg and give them a toss to coat. If you don't like nutmeg, use cinnamon instead. I don't care much for cinnamon so nutmeg is my favorite choice.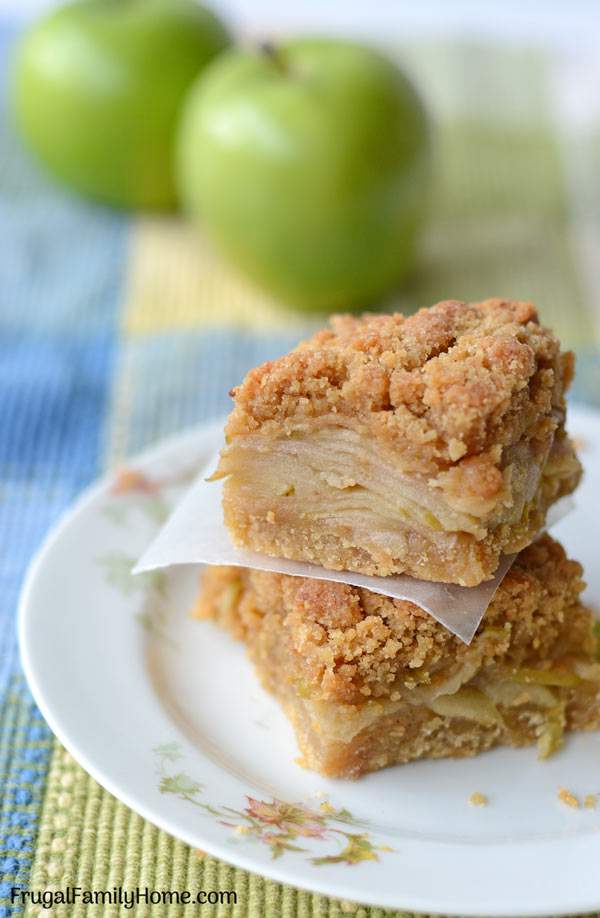 Now stack those lovely coated apples onto of that delicious and warm shortbread crust. And you're almost ready to bake them to perfection but we need a crumble topping. Because how can you go wrong with a sweet and crunchy top to a delicious apple recipe.
Mix the brown sugar and flour then cut in the butter until you have a combined crumbling topping Sprinkle it on top of the apples and get ready to bake to perfection.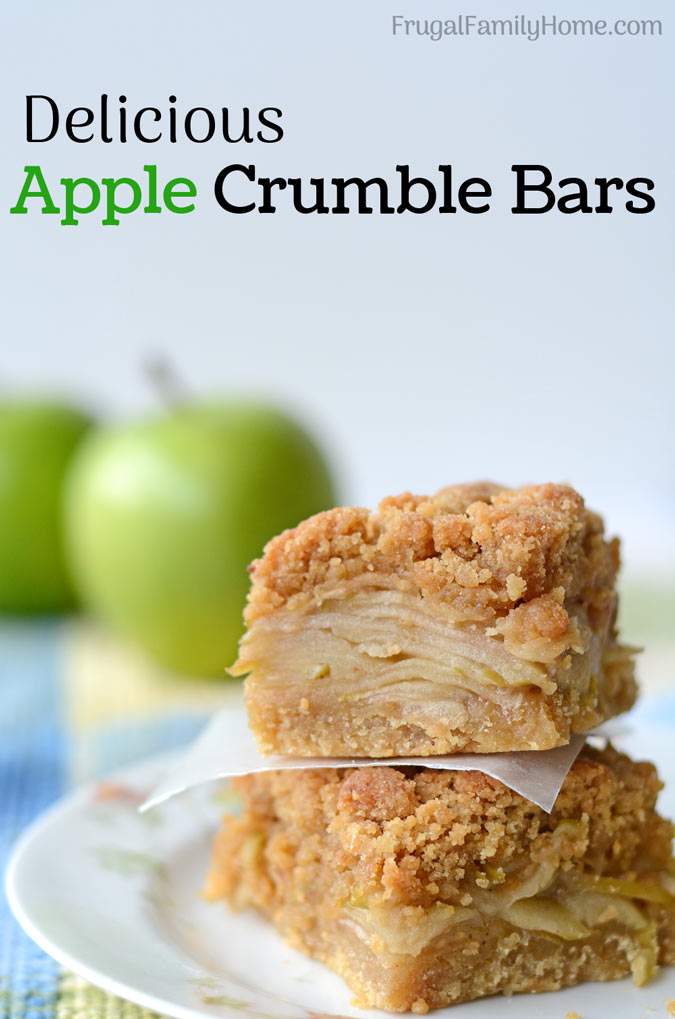 Apple Crumble Bars
Ingredients
Crust

1/2

cup

butter or dairy free margarine

1 1/4

cups

Flour

1/4

cup

Brown Sugar

Apple Filling

4

cups

Apple Slices

I like Granny Smith or Honey Crisp

2

tablespoons

Brown Sugar

2

tablespoons

Flour

1/2

teaspoon

Nutmeg

Crumble Topping

1

cup

Flour

1/3

cup

Brown Sugar

1/3

cup

Butter or Margarine

cold

1/2

teaspoon

Cinnamon
Instructions
For the Crust

In a bowl mix the butter and brown sugar. Then add the flour, the mixture should be a little crumbly. Press into the bottom of an 8x8 inch pan. Bake at 350 degrees for about 12 minutes.

Apple Filling

While the crust is baking. Combine the sliced apples, brown sugar, flour, and nutmeg in a bowl. Toss to combine. Making sure the apples are all coated. Set aside until crust is done

Crumble Topping

In a medium bowl, combine the flour, sugar, and cinnamon. Mix until well combined. Cut in the cold butter to make a crumbly mixture. Set aside until time to assemble.

Once the crust is baked place the coated apples on top and then cover with the crumble topping.

Bake at 350 degrees until the apple mixture is bubbly and the crumble topping is golden.

Let cool in dish.

Cut into squares and serve.
We love these apple crumble bars. For a dessert warm them and add a little ice cream on top or drizzle with homemade caramel sauce and serve warm. They are also great for a quick breakfast too.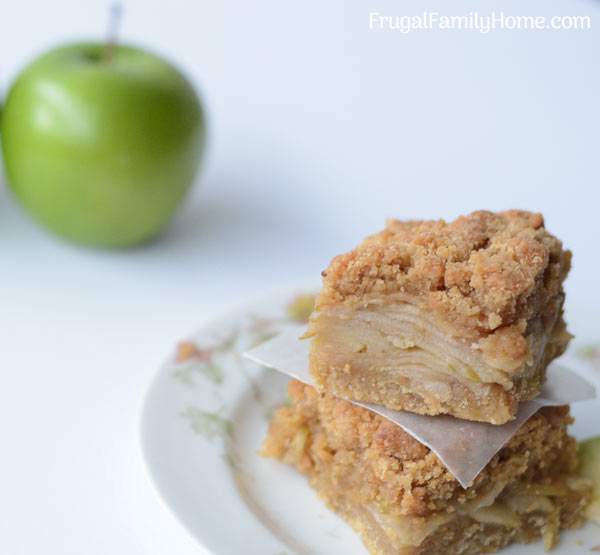 What is your favorite way to enjoy crisp fall apples?
More Easy Apple Recipes to Try
Apple Mini Muffins
How to Freeze Apples
Easy Apple Fritters
Subscribe and you'll get Recipes
sent right to your inbox!
Click the button below and fill out the form.