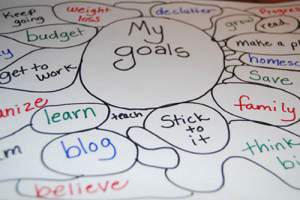 This week was busy with trying to get most of my kitchen decluttering done. Keep up with my Frugal Recipes series and homeschooling too, some things just didn't get done. But all in all I am happy with the progress I was able to make.
I was happy to get the garden turned over and the compost added to the garden and the flower beds. So with this extra project I threw in because we had a few days of good weather, some of the other plans went by the wayside. But I will be working on some of those goals from last week this week.
Here is what I was able to accomplish this past week,
Write a note to encourage someone ( I did pray for other quite a bit this week but I didn't get a note sent)
Continue listening to the Book of Matthew at Breakfast ( Finished Matthew and started Mark)
Be generous with my praise of the kids again this week (my son attitude has been improving with this one change we only had one day with a melt down)
Clean and declutter half of the kitchen cupboards ( I finished the kitchen decluttering look for a next week)
Read 6 chapters in Fear Faith and a Fistful of Chocolates (my referral link)( only a few chapters read)
Sort through our seeds and start planning what to plant in the garden
Do my 10 jumping jacks and 10 push ups each day (most days)
Get to bed on time, I have been staying up way to late (all but Friday night I got to bed before 11 pm)
New Goals for this Week
Write a note of encouragement to someone
Continue listening to the Bible on cd each morning
Continue Good Morning Girls Bible study on Luke
Get to bed by 10:30 each night
Continue my 10 jumping jacks and push ups each day
Finish reading Fear Faith and a Fistful of Chocolates and write a review posts
Sort through the vegetable seeds and plan our garden out with the kids
Write my yearly goal update for February
Plan my next 5 weeks of dinners
That is what I will be working on this week. What are your goals for this week?
[signoff]