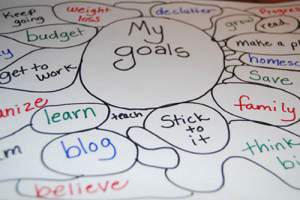 This week was a fairly good week. My son is making good progress with paying attention in school which can be hard for a 6-year-old little boy. But I am finding giving a reward such as reading a book to him after he has completed his more difficult work helps him to stay focused and concentrate on his lesson at hand. He doesn't realize he is also learning when I read to him. We also did a few experiments with making a rocket. We finally got one to work with a balloon and straw on a string. My son still wants to build a two person rocket to go to outer space. 🙂
With my daughter, we completed her first dissection this week of a worm. I am very grateful I took all the science I did in high school way back when it really helps to have done it before. She found the dissection really interesting. But she always has loved science and experiments.
My exercising fell by the wayside most days this week. I only was able to fit  it in 4 days, but at least I did some right? I can really concentrate on doing better this upcoming week.
What I was able to accomplish this week,
Keep listening to book of Matthew each morning at breakfast Every morning but one we did our Bible CD
Continue my Bible study through Luke with the Good Morning Girls (Thanks Erin, for suggesting this)
Do my 10 Jumping Jacks and 10 Push Ups each day  (just got this in 4 days this week)
Drink 6 glasses of water ( I did drink about 4-6 glasses each day this with so I am making progress)
Post a recipe each day for 4 Weeks of Frugal Recipes Series
Continuing reading Fear Faith and a Fistful of Chocolates (my amazon referral link) I am making progress but I am a slow reader.
Start decluttering the kitchen. I worked on the drawers this week and they do look better
Write a note of encouragement to someone
Take a CPR class with my friend I am so glad to have this done for the next two years.
Take time to praise my kids each day for what they did that was wonderful. ( you can never praise too much)
Do a day in the life picture post and link up  See my post here
New Goals for this Week
Write a note of encouragement to a friend
Exercise each day 10 jumping jacks and 10 push ups
Continue with the Bible CD each morning with the kids
Continue decluttering the kitchen this week
Continue reading Fear Faith and a Fistful of Chocolates (my amazon referral link)
Continue Bible Study of Luke with The Good Morning Girls Guide
Drink 6 glasses of water a day
Start a craft with my daughter
Be generous with my praise of the kids again this week
So what is your plan for this upcoming week? Please feel free to share your goals for the week in the comments. I would really like to hear about how last week went for you and your goals for this week.
[signoff]