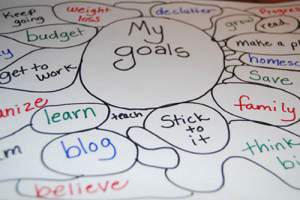 This week I was able to get quite a few of my goals done. But I still don't have the plan done for our garden but that hasn't stopped me from planting some new seeds in the garden. 🙂 Our seedlings we started on the refrigerator are getting bigger and needed to be replanted into bigger pots. I have a cold frame set up so they can grow a little larger before I transplant them into the garden.
I finished our menu plan for the next 5 weeks and went and did my once a month shopping trip at Winco Foods this week too. I sometimes dread doing the plan as it takes about an hour to complete and make my shopping list but it is nice to be done for the next 5 weeks.
I had a fun time shopping with my daughter this week. We used the shopping trip to go over how to figure out the best price of a certain product. We found that the 3-lb bag of onions were actually less expensive than the 5-lb bag of onions and the 5-lb bag of flour actually saved up $.25 every 10 pounds of flour we bought. I try to apply science and math to real life as much as possible. I think it helps to motivate kids when they can see how what they are learning is used in everyday real life. 🙂
Here is what I was able to accomplish this past week,
Plan out the garden
Continue Bible reading of John
Finish reading Lead Your Family Like Jesus and write a review post (See my post here and enter the giveaway)
Post my yearly goals update (See my update here)
Divide up the seedlings into bigger pots
Continue my exercising 5 days a week, alternating Pilates and Cross Fit routines
Continue 30 Day House Cleaning Challenge and post about it
Try a new recipe ( I tried a cleaner recipe)
Plan the next 5 weeks of meals
Goals for This Week
Listen to the Bible CD each morning at breakfast
Post the cleaner recipe I tried
Try a new recipe
Plant a few more seeds in the garden
Read to my son each day
Continue the 30 Day House Cleaning Challenge and blog about it
Plant some flower seeds with the kids
Exercise 5 day this week
Start a new book on my reading list
I think that will keep me busy this week. What are your goals for this week?
[signoff]