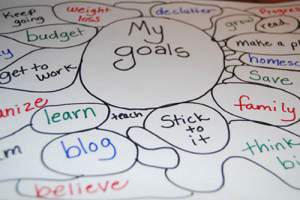 This week was a little busy again. I have been getting quite a bit of cleaning done lately around the house with the 30 Day House Cleaning Challenge. My house is looking really good and I love that each task only takes about 20 minutes out of my day.
I tried a new recipe for a toilet bowl cleaner and not only did it work well but it was fun. The kids enjoyed it too. I was able to get some lettuce, spinach and radishes planted in our garden this week. I am hoping to get some planted in another week so we will have a steady supply of lettuce once it gets growing good. In past years this hasn't quite worked out that well but I am giving it a try again this year.
I picked up my 20 pounds of chicken from Zaycon foods and made 17 freezer meal out of it. It only took about an hour and a half to get the meals made up and into the freezer. It helps that I have done this a few times. I split the 40 pound box with my friend this time. Last time I processed the whole 40 pounds for our family. I prefer processing 20 pounds of chicken at a time it makes the task much less daunting.
Here's what I was able to accomplish this past week,
Continue with our Bible CD's at breakfast, we will finish up Luke this week. (Finished Luke, Started John)
Plan out the garden
Plant some radishes and lettuce in the garden.
Post the recycled craft for this month (did you see the Ruffled Scarf )
Post an update on my yearly goals (didn't get the update done maybe this week)
Start my spring cleaning with the 30 day cleaning challenge and blog about it
Continue my exercising 5 days a week, I think I will continue the cross fit routine this week
Try a new recipe (we tried a new toilet bowl recipe and it worked well)
Finish reading Lead Your Family Like Jesus (almost done just a few more chapters, look for the review this week)
Goals for This Week
Plan out the garden
Continue Bible reading of John
Finish reading Lead Your Family Like Jesus and write a review post
Post my yearly goals update
Divide up the seedlings into bigger pots
Continue my exercising 5 days a week, alternating Pilates and Cross Fit routines
Continue 30 Day House Cleaning Challenge and post about it
Try a new recipe
Plan the next 5 weeks of meals
That is my plan for this week. What goals do you have planned for yourself?
[signoff]