The kids and I have been making a few new Christmas ornaments for the tree this year. So far we have made Jingle Bell Wreaths. We also made this super easy kid friendly ornament. They only take a few items to make them too.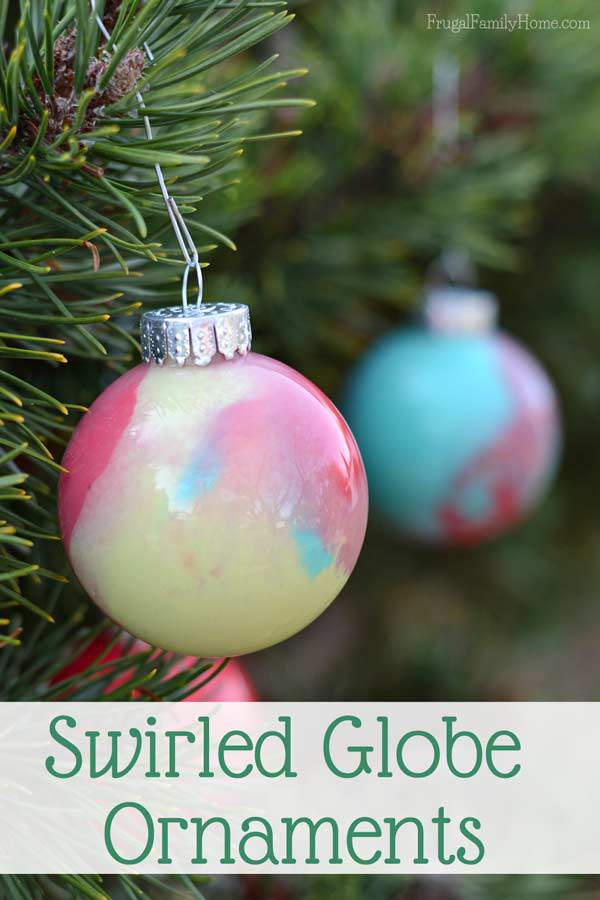 We purchased a set of glass bulb ornaments. Which thinking back I probably should have gone with the plastic ones, since I ended up dropping one, while it was full of paint and breaking it. If you'll be doing this craft with little kids or clumsy adults like me, you might want to purchase the plastic clear bulbs.
These would make great gifts for Christmas. They are easy to make and can be customized with the recipient's favorites colors. For our ornaments, we used a watermelon slice red and a whitish glitter paint. The glitter paint added a little more shimmer. The kids also made a few with blue, green and yellow. Since my son's favorite color is green.
Just so you know, some of the links in this post are my referral links. Which means when you use them and make a purchase I may make a little money at no extra cost to you. Thanks for your support in this way. You can read my disclosure page for more information.
Items Need to Make These Swirled Paint Ornaments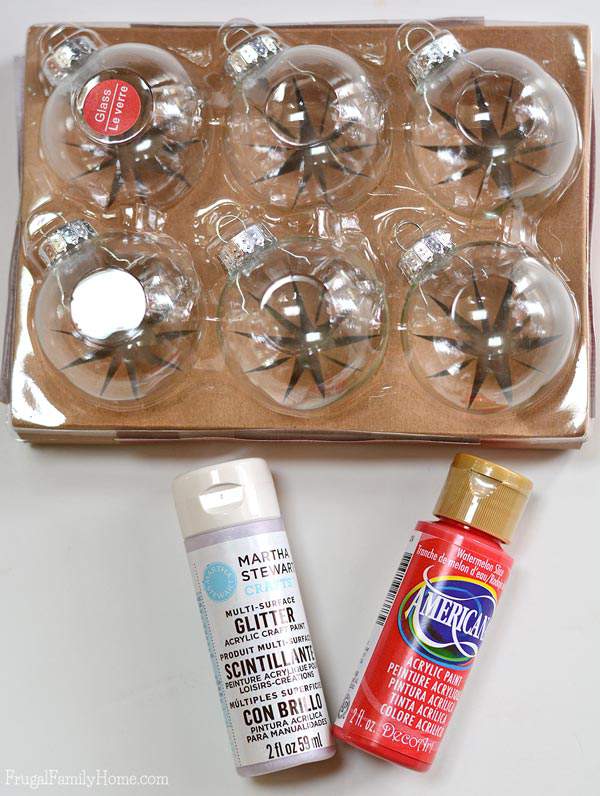 Glass Bulb Ornaments
Acrylic Paints in the Colors You Like
How to Make the Swirled Paint Ornaments
Once you have gathered your supplies. You'll want to remove the hanger top off the bulb ornaments. Ours pulled off very easily and set the top hangers aside.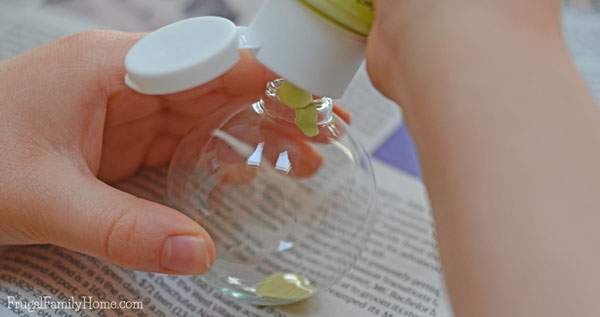 Squeeze a little paint of one color into the open of the bulb ornaments. You'll want to make sure the paint runs down the side of the ornament as you squeeze it in. Do this in two to three spots. Then swirl the turn the ornament a little to get the paint to start to swirl.
Next take your second color and add a squirt or two of it to the bulb. You'll want the paint to drip down the sides as you add it into the bulb in a few spots. Then swirl the paint to make sure paint covers the inside of the glass ornament.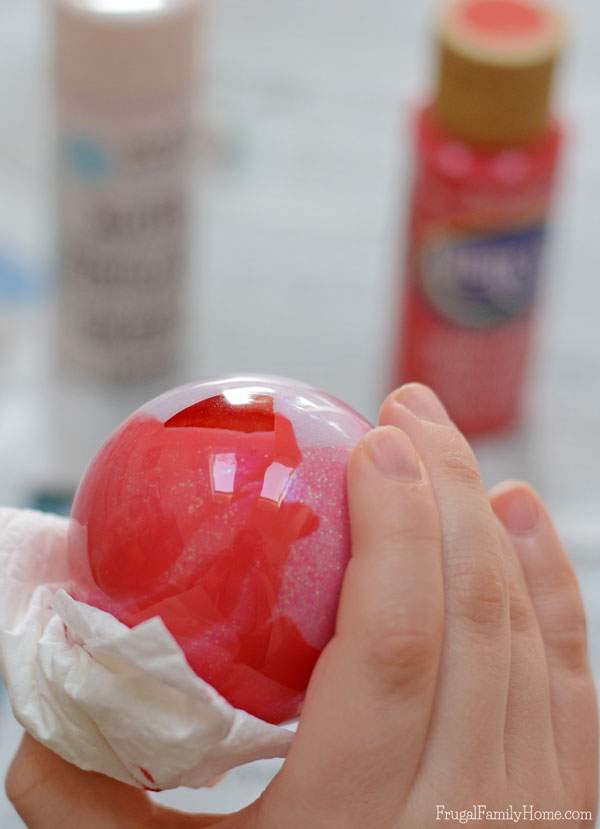 We also found that covering the opening with a rag or paper towel and then shaking the ornament helped to distribute the paint well too.
Once the ornaments looked good to us, we tried to drain as much of the remaining paint out of them. We did this by turning the ornament upside down and tapping them gently on a piece of paper towel to help drain out the excess paint. Or you can skip this step and just move onto draining them into a paper cup.
To get the rest of the paint out, turn them upside down inside of a paper cup and let them sit for a day or two to let the rest of the excess paint drain out and fully dry.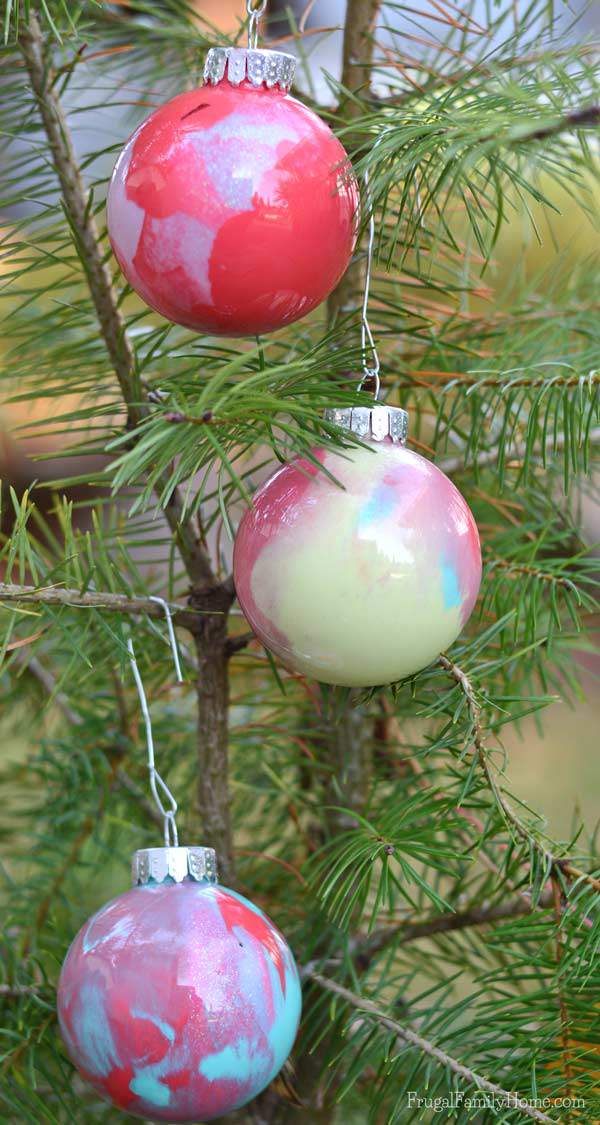 Once the paint was dry we added the hanger tops back on and hung them on our Christmas tree. My kids enjoyed picking out the colors they wanted to swirl in each ornament. They are a great addition to our Christmas tree.
Have you tried making your own Christmas ornaments before? What kind have you made in the past?
[signoff]
If you know someone who might enjoy making these for their Christmas tree please share it with them. You can scroll down to find the social sharing buttons for easy sharing with friends and family. Thanks for sharing!