I like to find ways to cut down on our expenses by doing things myself or making my own version of a store bought item. Now making my own doesn't always mean it saves me a bunch of money, but sometimes it really is a money saver to make your own. But this diy laundry soap is a money saver for sure. It's an easy diy laundry detergent that just cost pennies per load.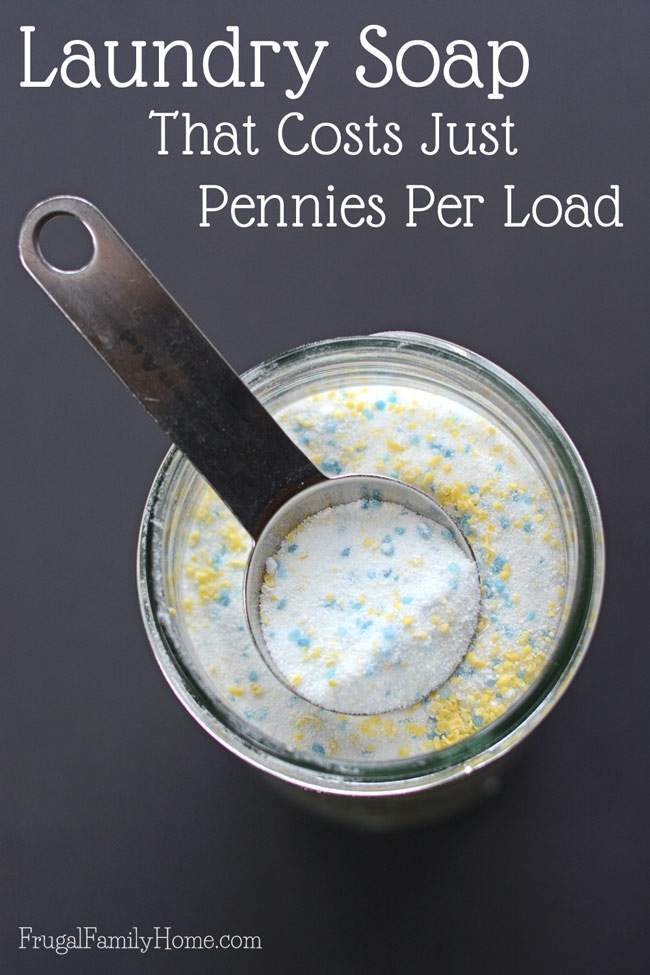 I shared my original recipe for diy laundry detergent a few years ago, and never thought about it not having a scent to it. But a few friends who tried the recipe said they missed the scent and went back to purchasing store bought detergent.
Since then, a new product emerged on the market, it's in the washer scent boosters. Products like Unstoppables and Purex Crystals. I saw a few other detergent recipes on Pinterest that added these scent boosters to homemade detergent. Which gave me the idea to add some to my laundry detergent recipe, solving the problem with the scentless laundry that some of my friends didn't like.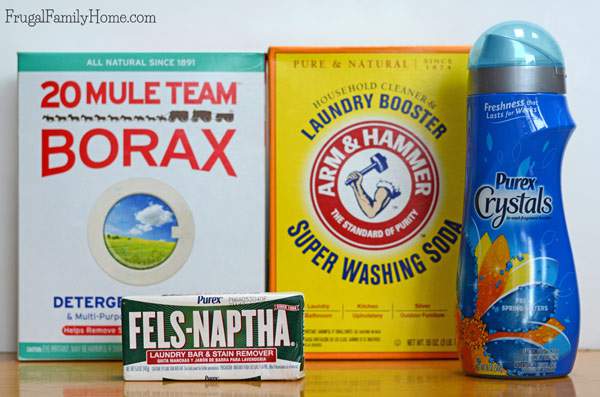 Here's the new and scented version for DIY Laundry Detergent recipe with a video to show you how to make it too. Keep going passed the video if you would like to see the cost breakdown and measurements to make a smaller batch too.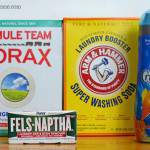 Print
DIY Laundry Detergent
Ingredients
65

oz

box Borax

55

oz

box Washing Soda

1

Fels Naptha Laundry Bar

18

oz

container Purex Crystals or Downy Unstoppables
Instructions
Grate the bar of Fels Naphtha soap. I like to use the fine grater to grate the soap. The smaller the pieces the easier it is to distribute through the laundry detergent.

In a large bowl, mix the grated bar soap with the washing soda, crystals, and borax. Use a whisk to mix them well.

Store in a container or a zipper bag.

Use 1-2 tablespoons per load of laundry.
Here's how to make the laundry detergent
Cost Breakdown for the DIY Laundry Detergent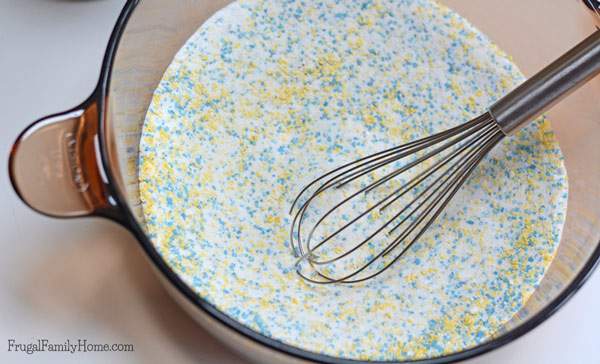 When you are making something at home yourself, sometimes it's because it's just better than the store bought items other times you make your own to save money. Knowing how much it cost to make the product at home can help you determine if it's really less expensive or not.
In case you are a budget person like I am, here's the cost breakdown of this recipe for diy laundry detergent
Just so you know, the links below are my referral links which means when you use purchase through them I can make a little money at no extra cost to you. Thanks for your support in this way. You can read my disclosure policy for more information.
Fels Naptha Bar
This little bar is a powerhouse of cleaning. I not only use it in my laundry detergent but have used it on carpet and to get stains out of clothing as a stain pre-treater bar too. I purchased my bar of Fels Naptha at my local grocery store for $1.39.
20 Mule Borax
Borax is a great laundry booster. You can use it alongside regular detergent or add it to your own diy laundry detergent. I also use borax in the ant bait I make. I really should share that recipe soon. I purchased my 65 oz box of borax at the local grocery store for $5.29.
Washing Soda
Make sure you get this in the laundry aisle at the grocery store. You don't want baking soda, be sure you purchase the washing soda. It can be a little confusing since they are both made by the same company. I purchased my box of washing soda for $3.99.
Fragrance Booster
I went to the store with the intention of purchasing the Downy Unstoppables. The last time I purchased a bottle, it was on sale and I had a coupon. I don't buy these products that often. I almost fell over dead when I saw the price of $6.99 on the Unstoppables, no sale, and no coupons. 🙁 I looked over and saw the Purex Crystals and was sold on them at just $3.49 a bottle on sale. Yes, I did cheap out here. I've used both in the diy laundry detergent choose the one you like the best.
I did find a laundry detergent kit at Amazon, it contains the borax, washing soda, and three bars of Fels Naphtha. You would only need to pick up the fragrance booster at you local store. That might be a good way to go if you can't find the products at your local grocery store.
Total Cost of the DIY Laundry Detergent Recipe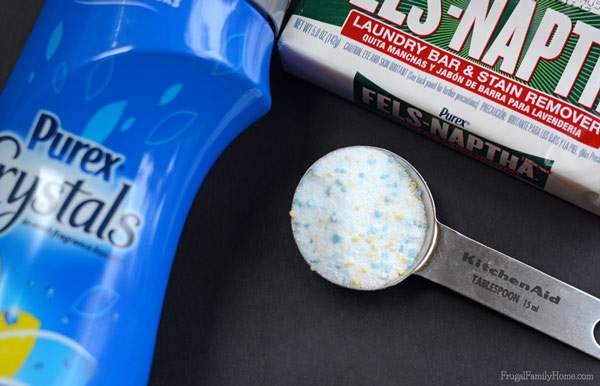 The total cost for a full batch of laundry soap was $14.16. This will make enough laundry detergent for us for a full year which works out to less than $.10 per load of laundry. I've used this laundry detergent in my top loading washer and it worked great. I now use it in my front loading washer and it works just as well. I add a tablespoon of laundry detergent right into the tumbler and load the clothing.
Quarter Batch Laundry Detergent Measurements
If you are like me and don't have anywhere to store a full batch. You can make a quarter batch with these measurements below. This amount will store in two quart size canning jars with plastic lids.
1/4 bar Fels Naphtha, grated
16 oz Borax
14 oz Washing Soda
4.5 oz Purex Crystals
I would love to hear if you've tried making your own laundry detergent before. How did it work for you? You can scroll down and let me know what you think of this laundry detergent recipe in the comments below.
More DIY Ideas,