We have been having leaves falling at our house like crazy. I'm sure the rest of you are experiencing the same thing at your house. I love fall for the cool crisp weather and the bright sunshine during breaks from our rain here in Oregon. I also get lots of exercise this time of year picking up leaves in our yard.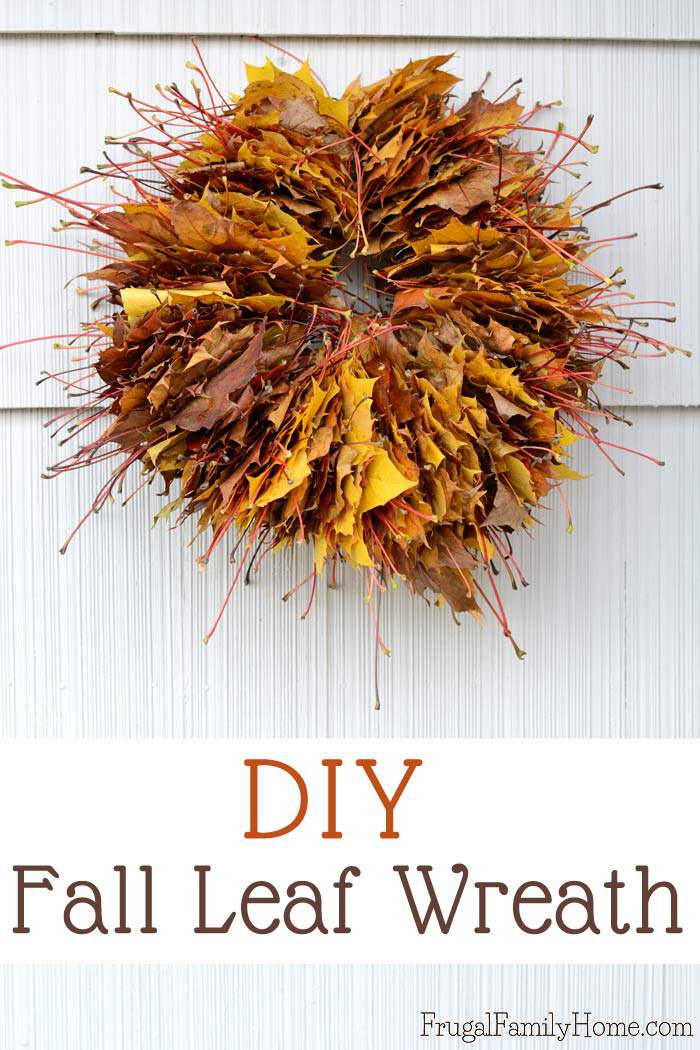 Last week we had two nice days, Tuesday and Wednesday, both of those days I spent picking up leaves. I filled our 90-gallon yard debris can and another 32 gallon can with leaves on Tuesday. I was glad to have that job done. As I was trying to sleep, I heard the sound of wind and rain. I knew what I was going to wake up to on Wednesday morning. You might have guessed it, more leaves.
After two hours of work on Tuesday, it didn't look like I had done a thing in our yard by Wednesday morning. I think I had just as many leaves on Wednesday morning as Tuesday. So on Wednesday I spent more time picking up leaves. As I was picking up leaves, I remembered a pin I saw on Pinterest about making a Leaf Wreath. I wish I could point you to the pin, but I didn't pin it at the time, wish I had now.
After all the leaves were picked up we still have more stray leaves that had fallen by the afternoon so my kids and myself took advantage of the nice sunny weather and gather up more leaves to make a fall leaf wreath.
What You'll Need to Make a Fall Leaf Wreath
Wire Coat Hanger, bent in the shape of a circle
Leaves, lots of them
I started by opening up the wire hanger and shaping it into a circle. While the kids helped and somewhat played around in the yard, we gathered up leaves and lots of them. I think we ended up using about 4 paper sacks of leaves.
We had both oak and maple leaves. We used mainly maple leaves because they were bigger and easier to get on the hanger. Plus the colors vary more with the maple leaves. One other bonus is the maple leaves have a nice color to the stem adding to the beauty of the finished wreath.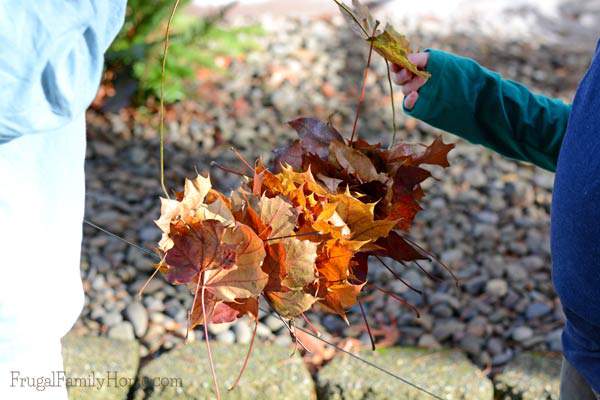 It took us about an hour to thread all of those leaves onto the coat hanger. We packed them on pretty tight to make a nice full wreath. Our wreath was almost too full since the leaves were so big there isn't much of an opening in the middle of the wreath.
After the hanger was threaded full of leaves I bent the wires back together and to secure the ends. Then I bent the hanger down to make a loop for hanging the wreath up.
We hung ours next to the front door and I think it looks quite nice. It made a great fall decoration that cost us only a wire hanger and leaves out of the yard.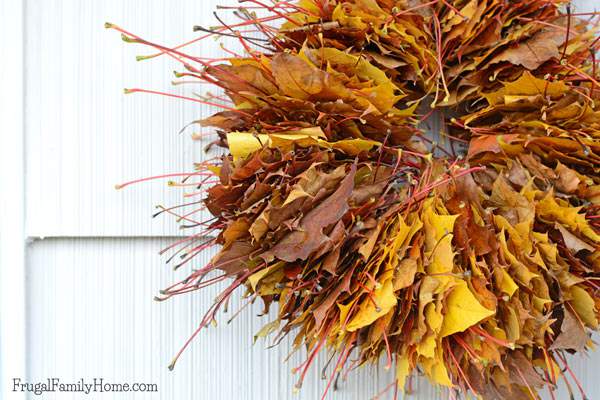 If you are looking for an easy and inexpensive fall decoration give making this leaf wreath a try.
What decorations do you put out in the fall? I would love to hear some suggestions since I don't decorate much at all other than our new leaf wreath and the fall leaf garland the kids made.
[signoff]
Know someone with a bunch of leaves? Share this easy to make fall decoration with this by using the sharing buttons below. Thanks for sharing, I so appreciate it!
Other fall posts you'll like
DIY Fall Garland
Free Printable Leaf Place cards and Napkin Rings