Extend your garden space by growing up. It's easy to make more space in your garden with this simple DIY garden trellis. This is a sturdy trellis that hold up very well. They work great for cucumbers, beans, peas, and even heavier items too.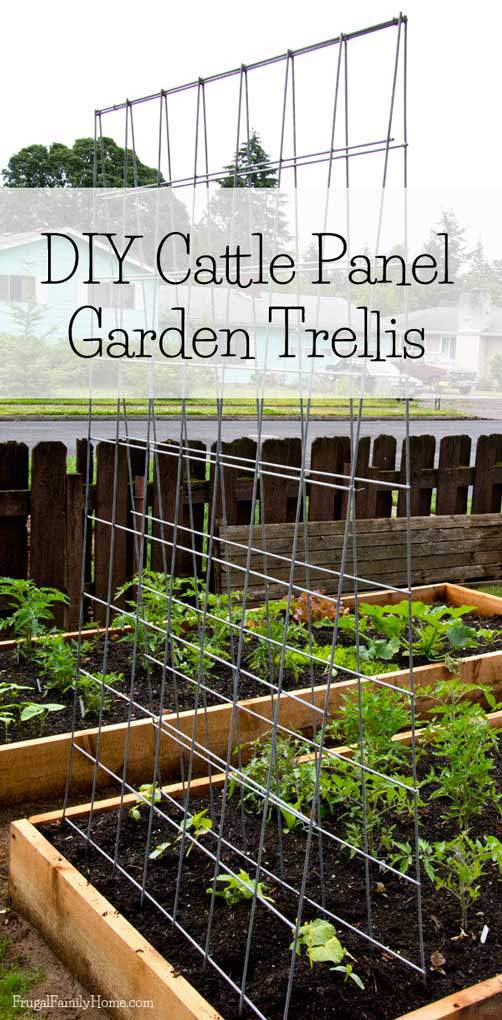 Extend Your Garden Space
Our garden space is just a little limited since we don't have a huge area to garden in. But I try to extend my growing area by growing vertically.
I like to grow pole peas and beans along with cucumbers on a trellis. By growing them vertically, I can save on the amount of garden space needed to grow them.
Over the years I have tried a few different kinds of trellis. We had a PVC pipe frame we would attach to the garden beds and then string up netting to grow our vegetables on.
There were a few problems with this kind of trellis for us. The netting never lasted more than a year. I had to repurchase netting each year and attach it again with cable ties. The growing space was a little limited also.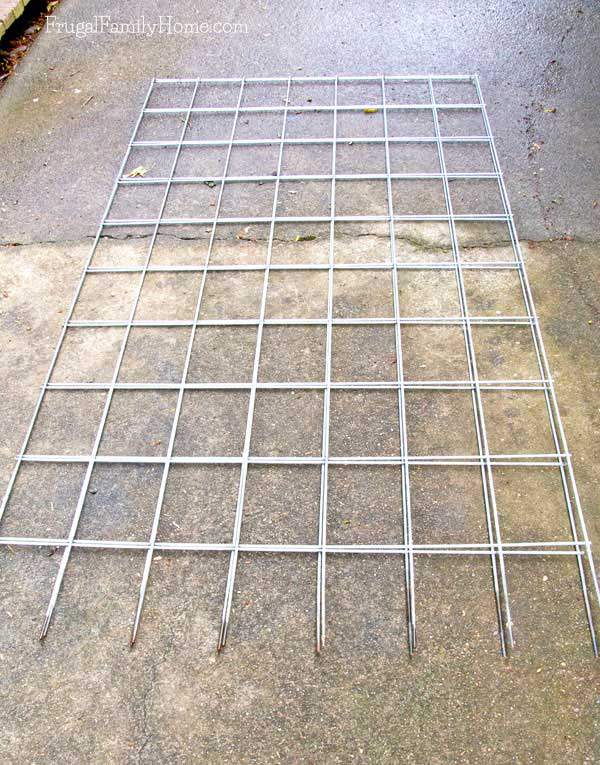 Some of the links below are my referral links. When you purchase through them I can make a little money at no extra cost to you. Thanks for your support in this way.
Some people like to use teepee poles to grow the beans on or even sunflowers. I've never given either one of these options a try in the past, but they might work. I think the space available to grow upward would be limited on both of these options.
Click below to sign up for gardening tips to help you become a successful backyard gardener. And get the Companion Planting Gude too!
The trellis option we have liked best is this cattle panel trellis.
What's a Cattle Panel?…
A cattle panel is a large wire, square grid of fencing. I think they must normally be used for fencing but I'm not really sure. They do work wonderfully for a trellis though.
The cattle panels we found were about 5 feet wide by about 12 feet long. We found them at a local farm and ranch store.
How to Make a Cattle Panel Trellis
Making your own cattle panel trellis is quite simple you only need a couple of items and a couple of tools.
1. Trim Your Panels to fit (if needed)
The trellis is easy to make once you get the cattle panels home. Since our garden beds are 4 feet wide we trimmed off a foot on one side of the panel. We used bolt cutters to cut them. We purchased a 24-inch pair of bolt cutters and they worked great not only on this project but many others too.
2. Cut Your Panel in Half
Then we measured halfway lengthwise and cut the panel in half. When cutting be sure to cut at the end of one of the square rows, leaving one side cut flush and the other side with the metal rods sticking out.
You will want the extra metal wire sticking past the end to poke into the ground.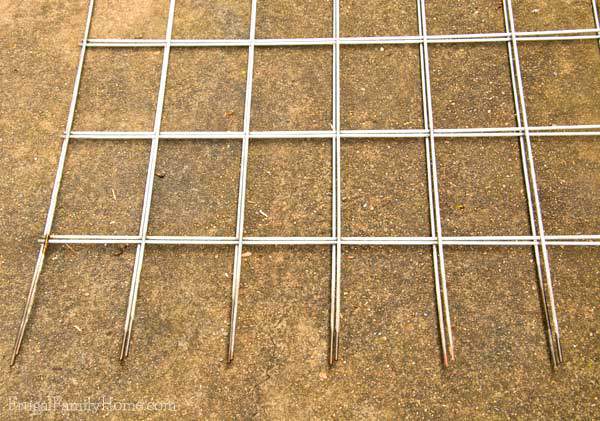 Now you should have two panels. One panel with a flush, smooth end, and the other end, will have a pointy end to stick into the soil. The second panel should be flush at both ends.
3. Cutting the Second Panel
The second panel with be flush at both ends. We need to cut one end of the horizontal wires off so it will match the first panel.
Now you have two panels the same size. One end that is flush, the other ends with spikes sticking out. See the photo above in case I'm not explaining this well. 🙂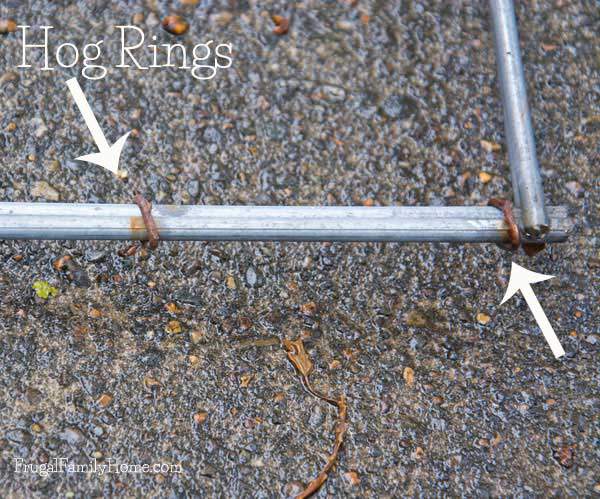 4. Attaching the Two Panels
Once you have two matching panels, you'll need to attach them together at the top, this is the smooth edge.
We used hog rings to do this part. But cable ties would work too. The hog rings last longer because they are metal. Even though our hog rings are rusted they are still holding after 5 years.
To add the hog rings, just crimp them around the top two bars and squeeze them shut. This makes a hinge at the top of the panels. See photo above.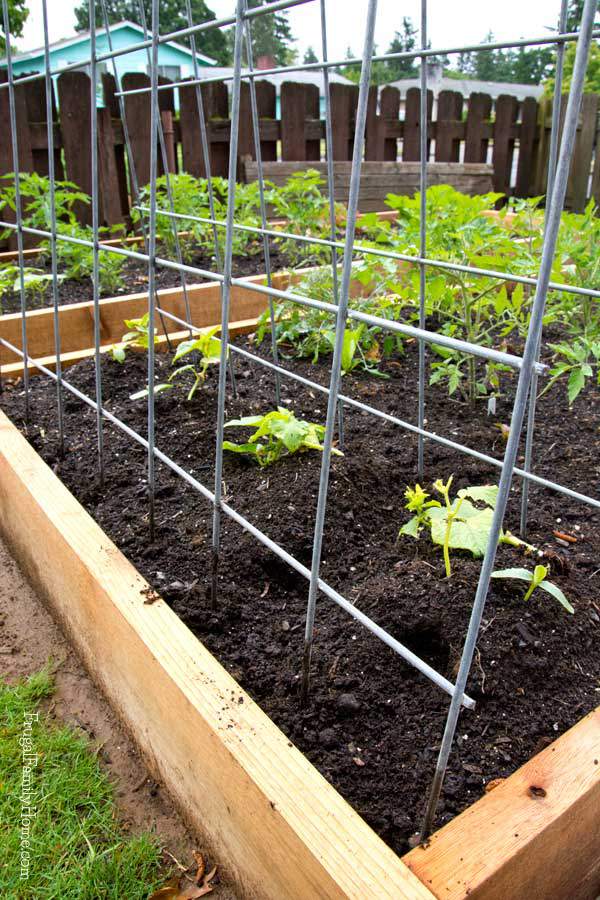 5. Using Your Trellis
To set up your trellis, insert the spike end into the ground straddling the plants you want to grow upright and push into the soil. The plants can grow right up the trellis.
Because the trellis are metal there won't be any sagging net to take care of. And because the square are pretty large you can reach through to pick too.
In the winter, these cattle panel trellis will fold flat for easy storage. We hang ours on the back of our gazebo out of sight on three large hooks. They could be hung on the side of a garage or in a shed for winter storage.
That's all there is to making a cattle panel trellis. If you have any questions leave them below in the comments. I'll do my best to answer them.
Looking for more gardening ideas? Head on over to the gardening page for more gardening ideas and inspiration.
Or Check Out These Other Gardening Helps,
How to Plant Tomatoes, Trenching them In
How to Grow Sweet Strawberries
Sugar Snap Peas, Growing Guide
Printable and Editable Garden Journal
Get the Companion Plants List
When you join the gardening email list, you'll not only get gardening tips sent to your inbox, you'll also get the companion plants list too.