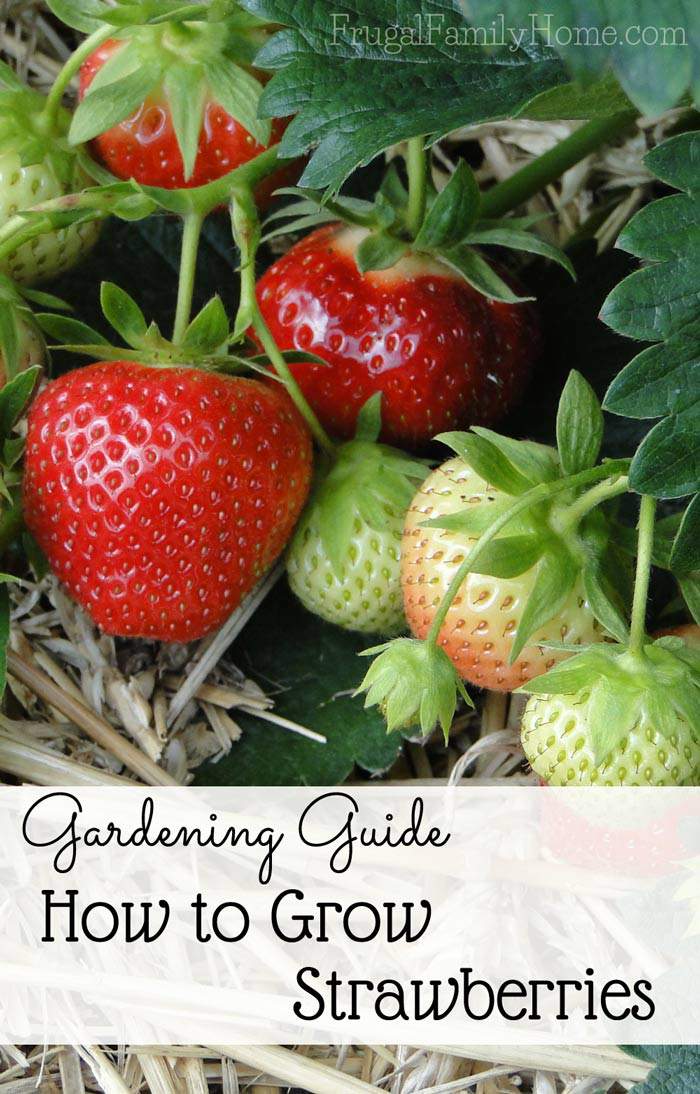 Whether you have a small, or large backyard garden, you can grow strawberries. You can even grow strawberries if you don't have a garden at all. Strawberries are such a great fruit to grow in the garden. They do really well when you have the right conditions and pick the right variety of strawberries to grow in your area. Here're some tips for how to grow sweet strawberries in your garden.
Just so you know, some of the links in this post are my referral links. Which means when you purchase through them I can make a little money at no extra cost to you. Thanks for your support in this way. You can find more information on my disclosure policy page.
Types of Strawberries
There are three main types of strawberry plants, Day Neutral, Everbearing and June bearing. The Day Neutral plants don't rely on day length to set flower buds. They will also continue to set flowers and produce for the season and as long as conditions are good.
Everbearing Strawberries don't produce all season long like you might think. But they do bear fruit 2-3 times in a growing season. They usually will produce fruit in the early spring or summer and then again in the late summer or early fall. I know the name is a little misleading. I have a few in my strawberry patch.
June Bearing Strawberries produce once per growing season. Now you might think that is a drawback that they only produce once, but they produce very well. This is the type of berry I grow. I have a few Everbearing ones but the majority of my plants are the June Bearing and they produce really well each year.
Planting Strawberries
I purchase plants from my local nursery. Make sure to purchase plants that do well for the area you live in. In my area, the Hoods and Rainier berries do really well. Those are the main two types I grow. Nice sweet berries that produce really well.
Plant the strawberry plants early in the season. Be sure to dig a hole deep enough to accommodate the roots without bending them. But be sure to keep the crown of the plant at ground level. When planting be sure to allow room between the plants. Plant the plants about 20 inches apart.

Growing Conditions
Be sure to plant the strawberry plants where they will get 6-10 hours of sunlight a day. The soil should be loamy and well drained. Raised beds are a great option for strawberries because they drain well.
Strawberries like a slightly acidic soil. Amending the soil with acid fertilizer, or adding coffee grounds can make the soil more acidic. Avoid planting strawberries in an area of the garden that recently grew tomatoes, peppers or eggplant.
Strawberries are sprawling plants, so they need room to spread out. The main plant will send out a new plant or runners. The runners in turn send out new plants or runners too. So be sure to give them room to spread out. I usually try to keep the runners in the main area by placing them back into the main patch before roots form. When the plants get too dense I remove the poor preforming ones or I gift the extra plants to friends and neighbors.
Caring for Strawberries
Strawberries need about an inch of water a week. When the plants are producing runners or flowers the need for water increases. So be sure to keep your strawberries watered well. Mulching also helps to retain moisture in the soil and keep weeds down.
Keeping weeds under control in the strawberry patch is important. To deter weeds you can use mulch around the plants or place black plastic down and cut holes to expose the strawberry plants. The plastic keeps the weeds down, helps to retain moisture, and helps to combat mold.
After the harvesting is done, apply a nice layer of compost on top of the strawberry plants. When the cold weather comes or after the first few frosts, cover the strawberry plants with a layer of mulch to protect them for the winter. I don't usually mulch mine, but I do leave the maple and oak leaves on top of the plants for the winter. Remove mulch in the spring after the danger of frost has passed.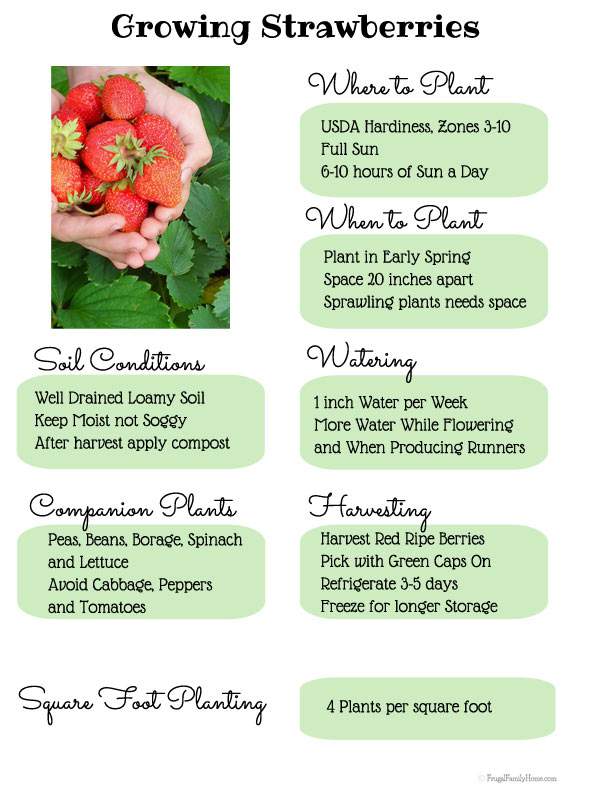 Strawberry Pests
Slugs and snails can be a real problem in the strawberry patch. I can't tell you how many times I have picked up a perfect looking strawberry to find it has been nibbled on the other side by a slug. Using slug and snail bait if slugs are a problem is a good option.
You might also need to net or use row covers on your strawberries to keep birds and squirrels out of them too. I know I battle the squirrels each year for the strawberries in our garden.
Harvesting Strawberries
I love having home grown strawberries. They are so much better than the store bought berries, so sweet, delicious, and full of flavor. The strawberries will be ready to harvest about 4-6 weeks after blossoming. When you pick the strawberries, be sure to pick them off the stem and leave the green cap on them. Harvesting time will last about 3 weeks.
To keep the harvested strawberries, place the unwashed berries in the refrigerator. The strawberries will last 3-5 days in the refrigerator. If longer storage is needed, you can wash and freeze the strawberries.
Here are recipes to use your homegrown strawberries in. I like to make jam with strawberries. This strawberry freezer jam is easy to make. If you have raspberries on hand too, you might try this strawberry raspberry freezer jam. If you have rhubarb also, this roasted strawberry and rhubarb jam is so good. Or maybe make a batch of strawberry cream frosting to go on cupcakes. It's so good.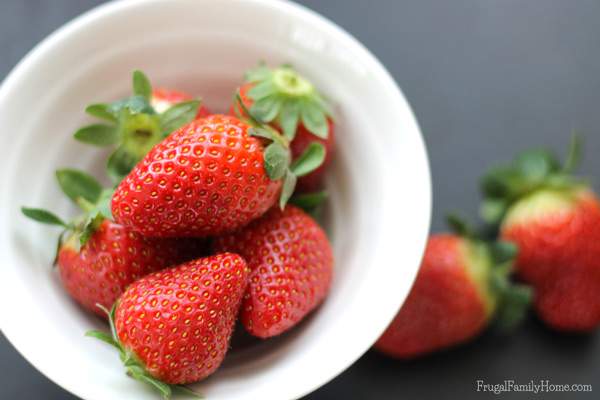 Limited Space Gardening
If you have limited space in your garden, strawberries can be grown in containers. You can purchase strawberry pots, which are deep pots with open spaces for each strawberry plant. Another way to grow strawberries is in a hanging container. In a square foot garden you can plant up to four strawberry plants per each square foot.
Companion Plants
A few plants that strawberries grow well next to are, peas, beans, borage, spinach, and lettuce. Plants to avoid are cabbage, tomatoes, and peppers.
That's my best tips for how to grow sweet strawberries in your backyard garden. Do you have any tried and true tips for growing great strawberries? If you do please scroll down and share them in the comments below.
[signoff]
More Gardening Guides,
How to Grow Sugar Snap Peas
How to Grow Basil
Find more gardening tips by clicking here or follow my gardening board on Pinterest.
Some of the links in this post are my affiliate links. Which means you use purchase something through those links, I can make a little money, at no extra cost to you. Thanks for your support in this way. You can read my disclosure policy for more information.
Get the Companion Plants List
When you join the gardening email list, you'll not only get gardening tips sent to your inbox, you'll also get the companion plants list too.