Basil is such a great herb to grow. It is so good in all kinds of Italian recipes. Fresh basil is a must for a great bruschetta recipe and pesto too. I've had years where my basil has grown like crazy. Then there have been those years when my basil has struggled and barely grown.
One of those crazy growing years was last year, when our basil plants ended up resembling a huge bush instead of a plant. They dwarfed my tomato plants. I want your basil growing to be a success so I'm sharing some tips for growing basil and how to preserve it too.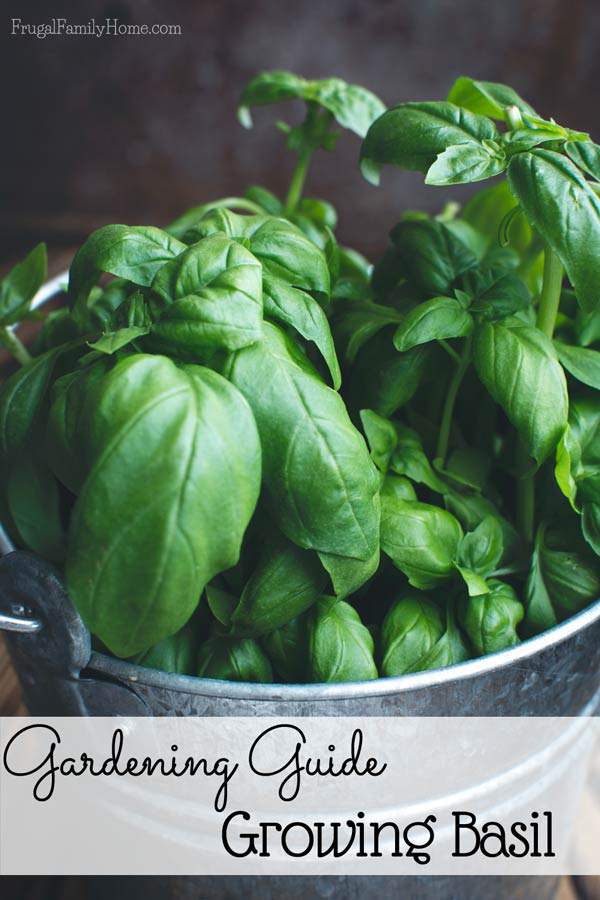 Guide to Growing Basil
Types of Basil
I grow the most common type of basil, sweet basil. It has the traditional flavor you think of when you hear basil.
But did you know there are other flavors of basil you can grow? If you want a lemony flavor, try growing lemon basil. If you are looking for a little less sweet basil, you might try purple basil, it has a wonderful color. If you want a more exotic type basil, try Thai basil, it has a licorice flavor.
When to Start Basil Seeds
If you are starting basil from seeds you will want to start them indoors about 6 weeks before the last frost. This will give them a good start indoors before hardening them off and transplanting them outside.
You'll want to wait until after the last frost before planting them outdoors. Wait until the soil is about 70 degrees and then plant the plants about 1/4 inch deep. If you are square foot gardening like me you can plant 4 basil plants in one square foot.
Or you can dedicate one square per plant. I know last year I was glad I did just that. If you plant more traditionally, space them about 10 to 12 inches apart.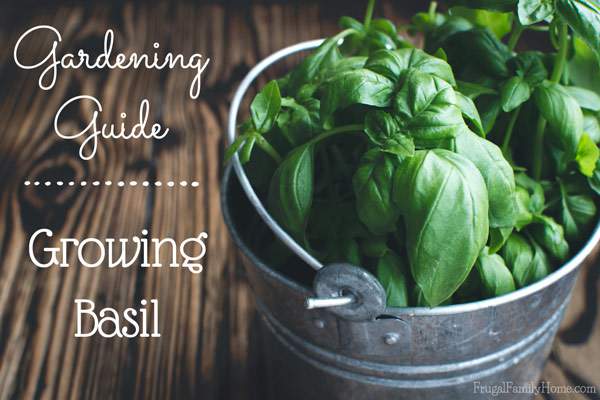 Caring for Basil
Basil plants like to have a nice sunny spot with about 6-8 hours of sun a day. Basil needs to have moist soil that is well drained.
In the summer make sure to keep the basil well watered. Using mulch around the basil plants can help to deter weeds and keep the soil from drying out. Water basil plants at the rate of about 1 1/2 inches per week to keep them happy.
Be sure to pick the basil leaves regularly to keep the plant producing well over the summer. When a center shoot comes out pinch it off to prevent the plant from flowering.
If it flowers cut it off. By pinching off the center shoot you can encourage side growth. Basil also benefits from a little fertilizing through the growing season.
Basil plants usually are pest free and that has been my experience with them. Although occasionally you might find aphids on them.
Harvesting
Harvest the basil leaves during the growing season anytime after the plant is 6-8 inches tall. Harvest the basil by pinching the leaves off of the stem. Pinching the tips in the center, helps the plant to branch out and produce more leaves.
Keep the center tips pinched off even if you are not going to be using the leaves. Doing this keeps the plant from flowering and keeps it producing leaves. If the plant flowers and produces seeds, it will stop producing leaves.
Be sure to harvest basil before the temperature drops. At the first hint of frost be sure to harvest your basil, cold temperatures can make the basil turn black.
Preserving Basil
Cut stems of basil and place them in a cup of water, like cut flowers to preserve them for short term fresh usage. For more long term storage, dry or freeze the basil. To freeze, wash and dry the basil leaves and then place into a bag and freeze.
Or chop the basil and place it into an ice cube tray. Add a little water and freeze. One frozen place basil cubes into a freezer bag and store in the freezer. Add a basil cube to sauces and soups when cooking.
To dry basil, wash the basil and place in a dehydrator to until dry. Or put your oven on the lowest setting and place the basil leaves on cookie sheets with racks, until dry and crumbly. The dried basil will lose a little flavor over frozen basil.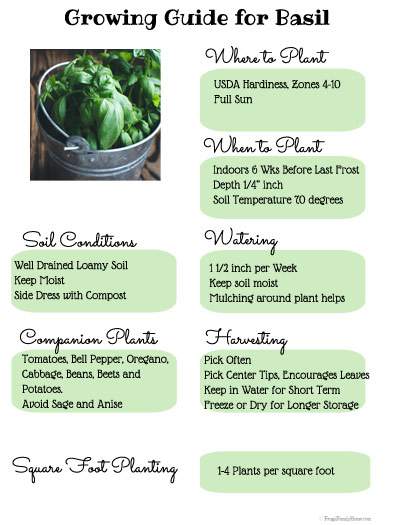 Companion Plants
Basil grows well by tomatoes, bell peppers, oregano, cabbage, beans, beets and potatoes. Basil doesn't seem to like to grown near sage or anise. Keep them away from the basil.
I've read that growing basil near tomatoes is equally beneficial for both of them. You might want to give it a try. Last year I grew my basil right beside my tomatoes and the basil did great. Maybe that's why I ended up with basil shrubs last year.
What herbs do you like to grow in your garden? Is basil one of them?
Other Gardening Post You'll Love,
Gardening Guide for Growing Sugar Snap Peas
Trenching in Tomatoes
DIY Garden Trellis
Gardening Guide for Growing Bush Peas
Get the Companion Plants List
When you join the gardening email list, you'll not only get gardening tips sent to your inbox, you'll also get the companion plants list too.