Valentine's day is only a month away. It's time to think about what you will be doing for your sweetheart. If you need an idea for a special treat, try this yummy chocolate cupcake recipe with strawberry cream frosting, made with real strawberries. It turned out so good.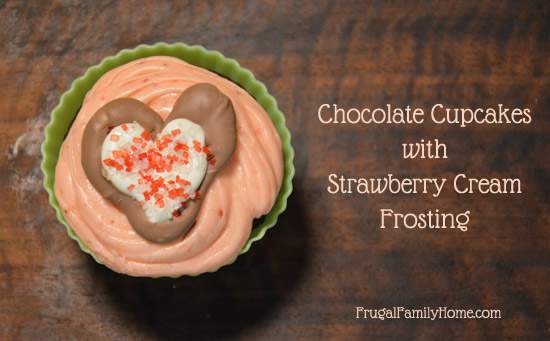 I was debating whether to make a chocolate or vanilla cake recipe to go with the idea of strawberry frosting, the chocolate won out. I based my dairy free, egg free, devils food cake recipe off a recipe I found in an old cookbook.
The devils food cake turns out to be nice and moist. Just about perfect. I used the new silicone baking cups that I was given to review. (Thanks Rizzi of New York Baking Company for sending them to me to review, of course the opinions expressed are all my own)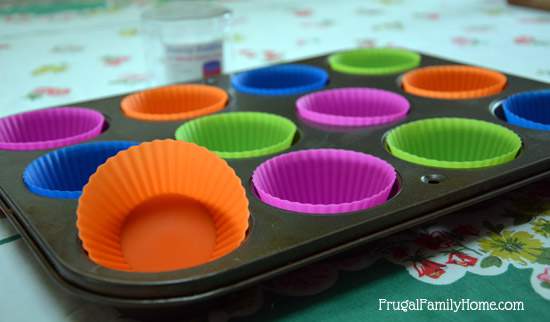 The silicone baking cups worked really well. I made these cupcakes in them. I also made some of my Apple Muffins with Nut Crumb topping in them too.
I discovered in order to get the cake to release more easily it's best to spray them with non-stick spray or grease them with a little oil. Even without the spray or oil they released as well as the paper liners. But if you want picture perfect cupcakes outside the cups be sure to spray them first.
The silicone baking cups are BPA free and are really easy to clean, especially if you spray them first. So much easier than cleaning a baked in muffin pan. They also look great, so you can serve the cupcakes right in the liners for added color.
After baking and while my cupcakes were cooling, I whipped up the strawberry frosting. I was a little concerned that the frosting wouldn't have enough strawberry flavor but it turned out to have a nice strawberry flavor. I used frozen strawberries but if you have fresh, I'm sure those would work great too. (I've included the recipe below)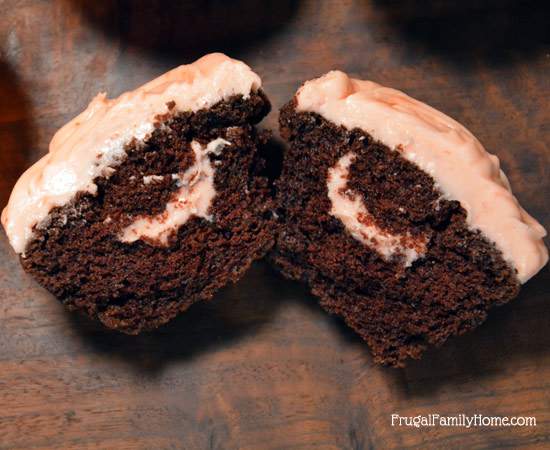 I think it's always nice to have a little surprise inside the cupcake, so I cut a little plug of cake out of the top of the cupcakes and with a pastry bag and tip, I squeezed some frosting into the hole I made. I then replaced the cake plug and frosted the tops. I added a cute little chocolate heart to the tops of mine for decoration. But sprinkles would also be great.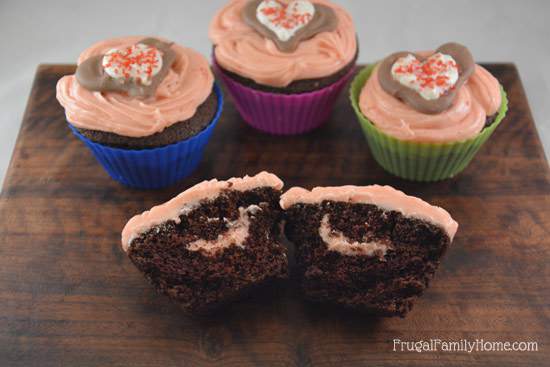 Not only did these cupcakes turn out flavorful, they are also cute in the silicone baking cups. I think these would be a great cupcake for a Valentine's Day celebration.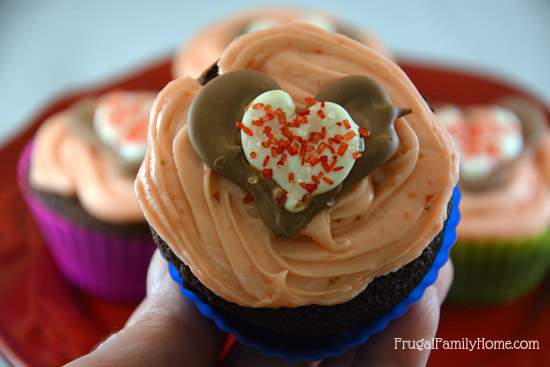 Here's the dairy free, egg free, Devils Food Cupcake recipe,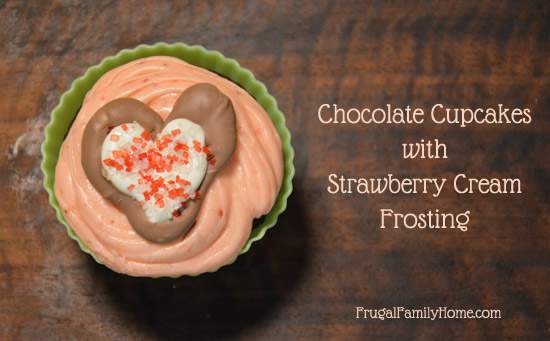 Chocolate Cupcakes
Ingredients
1¾

cups

Flour

1½

cups

Sugar

1¼

teaspoons

Baking Soda

1

teaspoon

Salt

⅓

cup

Cocoa Powder

½

cup

Shortening or Dairy Free "Butter"

We like Earth Balance

1

cup

Milk Alternative

We use Soy Milk

2

tablespoons

Soy Flour plus 2 tablespoons of water to replace eggs

1

teaspoon

Vanilla
Instructions
Mix all the dry ingredients in a large bowl with a whisk.

To the dry ingredients add the shortening, milk, water, and vanilla.

Beat the batter with a mixer for 2 minutes.

Scrape the bowl and mix for 2 minutes more.

Grease a muffin tin or line with muffin liners and fill ⅔ full with cake batter.

Bake at 350 degrees for 30 minutes or until fully baked.

Cool before frosting.
and the strawberry frosting recipe,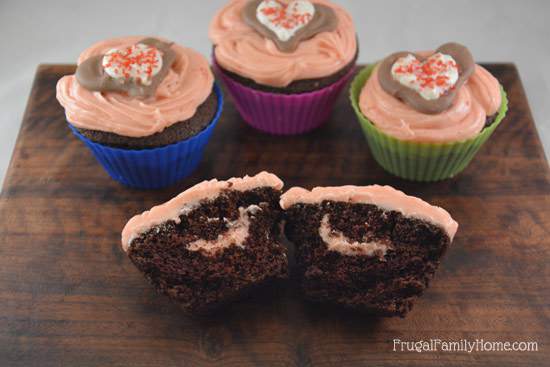 Strawberry Frosting
Ingredients
1/2

cup

of Frozen Strawberries

thawed and pureed

4

cups

of Powdered Sugar

4

tablespoons

Dairy Free "Butter"
Instructions
Mix the pureed strawberries with softened dairy-free butter.

Add the powdered sugar 1 cup at a time mixing well after each addition until the frosting reaches spreading consistency.
What treat do you like to make for Valentine's Day?
More recipes you might like,
Hamburger Cake Recipe
Vegan Banana Nut Mini Muffins
3 Ingredient Chocolate Chip Muffins
Pumpkin Chocolate Chip Muffins
Vegan Dairy Free Strawberry Muffins
SaveSaveSaveSave
Subscribe and you'll get Recipes
sent right to your inbox!
Click the button below and fill out the form.