Did you know you can plant vegetables in the fall to extend your garden season? I know about August there is a lot of work to be done in the garden and around the house. But taking a little time to start a few vegetables in your garden for fall can help extend your growing season.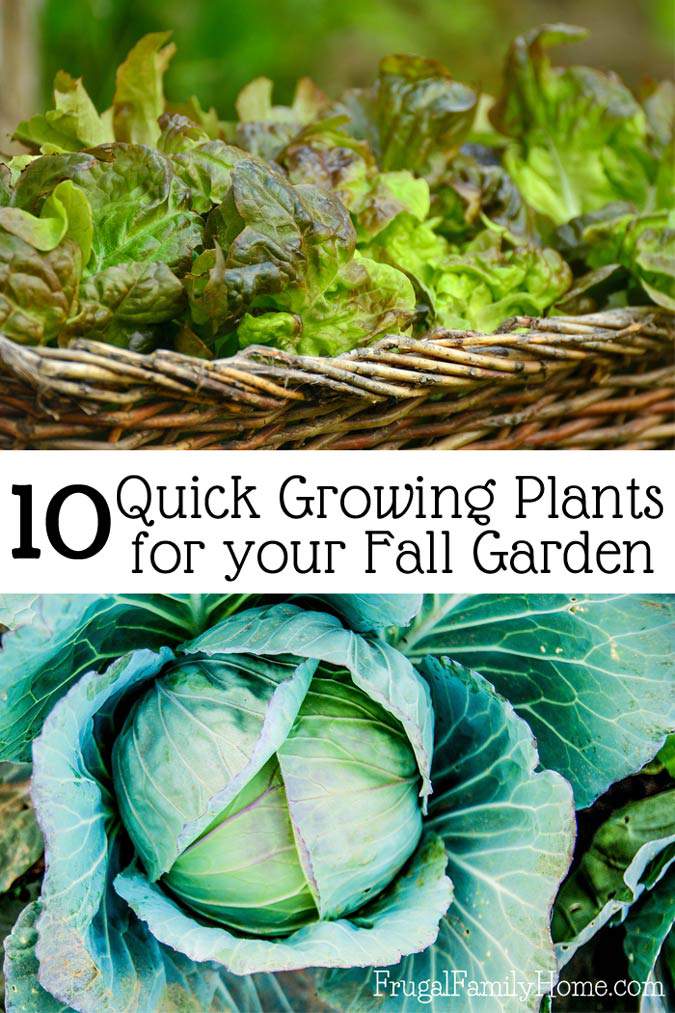 Just so you know, I've used affiliate links in this post where appropriate. 
Right about now in our garden, we are still waiting on tomatoes to ripen. Picking a few cucumbers here and there and watching so many of the vegetables go to seeds. When it gets hot, many spring plants go to seed.
I've been fighting a losing battle to keep my lettuce from going to seed and I've been losing.
It's to the point now I think I just need to pick what I can of the leaves, hope they are not too bitter and pull up the plants. Normally I would just leave the garden bare in those areas and wait until spring to replant.
But this year I'm going to clear out those plants going to seed and make room for a few fall vegetables.
Tips for Fall Gardening
Before planting your fall garden you need to do a little planning. You want to make sure to plant the right kind of plants that can take the shorter days of fall and can take a chill. Talking about it getting chilly you also need to know when the first fall frost date is in your areas.
You can find your frost date by clicking here and adding your zip code.
In my zone 8 garden, the first fall frost for this year is November 15. Why is this important? Because you gauge when to plant the seeds or plants by the fall frost date. Now that you know when the first frost is, let's see what's good to plant in the fall.
Plants for the Fall Garden
What you'll be planting in your fall garden will depend on where you live. I'm up North and the vegetables I'll be planting are cool weather crops.
But if you are in the south, you might still be able to plant a second batch of tomatoes, peppers, and other plants that need warm weather for the fall. Then in the winter you can grow your cold weather crops.
I'll be giving recommendations on plants that I think will work in our fall garden and if you are up North like I am I'm sure they will work for you too. When you take into account when your frost date is you'll know when the best time is to plant these plants in your area.
To determine when to plant your fall crops look to see when the plant will mature or be ready to harvest. If it will mature in 75 days and your first frost day is November 15th like mine, I would plant that crop no later than the end of August to give it time to grow and mature.
Using this method can give you the planting time for any of your seeds. Just check the days to harvest on your seed packets. You may want to add a week to the days needed since the limited sun in the fall can slow the growth.
The 5 Plants I'll Be Planting this Fall
Since I don't normally plant a fall garden and it's my first year to do so, I'm keeping it more manageable. We have lots of August projects to get done and I know my time will be limited so I'm planting what I know grows well in the spring and what we love to eat in the fall.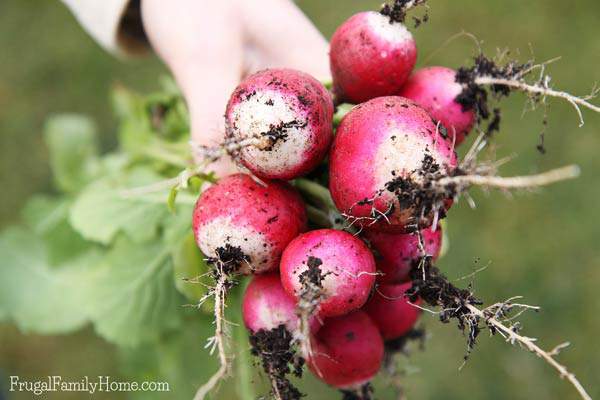 1. Radishes
Our batch of radishes went straight to seed this spring since we had more summer type weather in May. I'm hoping that this batch of radishes will fair better. Since radishes grow so fast I have until the end of September to plant them.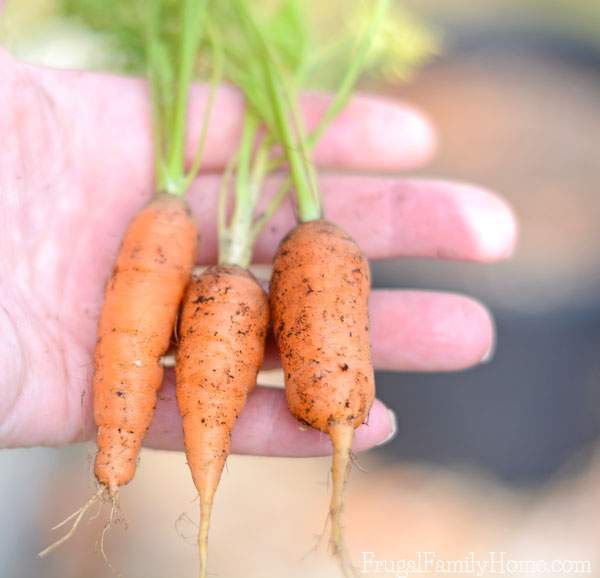 2. Carrots 
We love carrots from the garden and since we can harvest them all winter long right out of the garden, I'm planting more. Most carrots take about 80 days to harvest so I need to start them around mid-August to give them enough time to grow.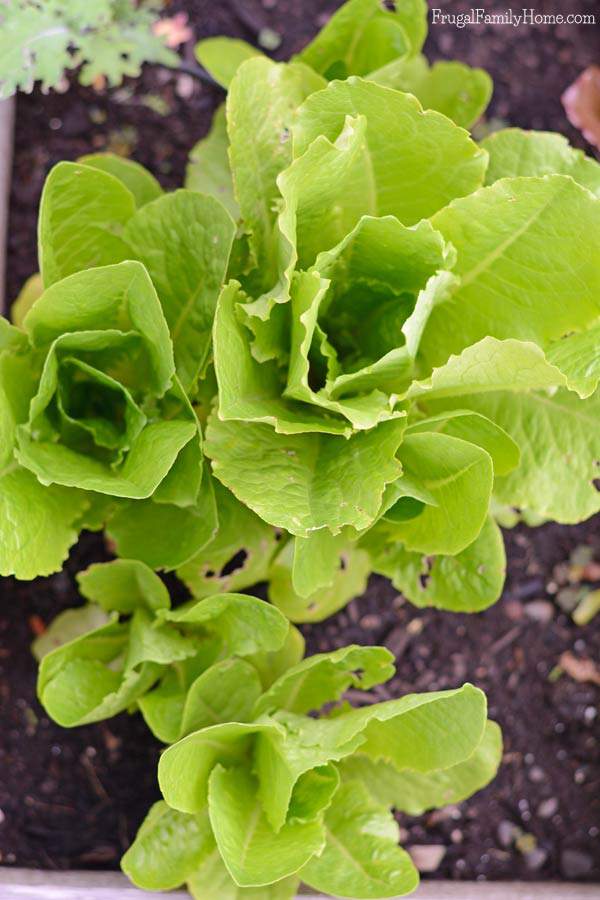 3. Spinach and Lettuce
This year spinach was another straight to seed plant. I planted it plenty early in the spring, but when the hot weather hit the end of April and May, the spinach couldn't hold out. It went straight to seed with tiny little leaves. I'm hoping for a better outcome this fall.
Spinach takes about 45 days to harvest so I'll be planting it around the beginning of September.
We love salads and lettuce is a staple in our home. I'll be adding lettuce to our fall garden. Our lettuce did wonderfully in our garden until about the end of July and then it just couldn't hold out. I'll be planting Romaine and Marvel of the Four Seasons they take around 50 days to harvest so my planting date will be around the beginning of September.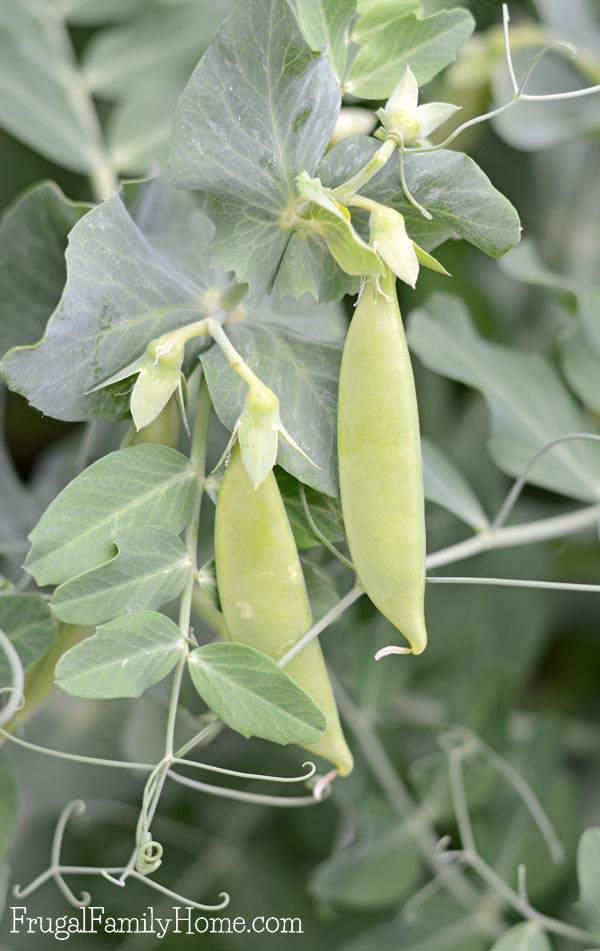 4. Bush Snap Peas
My family loves peas. We had a great harvest this spring but I'm wanting to try to grow a batch for fall. I tried one year but it didn't work out. I'm hoping this fall will be my year to have a great harvest of fall peas. They need about 80 days so I'll be starting them in mid-August with my carrots.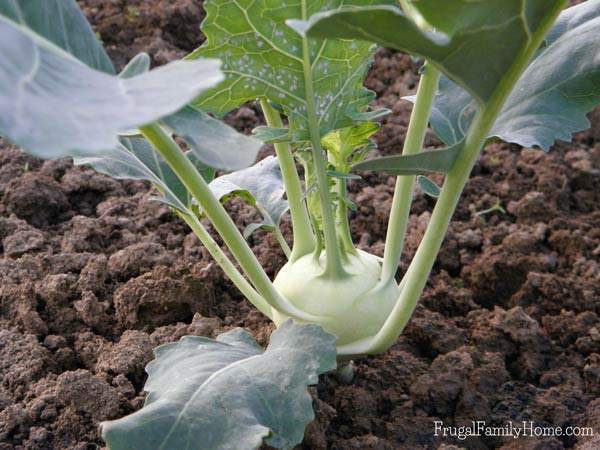 5. Kohlrabi
This plant is one I've eaten before but have never grown. My aunt grows them every year and said they aren't that hard to grow. I'm giving them a try in my fall garden. They take about 60 days to harvest so these will need to go in around beginning of September.
5 Plants I'm Skipping this Year
There are quite a few vegetables you can grow in your fall garden. I thought I would include some of them here in case you want to add them to your fall garden. I've added why I'm not planning on growing them in my fall garden this year.
Bush beans
I grow pole beans they usually produce until I'm so fed up with beans I finally take them down. I can and freeze our beans through the summer growing season so I'm ready to let them go come fall. But if you haven't had your fill of beans yet, bush beans would be a good choice.
Broccoli
While we did harvest a few tiny broccoli head this year, most of it went to seed from the heat. I don't feel like giving it a try again but maybe this is a vegetable you want to try in your fall garden.
Kale
We really like to eat kale and it's a good choice for the fall garden. If you haven't tried it yet this recipe for kale chips is so good.
Cauliflower
My son won't eat cauliflower but the rest of us love it. It's also a good cool weather plant to try in the fall garden.
Cabbage
I've only grown cabbage once. I usually can find it at a good price at our discount grocery store so I don't usually grow it at home. But if you have room in your fall garden this is another good choice.
There are more than just these 10 I've listed. Any cool weather plant could be grown in your fall garden. Just be sure to plant it at the right time for the amount of time it needs to harvest.
A Few Growing Tips for Your Fall Garden
Plant seeds in a flat or starter pots instead of directly in the garden. During the hot summer months, it might be too hot for some of these cool weather plants. Be sure to check often if you are starting them in a flat. They might need to be water a couple times a day in the summer heat.
Keep the flat in the shade to regulate the temperature of the soil for good germination.
Transplant when the plants have two true leaves on them. These are the two leaves that look the mature leaves on the plants.
Use the areas you cleared from spring plants that have gone to seed or were dying off in the garden. The cool weather plants are generally more compact and don't need as much room to grow as the warm weather plants.
You might consider adding your fall crops around the taller warm weather crops. The taller plants will shade the cool weather plants during the hot summer days. I like to plant my lettuce around the tomatoes so the lettuce has shade.
When transplanting your seedlings, break up the top soil and plant your seedlings. If you added compost in the spring you probably won't need to add anything more. But I always like to sprinkle a little compost right on top of the soil around the plants.
If you live in a more mild climate you might be able to enjoy vegetables through the winter. If your weather is more prone to freezing, your fall crops should produce until they freeze. You can help to extend the season even more with cold frames and hoop houses to keep the temperature in the garden a little warmer, longer.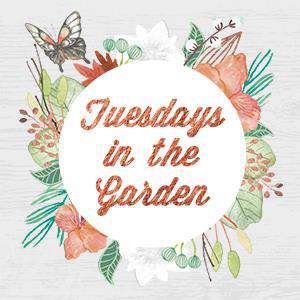 The rest of the Tuesdays in the Garden bloggers are sharing more great information about fall gardening too. Be sure to visit their sites to learn more about fall gardening. All you need to do is click the photo or link below to start reading.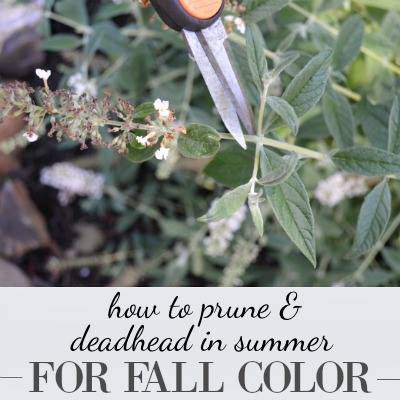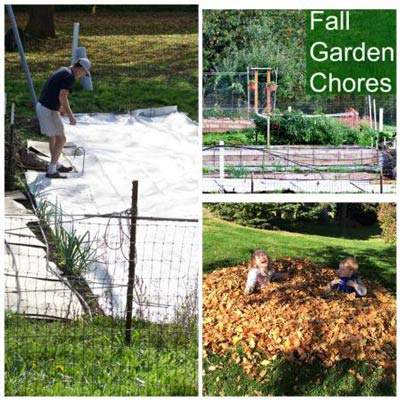 Diane from Homemade Food Junkie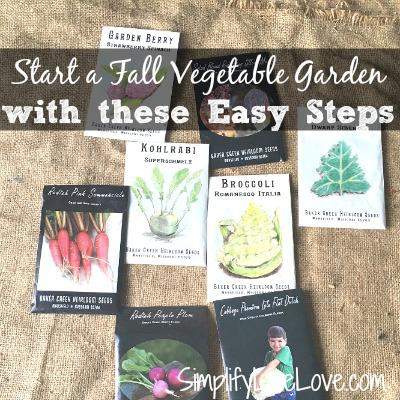 Michelle from Simplify, Live, Love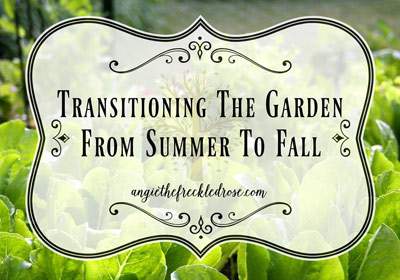 If you are planning to plant a fall garden this year I would love to hear which plants you'll be adding. I'm hoping my cool weather plants will do better in the fall this year than they did in the spring. What plant is your favorite for fall gardening?
[signoff]
Find More Gardening Tips and Tricks
More Fall Gardening Ideas,
How to Ripen Tomatoes Indoors
Seed Saving for Next Year's Garden
Get the Companion Plants List
When you join the gardening email list, you'll not only get gardening tips sent to your inbox, you'll also get the companion plants list too.