Keeping your strawberries producing well year after year takes a little care. These tips show you how to prune strawberries and how to clean your strawberry beds for the new growing season.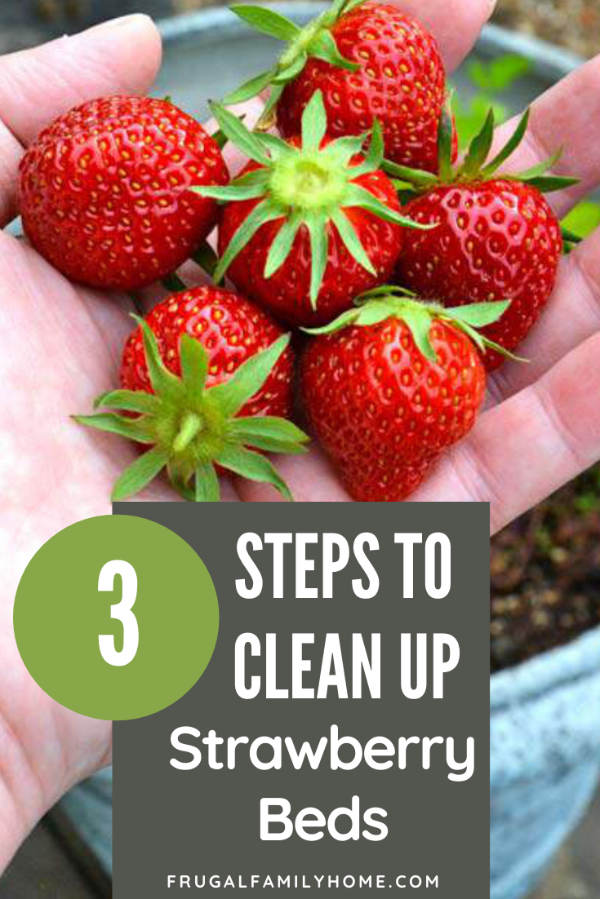 We've had a strawberry patch for years now. And most years it has done really well. Producing lots of strawberries for us. Year after year.
About 5 years ago, I moved our strawberries to their very own raised bed. They liked their new home, but I noticed a few areas were bare after this past winter.
There were lots of dead leaves and the strawberries just weren't taken off like I thought they should.
So I knew this year I needed to do a little strawberry patch maintenance.
Here's what I did and what should be done for your own strawberries.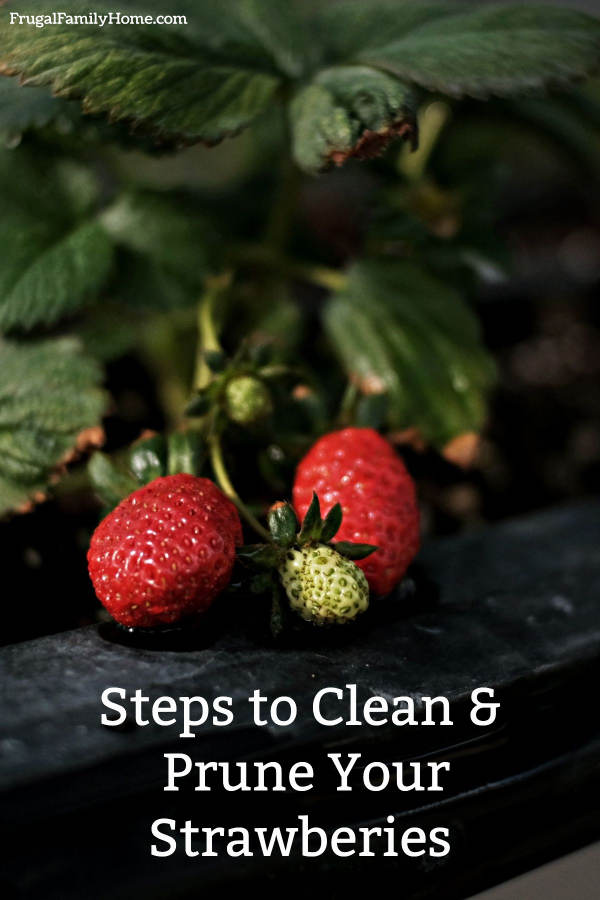 Steps to Clean and Prune Your Strawberries
In just a few steps, you can rejuvenate your strawberry bed. Helping your strawberry patch keep producing for you year after year.
Step 1 Removing Dead Leaves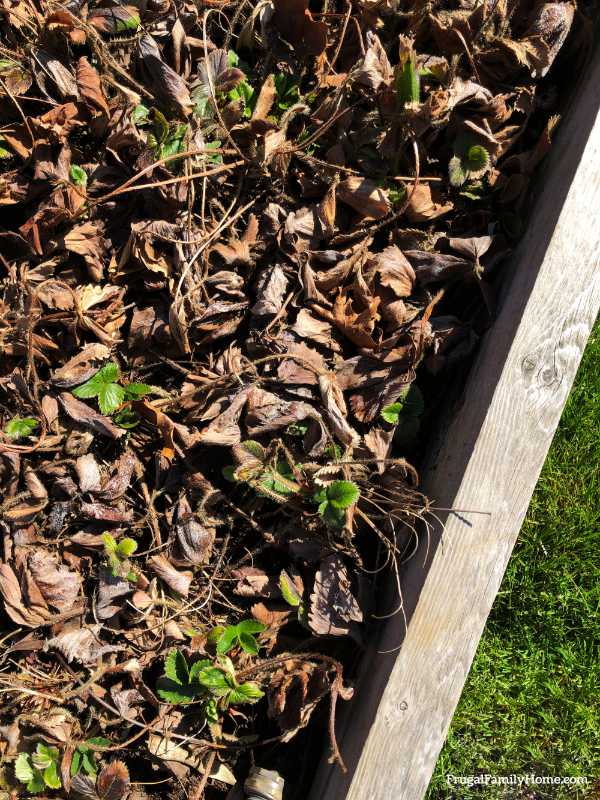 After winter there can be a lot of dead leaves laying in the strawberry patch or bed.
Removing those dead leaves can clear out spores or other items on the leaves. That can spread disease to your strawberries or make them mold.
And removing the dead leaves, removes homes for slugs and other pest. So they can more easily be removed from the bed.
You can use your hands to pull out the dead strawberry leaves or a rake.
A rake will pull up more of the older plants that may be past their prime and leave in the newer, smaller plants.
My preferred method is to use my hands since my strawberries are in a raised bed. But either method will work.
If you have an older bed and want to remove the older strawberry plants that aren't producing. Use a rake to clean the older plants and leaves out.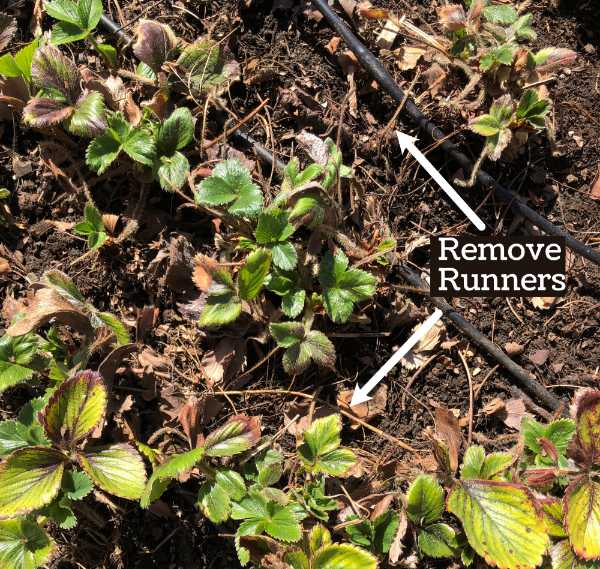 Step 2. How to Prune Strawberries
After you clear the leaves, you may see a few or quite a few runner vines. These are the vines that go from the adult plant to the new baby plants. 
And before the growing season you need to prune your strawberry runners. This is best done in late February or early March.
During the growing season, I usually keep the new baby plants in the bed and then in the spring, I prune them from the adult plant.
If the new baby plant is rooted in, there is nothing more to do. But if it is loose, be sure to plant it. 
Some people cut their runners each year and discard the runners. But I never do.
Keeping the runners helps to keep our strawberry patch full of plants that are younger and older and producing well.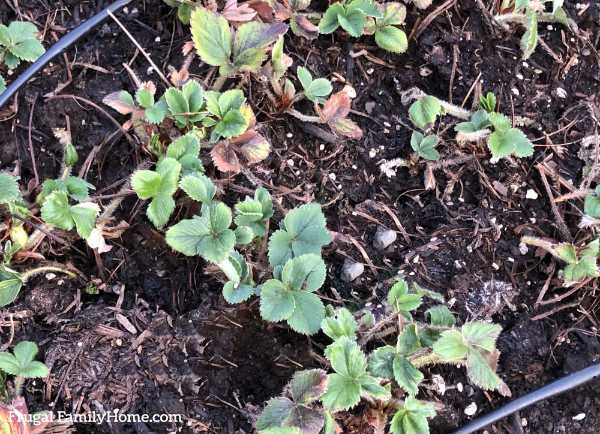 Step 3 Feeding and Mulching Your Strawberry Plants
Once your strawberry bed has the leaves removed and the runners have been separated and replanted. It's time to mulch the strawberry patch.
I like to use mushroom compost in my strawberry patch. I lay a layer of compost around the strawberries and as I water it helps to feed the plants.
It also helps to keep the strawberries moist by holding the water in the soil. And protecting them from drying out. Which is really important when they are setting the fruit.
Some gardeners will say don't add any fertilizer until the fruit is coming on. Fertilizing too heavy before the fruit is coming on can encourage heavy leaf growth and not so much fruit.
I've found the addition of compost when cleaning the bed, can help feed the plants without causing them to get too leafy.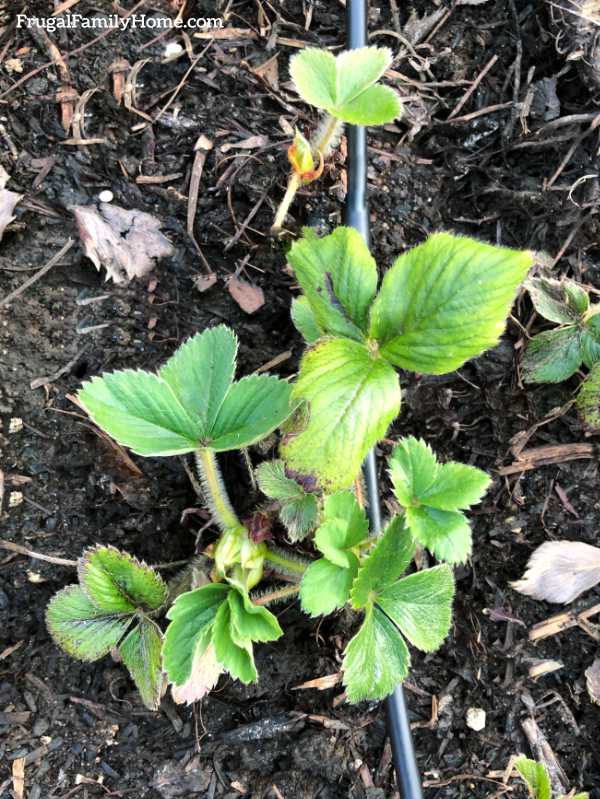 A Few Strawberry Plant Care Tips…
How to Prune Strawberry Runners 
When pruning runners, be sure to cut the runner vine close to the plant. But not so close to damage the roots.
If the new baby strawberry plant has rooted in, there isn't anything else to do. If it's loose, plant it. 
When is the Best Time to Prune Strawberries?
Before the growing season you need to prune your strawberry runners. This is best done in late February or early March.
When is the Best Time to Fertilize Strawberries?
The best time to fertilize your strawberries is after the harvest is done. Once your strawberries finish producing.
That is the perfect time to give them a boost with a dose of balanced fertilizer. Something close to 12-12-12 in composition.
Should I Cut the Leaves off Strawberry Plants?
You should remove any dead leaves but leave the green leaves on the plant. Only remove the dead leaves.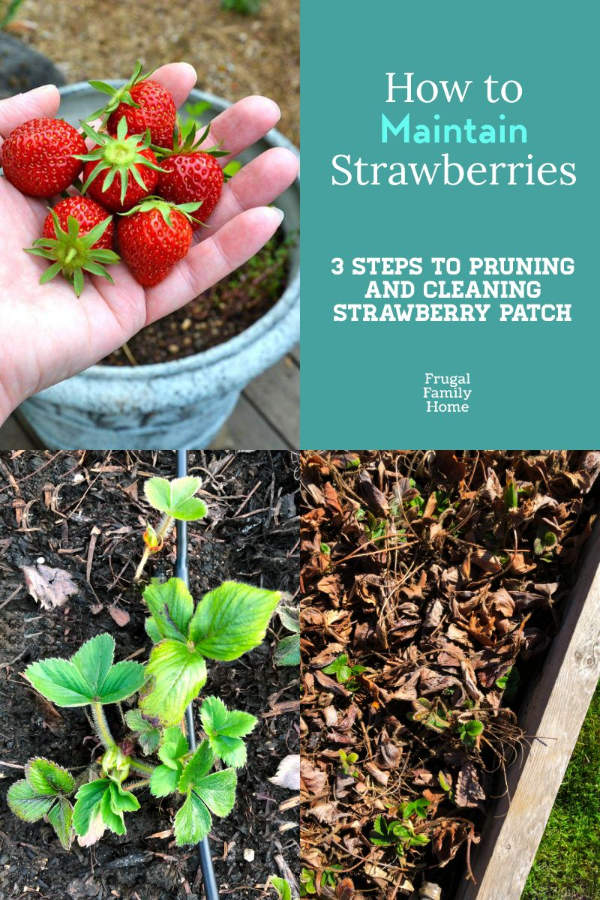 Those are 3 easy steps to help clean and prune your strawberries. And get them the nutrients and mulch they need to produce well for the upcoming growing season.
If you want to learn more about growing strawberries, this strawberry growing guide can help. It gives you everything you need to grow sweet strawberries in your own backyard garden.

Get the Companion Plants List
When you join the gardening email list, you'll not only get gardening tips sent to your inbox, you'll also get the companion plants list too.