Easy to make Kitchen Cleaners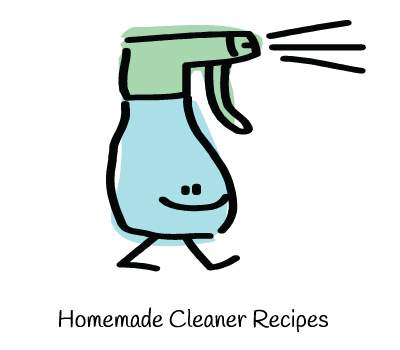 I like to make some of my own cleaners to use to clean my home. I still use some store-bought products but I am slowly replacing the store-bought with homemade ones. I am sharing the recipes for the cleaners I use and sharing a few other recipes I am looking forward to giving a try.
Floor Cleaner
Basic Floor Cleaning Solution
1 gallon of water
1 cup Vinegar
To make this cleaner I just add about 1 gallon of warm water to my bucket and then add a cup of vinegar. I am not too good about measuring so I just eyeball it. Works great to clean the kitchen floor with a mop or a sponge.
Window Cleaners
I use this recipe the most from my Dining on a Dime Cookbook.(affiliate link)
It is made with rubbing alcohol, ammonia, water and dish soap and it works very well.
But I recently found a new recipe to try that takes fewer ingredients. That I will be giving a try really soon.
Window Cleaner
1/4 cup of White Vinegar
1 T Cornstarch
2 Cups water
Place all ingredients in a spray bottle then give a shake. This one works best if you give it shake each time before use. I have heard good things about this formula so you may want to give it a try too.
Counter Cleaners
Simple Household Disinfecting Spray (from Food.com)
This is one I want to try one I run out of my antibacterial spray cleaner.
2 T Borax
2 cups Hot Water
1/4 cup lemon juice
Place in a spray bottle and shake until blended.
Here is the one I use the most at our home,
Countertop Spray Cleaner (when I feel I don't need disinfecting as much)
1 cup water
1 cup vinegar
Place into a spray bottle and shake. That is it then just spray on the surface to clean and wipe clean. I sometimes will add a few drops of liquid soap to help clean a little better. This is my main homemade cleaner I use on almost every surface.
I have read that if you add some tea tree oil this makes a good disinfecting spray. I usually will use bleach with water for areas that are contaminated just to be sure to kill any bacteria, I don't want anyone getting sick.
Wood Surface Cleaner
I will use my countertop spray cleaner for my wooden cupboards and after spraying and scrubbing them I will wipe them dry.
Re-Useable Kitchen Wipes 
This recipe uses vinegar, tea tree oil, lavender oil, castile soap water and rags.
To make mix 1 cup of water with 1/4 cup of vinegar. Add a squirt of castile soap and about 4-5 drops of the tea tree oil and lavender oil. Mix then pour over the rags. Store in an airtight container. Use as you would disposable wipes. When done with wipe just add to laundry to wash up the rags. Then make more solution and use again.
Original Recipe here.
I think that covers all the cleaners I use in the kitchen. Do you have a favorite homemade kitchen cleaner you like to use?
[signoff]