Make Your Own Laundry Supplies,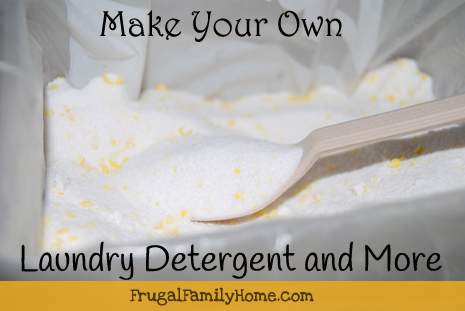 I have been making my own laundry detergents for a while. I will purchase store-bought laundry detergent if it is the free variety and only if it is on sale. I usually will purchase it when I can get the laundry detergent for $1.50 or less a bottle. For the other times I need laundry detergent I make my own.
Powdered Laundry Detergent
1/2 bar Fels Naptha grated finely
1/2 box of Washing Soda (not baking soda, find this in the laundry detergent aisle at the store)
1/2 box of Borax ( also found in laundry detergent aisle)
Mix the grated soap with the washing soda and borax. Use 1-2 tablespoons per load. This detergent doesn't foam up and works fine in front loading machines.
If you prefer a liquid detergent you can use this recipe.
Liquid Laundry Detergent
1/2 bar Fels Naptha grated
1 cup Washing Soda
1 cup Borax
Mix 4 cups of water and grated soap. Heat and stir until soap has dissolved. Remove from heat. Add in Washing Soda and Borax and another 4 cups of water. Pour mixture into a large bucket and add 24 cups of water. Stir well. You may even want to use a whisk. Let sit overnight. The next day the soap should have set up. You can place it in old laundry detergent containers or just leave it in the bucket with a lid. Use 1/3 to 1/2 cup per load. If you place it into old laundry detergent contains you may want to give it a shake before each use.
I have made this recipe above a few times but I tend to like the ease of making the powdered detergent. So it all depends on your preference of which one you make. I usually take the lazy road and go for the powdered one.
Other make your own laundry supply recipes
I use fabric softener on occasion at my house and have an ample supply right now. But I am going to give these a try when I am in need of more. Be sure to save your old fabric softener containers if you will be making these recipes.
Fabric Softener #1
1 gallon White Vinegar
Optional 20-30 drop essential oils
Add the essential oil to the gallon of vinegar and use as you would use liquid fabric softener. Be sure to make it as fabric softener.
Fabric Softener #2
2 cups of Hair Conditioner (use inexpensive stuff here, Dollar Tree is great for this or get some with a coupon/sale combo)
3 cups White Vinegar
6 cups Hot Water
Mix all the ingredients until it is incorporated well. Then pour into an old fabric softener container. Use as you would regular fabric softener. About 1/4 cup a load.
This next recipe is one I really want to try out. It looks like an easy and cheap recipe and the rags are re-useable. Always a good thing when you are frugally minded.
Re-Useable Dryer Sheets
1 tsp hair conditioner
water
Old cotton t-shirt cut up into squares
Mix 1 tsp of hair conditioner with 1/2 cup water place a few square of cotton t-shirt into mixture. Put a lid on the mixture. When ready to use grab a cotton square of fabric and wring out the excess. Add to the dryer with the clothes. Keep the cotton square to add back to mixture again. This also works well with a cut up sponge.
Re-Useable Dryer Sheet
Vinegar
Old clean cotton sock (you know one that you no longer have a match for)
Place a cup of vinegar into a container with a lid. Add the sock and let it become soaked. Wring out the excess and then add to clothes in the dryer. Once dry add the sock back to vinegar mixture for the next load of clothes.
Another option is Wool Dryer balls. I will be making some of these soon so check back for a tutorial on how to make some for yourself.
Do you make your own laundry supplies? I like that all of these options are very inexpensive to make and can save you quite a bit of money over a year. I also picked these recipes because most only take a few moments to make and you only need a few ingredients so you can save money and not have to spend too much time to do so.