Frugal Beauty Treatments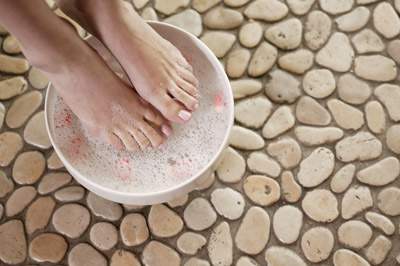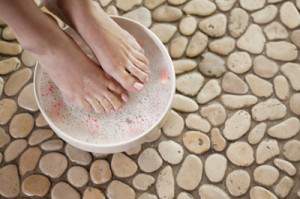 I must say most people in general I know like a little pampering. Who wouldn't want a day at the spa? Well if you budget is tight like a lot of homemakers, it is hard to get by on one income and things need to be given up. I don't mind giving up certain things to be home raising my children and taking care of my home. But does that mean you have to give up pampering yourself? Well I don't think so.
You can make your own beauty treatments at home. Most of these recipe take items that you probably already have in your pantry. They also make great gifts for friends or relatives. Not to mention you don't have any added chemicals or ingredients you can't even pronounce. So here are a few recipes to give a try so you can have a mini spa day at your own home.
 Recipes and Links to More Recipes
If you like coffee and chocolate this face mask is for you. Just three little ingredients and you have a wonderful smelling mask for your face.
Do you like to take a soak in a warm bath in the wintertime? Why not make a milk bath recipe to give a try?
Cinnamon Milk Bath
1 Cup of Powder Milk
1 Cup Baking Soda
3 T  Cornstarch
2 T Cream of Tartar
1 1/2 T cinnamon
Mix together and store in an airtight jar. Shake before using and sprinkle in 1/4 to 1/2 cup into a bath and soak.
Lavender Milk Bath
1 cup of Powdered Milk
1/8 cup Lavender finely ground
Mix and store in an airtight jar. Add this to about 2 cups of hot water and then add to bath.
Original Recipes found here with many other ones too.
My friend Sandra has posted a new recipe for Peppermint Sea Salt Foot Scrub. This is one I am going to try. I love to use a foot scrub as I don't wear socks all summer long and my feet get to looking pretty bad. Need a good foot scrub? Give this one a try.
Also Sandra has an ebook Homemade Health and Beauty: 21 Simple Do-It-Yourself Recipes for Products You Use Everyday
. She has some great recipes to pamper yourself in this book. I highly recommend it.
Home made Face Wash (the one I use myself)
1 part Olive Oil
1 part Castor Oil
Mix and rub Face wash onto your face then place a warm wet wash cloth over your face for a minute. Wipe face wash off with the wash cloth, rinse and wipe again. I love that this face wash makes my face so soft. It even takes make up off. I just use it in the shower each day. I have even made it with just Olive oil in the past and it works  well too.
My friend Sandra has a similar recipe but it uses Sunflower oil instead of Olive oil.
Bath Snow Balls (from Martha Stewart)
I was drawn to this recipe just by the name. But with the ingredients being very easy to get, makes it all the easier to make them. Not only for yourself but for gifts too.
These Bath Snowball just take Epsom Salt, Water, Essential Oil and Food Coloring. You do need a bath ball mold but I am thinking they probably sell these at Michael's or Hobby Lobby. (Don't forget to check my Craft Deals Post for coupons)
Bath Bomb recipe, this recipe you can customize with your own scent and oil you add. It is said to be a very good reliable recipe so if you are looking to make some bath bombs for yourself or for a gift give this recipe a try. My daughter and myself have made these in the past and they turned out great.
Rose Petals Hand Cream
This recipe only calls for two ingredients 1/3 cup Glycerin and 2/3 cup Rosewater. Just mix in a bottle and apply to your hands.
Sugar Hand Exfoliant
This is another two ingredient recipe  2 T Oil (baby oil, mineral oil, Olive oil) and 3 T sugar. Mix together and make into a paste. Rub onto hand and then rinse with warm water. Pat hands dry.
Original Hand Cream and Exfoliant recipes here, plus more recipes too.
The last recipe I will include is on of my own recipes I made to help heal up my son eczema. It is a very simple recipe to make with just two ingredients. (In case you don't have the ingredients below rubbing a sliver of cut potato on eczema as often as you remember to can really heal eczema up too. We tried it and it worked but I find the whipped Shea Butter more convenient and easier to get my son to use.)
Whipped Shea Butter
4 oz Shea Butter
2 T Sunflower Oil or Avocado Oil
I  whip the Shea Butter and the Sunflower Oil with my hand mixer. Store it in a jar with a lid and use on any dry skin. You can add in some essential oils if you like but I never did this myself. I found the Avocado oil worked best for my sons eczema but you can use any oil you like olive oil will also work well.
I hope this give you a start on how you can save money by making your own beauty treatments at home. If you have a favorite recipe to share please leave it in the comments. I always like to try new recipes.