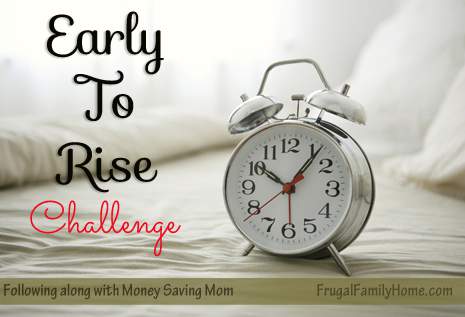 Weekend Catch Up and Building One Decision at a Time
Since I don't do the challenge over the weekend I am getting caught up today as I don't want to miss one day of the challenge. So for day sixteen Andy talks about getting to bed early to help you get up early. Have you noticed that you need a certain amount of sleep most nights to feel good and do good during the day? I know I need at least  seven hours of sleep a night to really function. If I get eight hours I feel great. So I make sure I am in bed around 10, so I know I will get enough sleep. Getting to bed at a decent hour is half the battle with getting up early. Do you know about how many hours of sleep you need a night?
I think it is great that Day 17 landed on a Sunday. Sundays for me are a day to mostly unplug, go to church and just take it easy doing something fun with the family for most of the day. That is just what day seventeen was about limiting your tasks to just one at a time. Instead of doing multiple tasks Andy asks us to concentrate on one task at a time. I have found recently when I focus on one thing at a time I do get more done and I don't feel so rushed through the day.
Todays reading was all about how decisions add up. Whether it is a good decision or a bad decision that is built one on another, they all add up for the good or the bad. So each day we all have the choice of who we will be and how we will live. No one is a victim, you and I get to choose who we will be today. What we choose to be can make a positive impact or a negative one.
Choosing to get up early and start you day is one good choice that can build into many for the day if you have the right attitude. You can choose to be loving and kind or critical and harsh. The choice is your and mine. Those decisions will be built one on another. For a positive or a negative change on your world.
My day started with one good choice to get up and take some time to be quiet. I am choosing to a have a peaceful and encouraging attitude today. I can do it and so can you. Let's build one good decision on another today for a fully positive effect on our world.
Today I met the day at,


 What are you choosing for your day? If the day started out the day in the wrong way, you can change your day starting with one good decision.
[signoff]
See other posts in this challenge
This post is linked up at,