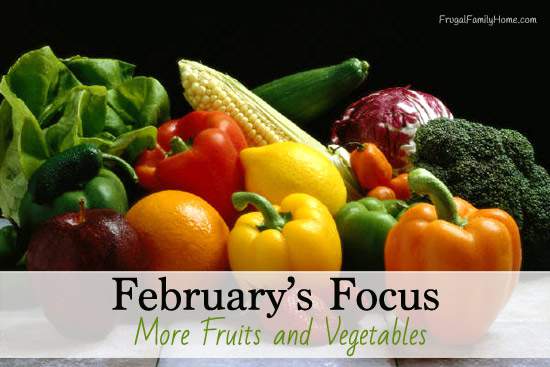 I'm following along with the 12 Months to a Healthier You Challenge at Money Saving Mom. I started the challenge in January to help keep me motivated to lose weight and help me establish some good healthy habits too. If you have a goal of getting healthier this year, why not follow along?
How the Challenge Works
Each month of the challenge will have an area to focus on, to help improve your health and mine. By focusing on one area each month, it should give us time to really get it set as a habit. So it won't end up being something we just do for one month. I'm hoping I will be able to continue the improvements for a long time.
February's Focus Area
This month's focus is on eating more fresh fruits and vegetables. I needed to decide what I would commit to for this month. I decided on eating 4-5 servings of fruits and vegetables a day.
I was going to pick eating salads each week but sometimes I just can't find lettuce on sale. (although this week I found organic lettuce at a great price) By picking to have 4-5 servings a day I think I should be able to find produce on sale. Helping me to keep up with the challenge and not break my budget.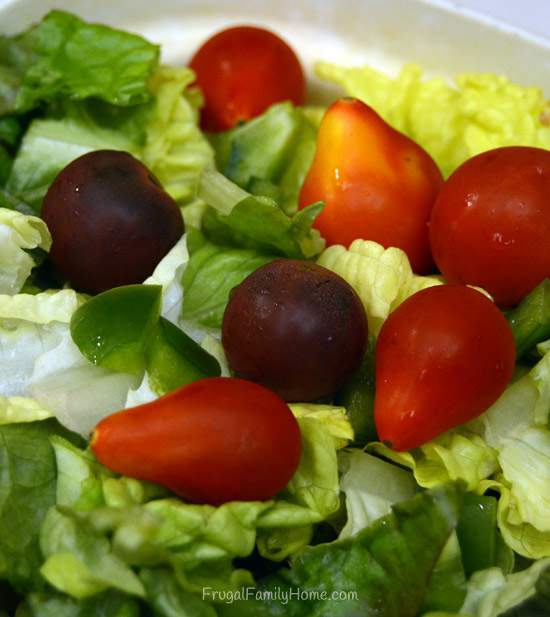 My Progress for this week
This week went really well. Over the weekend I was able to get fruits and veggies in at each meal. Even on Saturday morning. Mornings are hard for me to fit in vegetables so when I can fit them in, I'm happy.
The weekdays went well too. I made a soup one night that was packed with veggies and we had enough left over for lunch the next day. I love it when I can use leftovers for another meal.
We had omelets for dinner another night. It's easy for me to sneak in a few extra vegetables in those. I added peppers and organic tomatoes along with sausage to make a yummy dinner omelet for us.
The rest of the week we had salad with our dinners. I found a good deal on organic lettuce and organic heirloom tomatoes. I usually keep our salads pretty simple. I find if I have the lettuce and veggies washed and ready to go in the refrigerator it's so much easier to throw a salad together for dinner. And more likely to end up on our dinner table.
I'm still longing for a little more variety in the fruits I can find on sale, but I did find grapes at a good price this week. So our fruit consisted of apples, pears, grapes and bananas. Not too exciting but at least I getting my servings in.
How did you do on getting your fruits and vegetables in this week?
[signoff]
See more posts in this series