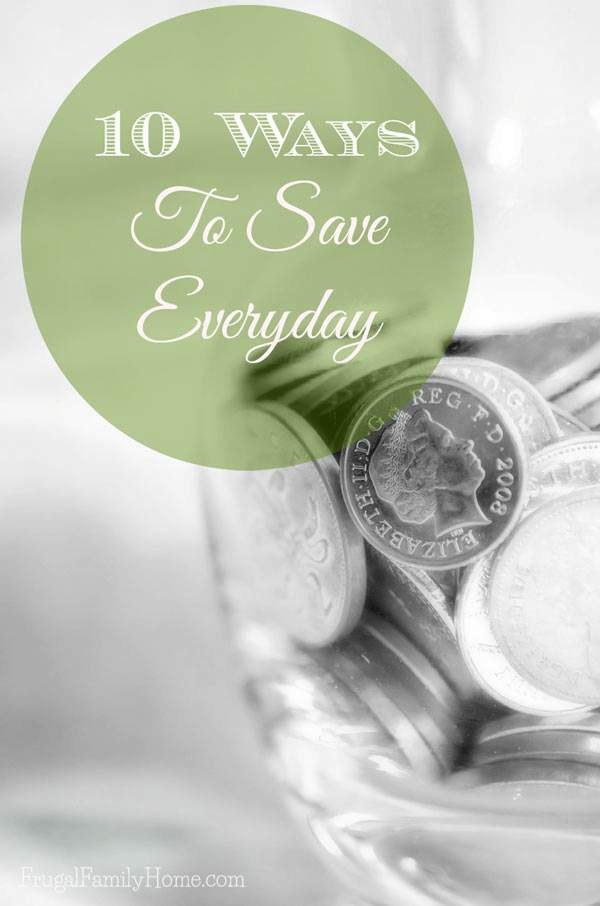 Frugal living starts with the choices you make, each and everyday. The smallest changes made can make a big impact on your budget over the long haul. It's those little changes that can make or break your budget, more than the big purchases you make. Here's ten changes you can make to help improve your financial outlook.
Simple Ways to Save Everyday
1. Drink Water, Water cost very little. It is so much better for you and is something your body really needs each and everyday. Water is also calorie free, instead of full of empty calories like other drinks. Start small and switch out one drink a day for water. Then work up until at each meal you are drinking water instead of other beverages.
2. Brown Bag It or Eat Leftovers, Eating out at lunch can really add up over the month. Even if you eat a cheap meal at a fast food restaurant, you could still be spending $4-6 a day. Which adds up quickly. Pack leftovers for lunch or pack a quick sandwich for lunch. It could save you $80 or more a month.
3. Quit Shopping for Entertainment, earlier in this series I talked about how I used to shop for entertainment. I would go to the store just to "window" shop. But somehow I would almost always end up purchasing something. If you do the same, stay out of the stores. Find something fun to do around the house instead, your wallet will thank you.
4. Use the Library, Instead of purchasing books, check them out from the library. Some libraries have free music to download, television show to stream, movies to check out and free wifi too. See my post on Ways to Save Money, Use the Library for more ideas.
5. Purchase Used, Shopping second hand can really save you a bundle of money. From yard tools to clothing, we get lots of items used. We purchased a beautiful solid maple dinning room set for a fraction of the cost of a new set, off craigslist. I've found lots of useful items at Estate sales. Thrift stores and garage sales always have lots of kids and adult clothes to be had at deep discounts from brand new. I've found lots of items with the original tags on them at the thrift store too.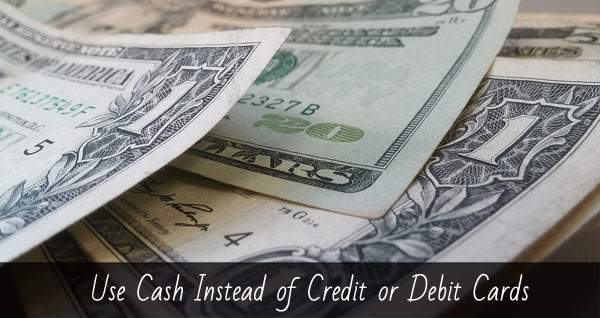 6. Use Cash, Ditch the credit and debit cards for your everyday shopping. Use a cash to make everyday purchases. There is something about having to hand over the cash to make you think about your purchases.
7. Track Your Spending, It's easy to get to the end of the month and think where did all the money go. When you track your spending, you know where it goes. I track our spending in a notebook with the major categories covered, so I know if we are staying on budget.
8. Don't Auto Renew, Never auto renew, take the time after your current contract expires to shop around. Then ask your current provider to match the price. If they can't make the switch. Some companies don't reward customers for loyalty anymore and you need to switch to get the best deals.
9. Limit Purchase of Perishables, It's hard to resist a great deal when they come along. But use caution with perishable items. You don't want to take advantage of a great deal, overbuy what you can use and then have it go bad before you can use it. Just purchase what you will use, when it comes to perishable items. Or have a plan to freeze or dry the surplus for later.
10. Think Before You Buy, Take a moment before you make a purchase to ask yourself , Do I really need this item? Or do I just want it? Think about how many hours you have to work to purchase the item? Is it worth your time. If not put it back and leave it behind.
Now it's your Turn

What little things do you do everyday to save money? I would love to have you share your ideas in the comments below. You never know who you may bless by sharing.
[signoff]
See all the posts in this series,