It's almost the end of summer but you know what's great to buy this time of year? School supplies are at their best prices this time of year.
I stock up on everything I think I'll need in the way of school supplies and office supplies. Here's what to stock up on in August.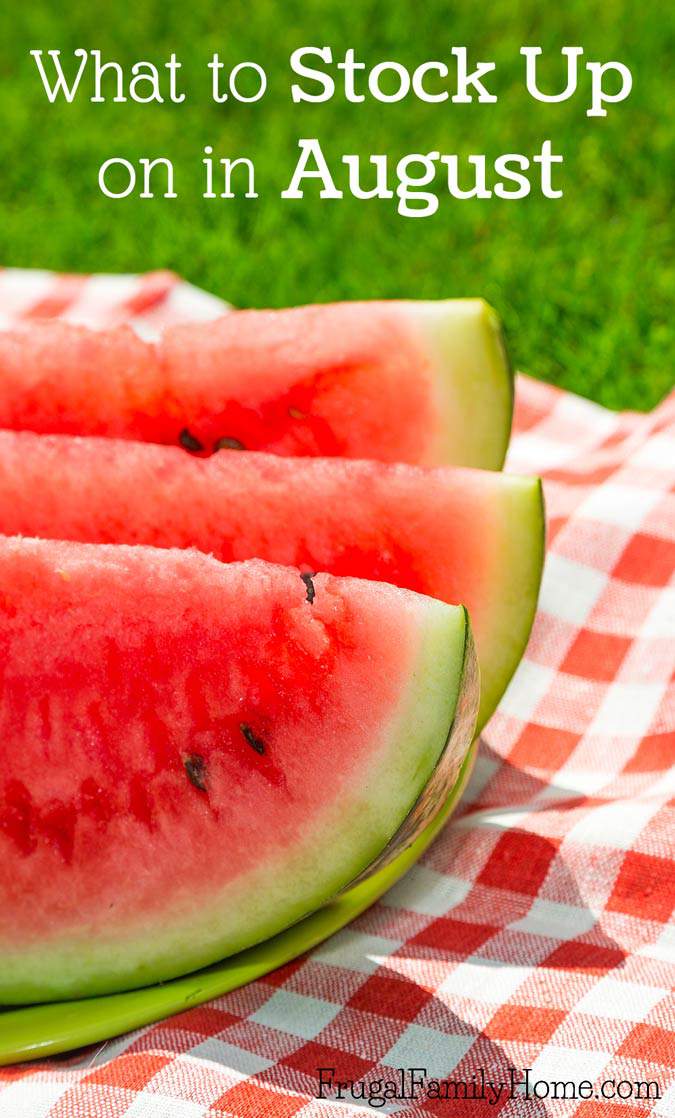 What to Stock Up on in August
School Supplies
The best prices of the year are now. Be sure to stock up so you won't have to pay full price all year. If your family participates in Operation Christmas Child purchasing extras for your shoeboxes can save you money and help you bless others too.
You can often find many items for just a penny. Be sure to stock up when you see them on sale. I usually stock up on notebook paper, spiral notebooks, pens, pencils, glue, binders, whiteboard markers, and sharpies.
Kids Clothing
There's sure to be lots of back to school clothing sales too. I have my kids go through their closets and dressers to see what we need to purchase.
Then we keep a lookout in the sales flyers each week to see when the items we need are a great price. I often get jeans for around $10 and shirts for around $4 for the kids.
Be sure to also look at the clearance racks for summer clothing you can pick up now at rock bottom prices for next summer too.
Snacks
Yes, the back to school sales even extend to breakfast and snack items. Be on the lookout for cereal, granola bars, pudding and fruit cups, fruit drinks and fruit snacks to be on sale.
Garden and Outdoor Items
With summer rapidly coming to an end there is sure to be gardening items and garden tools on sale. If you need new hand tools for the garden or a new lawn mower or other garden-related items they should be on sale this month. Be sure to look at the clearance items too.
All Things Summer
If some of your summer items are wearing out or you need summer related items now is the time to snatch them up. Swimsuits should be at the best prices.
Summer plates, glasses, and other tableware will be on sale. If you need extra charcoal or other grilling accessories you should be able to find great deals on those too.
Pretty much anything you would use during the summer or summer related is sure to be on clearance this month.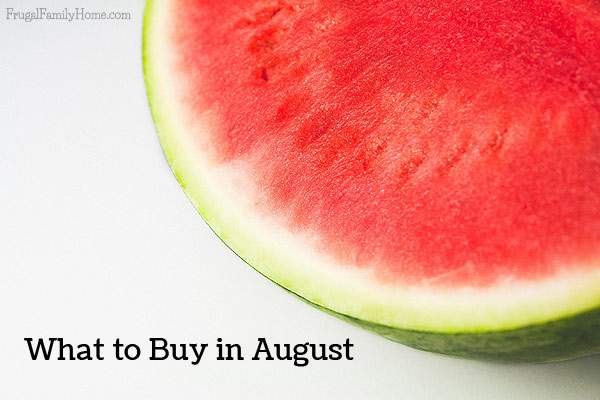 In Season Produce
This month there is a great assortment of in-season produce. Be sure to stock up when you see a great buy and store some for later use by canning, drying, or freezing the extra.
In Season Now, avocados, beets, bell peppers, blackberries, blueberries, carrots, cantaloupe, chiles, cilantro, corn, cucumbers, grapes, green beans, limes, kiwi, mangoes, nectarines, peaches, summer squash, tomatoes, watermelon, and zucchini.
That's what to stock up on in August. Back to school sales are the biggest sales for this month but be sure to check out clearance racks too.
What are you looking forward to stocking up on this month?
More Money-Saving Ideas