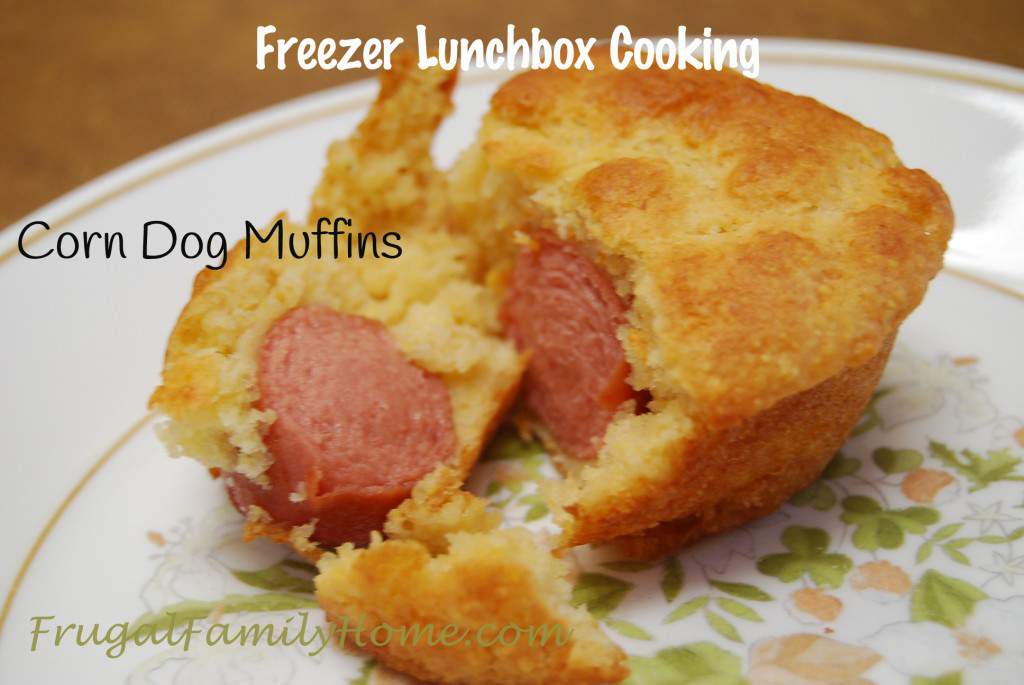 This freezer cooking recipe is a recipe my son is really excited about. He just loves corn dogs. He would eat them everyday if I would let him. We have found one brand that is dairy free that he can eat but they can be expensive for what you are getting. Since we can only eat one brand in our house that brand is not always on sale when the craving comes and I hate to pay full price. So this recipe is such a great idea for our family.
A while back I saw this recipe shared by Crystal at Money Saving Mom. I thought well I am not sure my son will eat those. So I did not make any at that time. Now with the Lunchbox Freezer Cooking, Crystal listed them again. So I thought we should really give these a try. So that is what we did.
Since we only had 4 hot dogs in the refrigerator I decided to make a half batch. I used this honey cornbread recipe cut in half. I adjusted the recipe a bit to make it dairy free for our family.
At first I overfilled the muffin cups a little and needed to take a little off of each to fit in the hot dogs. So next time I will have to remember to fill only half full add the hot dog and then add some more batter on top. Even though our hot dogs were showing a little the batter rose nicely while cooking to surround each hot dog.
I was not sure how they would go over with my son, thinking he might be disappointed about the different shape. But to my surprise he was happy they looked like muffins as muffins are a favorite of his. He ate one and then asked for another one. So we only had a few to get into the freezer but I know this is  one recipe we will be making quite often.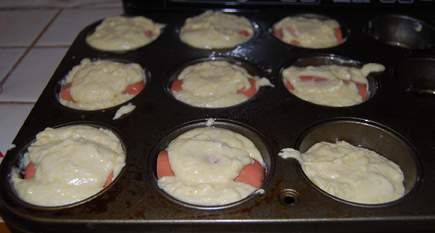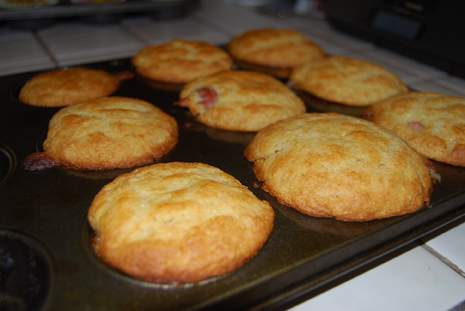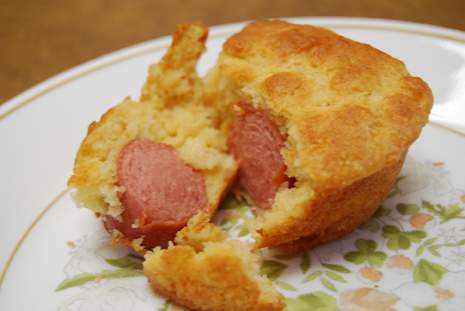 Here is how I adapted the corn bread recipe to make it dairy free
Honey Corn Bread
Ingredients
2/3 cup Sugar
1/4 cup Dairy Free Margarine or Coconut Oil (I used Nucoa as we are out of Coconut oil)
1/4 cup Honey (original recipe had 1/2 cup)
1 1/3 cup Soy Milk or Almond or Rice
4 Eggs or 4 T of Soy Flour with 4 T water ( I used the soy flour)
2 1/3 cup Flour or Whole Wheat Pastry Flour
1 1/2 T Baking Powder
1/2 cup Corn Meal
1 t Salt
Soften the margarine or coconut oil and stir in the sugar. Then add honey, milk and eggs (if using) or 4 T water (if using soy flour). Mix all dry ingredients together don't forget the soy flour if you are using it instead of eggs. Whisk all dry ingredients to mix well. Then add wet ingredients to the dry and stir to combine. The batter will be lumpy. Then spoon batter into greased muffin tins.
Bake at 400 degrees for about 20 minutes or until toothpick comes out clean and tops are nicely browned.
What is your favorite food to have for lunch? What was your favorite as a kid?
[signoff]
Other posts in this series
Lunchbox Freezer Cooking, Dairy Free Mac and Cheese Cups, Day 1
Lunchbox Freezer Cooking, Peanut Butter and Jam Sushi Rolls, Day 2
Lunchbox Freezer Cooking, Beef Biscuit Cups, Day 3