Have you ever wondered if you can cook rice and vegetables together in the same pan? I'm here to tell you, you can cook rice and vegetables together. Here's how to cook rice with vegetables.
It can save you time and you won't have to wash another pan which is always good.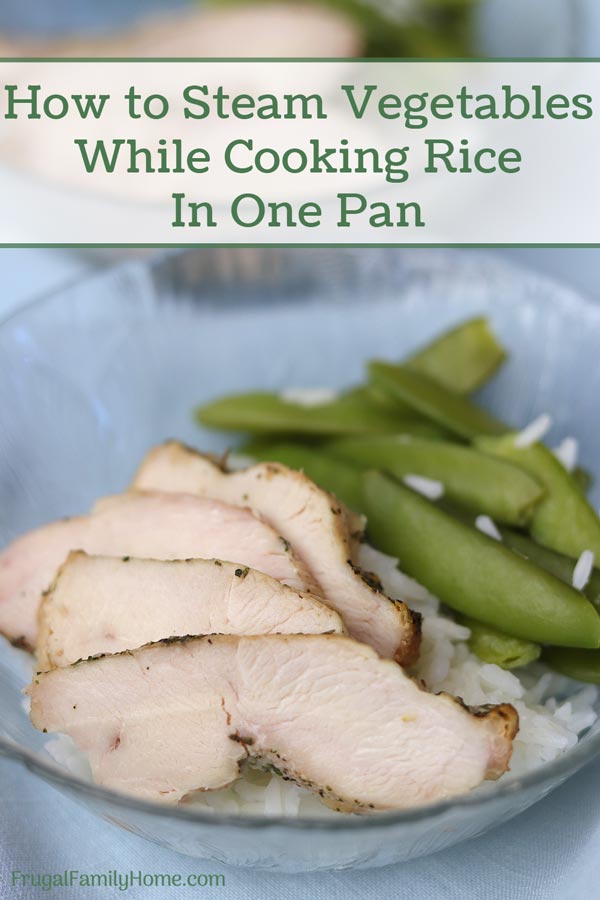 Maybe you're like me, cooking the rice on the stove and cooking the vegetables in another pan right next to it.
One is steaming the other is boiling. Using two pans and two burners.
It hit me, why not add the vegetables on top of the rice and let them steam while the rice cooks?
Hard to believe this has escaped me for so long. Maybe it has escaped you too.
I tried it. After all what's the worst that could happen?
I had sugar snap peas from the garden. I wanted to steam them for lunch.
I also made rice to go with the peas and some cooked chicken we had on hand.
Sorta like a chicken bowl for lunch, easy and delicious.
As I was getting ready to get two pans out, I thought I should try to steam the vegetables on top of the rice as it cooks.
And sure enough it worked. And it worked so well I don't think I'll ever need to go back to cooking them separately again.
Well, not unless I need to cook a lot of rice and a lot of vegetables.
How to Cook White Rice on the Stove with Vegetables
This quick video will show you the easy steps to cooking rice with vegetables. Don't want to watch? No problem scroll down to get a few tips to get you started.
Cooking Rice and Vegetables Together Tips
My first try at this technique was successful. But there are a few things I've learned since that time, I'd like to pass along to you. So your vegetables will turn out just right each time.
When to Add the Vegetables to the Rice Guidelines
In the video, I showed putting the sugar snap peas in at the beginning of the cooking time. Which turned out fine, but the peas were a little overdone for us.
If you're cooking a quicker cooking vegetable like sugar snap peas start them later into the cooking time. Add them halfway through the rice cooking time.
So instead of putting the peas in at the start of the rice cooking, wait about 10 minutes and add them to the top of the rice then.
For slower cooking vegetables that may take longer to steam add them sooner.
Add the denser vegetables at the beginning as you start the rice cooking or soon after. This will ensure your vegetables will cook through and not be too crisp.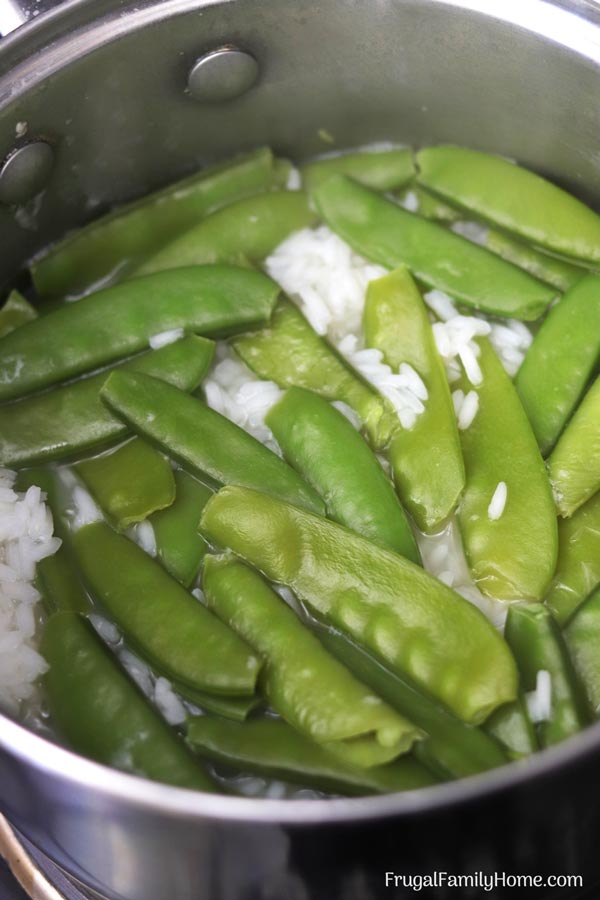 Increase the Steam Time
When you are cooking rice and vegetables together, you'll likely need to increase the cooking time over just steaming them.
When you are steaming the vegetables over boiling water. But when you are steaming with the steam from the rice, it can take a bit longer to cook the vegetables.
Be sure to increase your cooking time a little. Try to add 2-3 minutes to start and see if the vegetables get done to your likeness.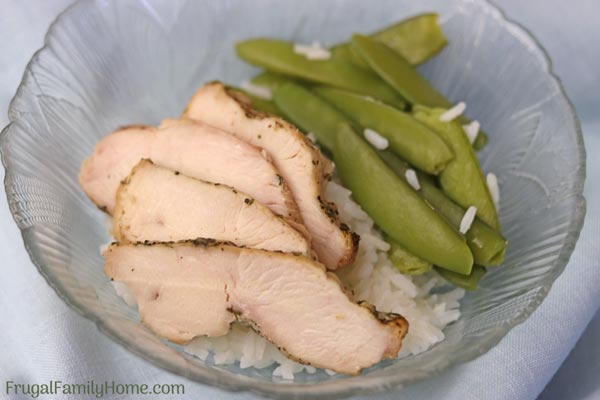 Grab the printable recipe…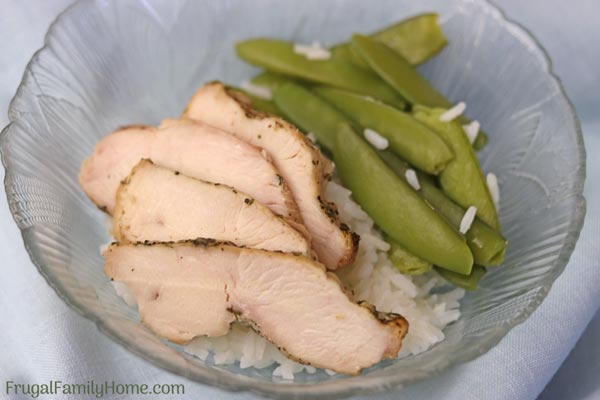 How to Cook Rice with Vegetables in One Pot
Cook your vegetables in the same pan as your rice to save time and an extra pot to clean.
Ingredients
2

cups

water

1

cup

Rice

I use white long grain

1

cup

Vegetables

1

teaspoon

Salt
Instructions
Add the water and salt to a pan and bring to a boil. Stir in the rice.

Turn down the heat and cover.

Cook about 5-10 minutes depending on the vegetable you'll be adding.

Remove cover and add vegetables.

Replace lid and let cook until vegetables are tender and rice is done about 10-15 minutes more.

Remove the vegetables from the rice and fluff the rice or stir the vegetables in if you'd like to serve them combined with the rice.
Video
Notes
If preparing a slower cooking vegetable, like broccoli, carrots or other root vegetable. Add the vegetables in closer to the beginning of the cooking time for the rice.
If preparing quicker cooking vegetables, like sugar snap peas or frozen vegetables wait until half the rice cooking time has passed and then add the vegetables.
If you are preparing brown rice wait until the last 10-12 minutes of the cooking time to add the vegetables.
Nutrition
Calories:
179
kcal
Carbohydrates:
38.8
g
Protein:
4
g
Fat:
0.4
g
That's how simple and easy it is to steam your vegetables in the same pot while you are cooking your rice. Simple, easy and one less pan to clean too.
What do you think? Have you tried this before? Let us know how it worked for you in the comments below.
More Side Dish Recipes to Try….
Pin it for Later