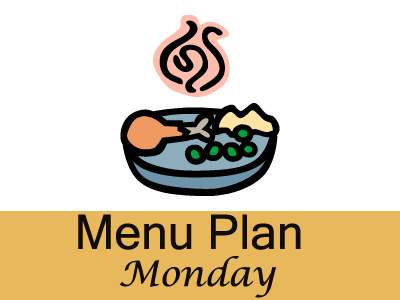 This week I am doing a Food Stamp Challenge. I already had my meals planned out when I decided to do the challenge so I am sticking with that plan and we will see how well I do at keeping my family's food cost to $4 a day per person. You can look for posts this week on how we do each day.
The Dinner Plan
Beef and Celery with Egg Noodles, Fruit and Salad
Shipwreck Casserole and Salad (new recipe I am giving a try)
Kielbasa Skillet with Potatoes, Salad and Fruit
Chicken Soup Kit, Biscuits and Fruit
Build Your Own Haystacks, Fruit
Louisiana Style Pork Roast, Mashed Potatoes and Salad (another new recipe)
Leftover Pork Roast on Buns, Pork-n-Beans, Chips and Fruit
The Breakfast Plan
Toast with Egg and Oatmeal (5 days this week)
Waffles, Eggs and Sausage
Chocolate Chip Scones, Eggs and Sausage
The Lunch Plan
Leftovers
Lunchmeat Sandwiches with Chips and fruit
Corn Dog Muffins with fruit and veggies sticks
Bean Burritos, Chips and Salsa
What's cooking at your house this week? 
[signoff]