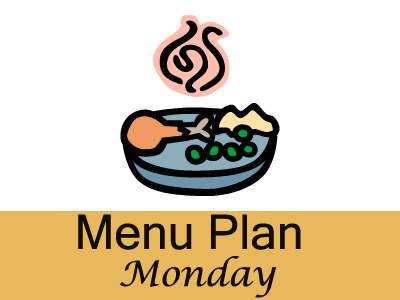 It's hard to believe we are already to the last week in June. I think because we keep busy during the summer months the times seems to really fly by, or maybe it's all the sun and fresh air. I like to keep my summer menu plan fairly easy and without using the oven much. So most of this week's recipes are all easy to make on the stove top or the grill. I will even cook the pizza and enchiladas on the grill if it's too hot later this week.
Our Menu Plan
Dinners
Kielbasa Skillet with Salad
Tacos, Chips and Salsa and Fruit
Stir Fry Chicken with Rice
Waffles, Sausage and Eggs
Grilled Chicken on Salad Greens with Garlic Bread and Fruit
Chicken and Bean Enchiladas, Chips and Salsa with Fruit
Pizza and Salad
Lunches
Leftovers most days
Homemade Uncrustables with Fruit and Chips
Hot Dogs with Chips
Breakfast
Toast and Eggs
Pancakes, Eggs and Sausage
Breakfast Burritos
That's our menu plan for this week. What's on yours?
[signoff]