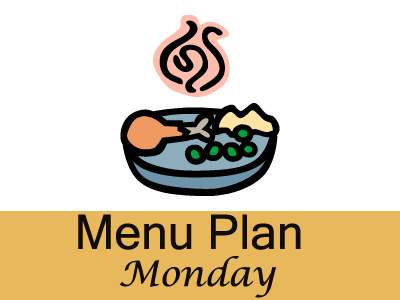 This week I am trying a new recipe and making some of my family favorites. I like having a few easy to prepare meals each for those days that are really busy. What meal do you make on a busy day?
Our Menu Plan
Dinners
Twice Baked Taco Potatoes, Salad and Watermelon
Cheddar Sausage Biscuits (new recipe), Salad and Watermelon
Cashew Chicken Stir Fry with Rice
Build Your Own Haystacks and Fruit
Omelets, Hashbrowns and Biscuits
Pizza and Salad
Marinated Pork Chops, Baked Potatoes and Salad
Lunches
Leftovers
Sandwiches with fruit and veggies sticks
Lettuce wrap sandwiches, with fruit
Corn Dog Muffins and Sugar Snap Peas
Breakfast
Toast, Eggs and Oatmeal
Chocolate Chip Pancakes, Sausage and Eggs
Bacon, Eggs and Potato Skillet with Toast
What's cooking at your house this week?
[signoff]