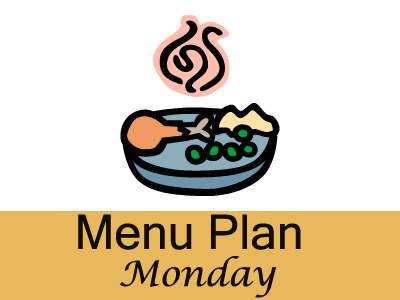 I made up my menu plan for the next 5 weeks of dinners this weekend. I was dreading it a little this time but I was able to get the whole process completed in about an hour, which was really nice. I think it helped that I was using mainly recipes I make often so I knew which ingredients I would need to purchase without having to look up the recipes.
Here's our menu plan for this week,
Dinners
Omelets, Hashbrowns and Fruit Salad
Hoisin Chicken (new freezer recipe) Rice and Vegetables
London Broil in C.P. with Cream of Something Soup, Served over Egg Noodles and Vegetables
Grilled Cheeseburger Wraps, Chips and Fruit
World's Best Chicken (new freezer recipe) Mashed Potatoes and Salad
Pork Roast, Roasted Potatoes and Vegetables, and Broccoli
Pork and Bean Enchiladas, Salad and Fruit
Lunches
Leftovers most days
Hot dogs with chips
Tuna Melts with cucumber slices and fruit
Sandwiches with chips and fruit
Breakfasts
Toast, Eggs and Oatmeal
Pancakes, Sausage and Eggs
Eggs, Sausage, Hashbrowns, Biscuits
What's cooking at your house this week?
[signoff]