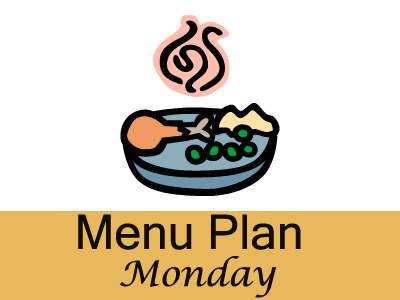 I really should have made up my new 5 week dinner plan this week but I just didn't find the time to get it done. So before shopping on Saturday I made a quick 1 week plan to use for this week just based on what we had on hand and what I could find on sale at the store.
Here's my menu plan for this week,
Dinners
Pan Fried Chicken, Mashed Potatoes and Corn
No Crust Quiche with Ham, Salad and Fruit
Potato Sausage Skillet with Salad
Crock Pot Chili, Cornbread Mini Muffins and Salad
London Broil, Baked Potatoes and Salad
Leftover London Broil on Salad with Oat Rolls
Ham Slices, Roasted Potatoes with Vegetables, Fruit
Lunches
Sandwiches, Chips and Fruit
Leftover a few days this week
Tacos with Chips and Salsa
Breakfast
Toast, Eggs and Oatmeal
Baked Donuts, Eggs and Sausage
Chocolate Chip Pancakes with Eggs and Sausage
What's cooking at your house this week?
[signoff]