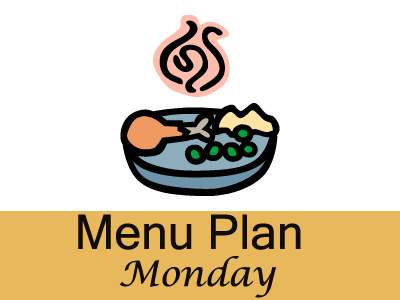 This week is another oven free week at our house. All of the meals I will be making this week can be prepared in a skillet or on the grill. We are also having breakfast for dinner which is always a favorite at our house. I am going to be baking some cornbread muffins on the grill this week too. The bread I made on the grill a couple of weeks ago, turned out so good,  I thought I would give the cornbread a try too. Here's our menu plan for this week,
Dinners
Garlic Chicken Strips, Mashed Potatoes and Green Beans
Hamburgers, Chips and Fruit
Hobo Packets with Fruit
Pancakes, Eggs and Sausage
Cherry Skillet Chicken from Fix,Freeze, Feast (Affiliate Link), Mashed Potatoes and Veggies
Crock Pot Chili, Corn Bread Muffins and Salad
Hoagie Roll Sandwiches, Chips and Fruit
Lunches
Leftovers
Hot Dogs, Chips and Fruit
Bean and Beef Burritos
Sandwiches with chips and veggie sticks
Breakfasts
Toast and Hard Boiled Eggs
Cherry Vanilla Muffins, Eggs and Sausage
Waffles, Bacon and Eggs
What's cooking at your house this week?
[signoff]