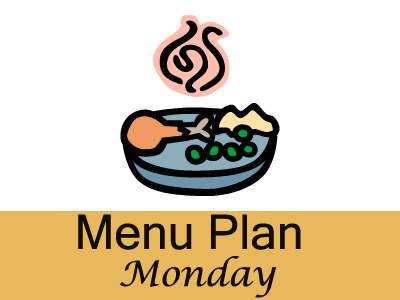 Happy Monday to you! Are you ready for another great fall week? I know I am. This week I have some of my families favorite meals planned. Here's our menu plan for this week,
Dinners
Build Your Own Haystacks with Fruit
Chicken Soup Kit, Rolls and Fruit
Grilled Pork Chops, Rice and Vegetables
Beef Roast in the Crock Pot with Potatoes, Vegetables and Rolls
Beef Dip Sandwiches (using leftover beef), Chips and Fruit
Chicken Cashew Stir Fry with Rice
Grilled Cheeseburger Wraps with Chips and Fruit
Lunches
Leftover most days
Tuna Sandwiches with Fruit and Chips
Corn Dogs with Fruit and Vegetables Sticks
Breakfasts
Toast, Eggs and Oatmeal
Cinnamon Twists, Eggs and Sausage
Omelets, Toast and Hashbrowns
What's on your menu for this week? 
[signoff]